Hop in and join the crew at the Max Quest: Dead Man's Cove slot that takes on a new adventure to the seas. This is another instalment from Betsoft's Max Quest series that are among the first RPG (role-playing) games. It's a unique game that is definitely worth checking out, as it features innovative gameplay with plenty of characters, but also generous prizes of up to 6,000x the bet that can be won. So, read our Max Quest: Dead Man's Cove Slot Review and prepare to explore the Dead Men from the legends of the Caribbean!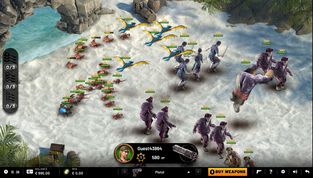 Max Quest: Dead Man'S Cove Slot Review
Betsoft has completely reinvented how online casino games are played. Its latest slot release is called Max Quest: Dead Man's Cove, which is part of Betsoft's Max Quest slot collection. All games that are part of this series are played in similar ways but they have different themes. For example, in the Max Quest - Mission Amazon slot, you are on the hunt for a lost city of gold. What makes these games unique is that they're not the usual five-reel slots, but action-filled RPG (role-playing) games. Read our Max Quest: Dead Man's Cove Slot Review and feel free to try this revolutionary gaming experience at one of the recommended casinos on this page.
About Max Quest: Dead Man's Cove Slot
Betsoft has definitely thought out of the box when developing the Max Quest slot series. These games are action-filled 3D slots that feature role-playing. So, you won't be spinning the usual reels in the online slots, but you'll have to fight against different enemies. The Max Quest: Dead Man's Cove slot is one of the five different games in the series which have the same hero, going from one to another location in each game. So, the Dead Man's Cove instalment is obviously based on the legend of the Caribbean. The legend says that this mysterious island has hidden treasures buried by the Pirate King Brutus. Are you going to help the pirates find this treasure?
Those familiar with role-playing (RPG) games will know how the action is done in this game. But, let's explain what exactly RPG means in online slots. The purpose of the Max Quest: Dead Man's Cove slot is to shoot and kill the enemies in order to win prizes. So, there won't be the usual spinning of the reels. Each bullet has a fixed prize and the enemies have a fixed number of health points (HP). The amount of your win will be determined by the enemies you kill, so the more damage you make, the higher your prize will be. The prize can include cash, special weapons, or treasures. 
Loading this game will take you to the lobby where there are four different rooms to choose. Each room has a shot price of £0.03 to £1 per bullet. The maximum number of players that can be in the same room is 6. If more people join the room, the cash prize will be spread among all players who helped to kill the enemy, but other prizes will be awarded to the player who dealt the lethal blow.
You don't need to have some special skills in order to play the Max Quest: Dead Man's Cove slot. You will shoot from your weapon with the help of the mouse cursor, and the fire button will launch the shot into the chosen spot. In case you miss, the bullet will bounce around until it hits the enemy. As this is not a typical online slot, it doesn't have the usual reels and paylines. Here, you can win prizes of up to 6,000x the stake, which is impressive.
Design, Symbols and Graphics
The Max Quest: Dead Man's Cove is an RPG slot with a pirate theme. It's designed with interactive gameplay and a lot of innovations. Betsoft did a great job in terms of the design of this game, which is impressive. The action here is better than the regular slots because you will use your mouse to aim your weapon and shoot the enemies. As we've mentioned above, the game will offer you four different locations (rooms) and you will find a lot of enemies appearing on the screen. 
Overall, the game has a top-notch design and you will get the opportunity to play with many different weapons. There are pistols, shotguns, guns, grenade, mine launcher, shot launcher, laser, railgun, and much more. The gameplay will start with a standard pistol, but you will be able to obtain the other weapons via either purchasing them or taking from the dead enemies. On the other hand, enemies include various kinds of rats, crabs, zombies, gulls, and more. Also, there are the legendary bosses Aluren The Siren, Captain Blackbeard, and the underwater monster Leviathan, which come with 2,500, 5,000, and 7,500 HP respectively.
RTP, Variance and Payouts for Max Quest: Dead Man's Cove Slot
This 3D online slot is impressive in different categories. For example, it has a high RTP which is set at 97.5%. Having in mind that the average RTP is 96%, the RTP of the Max Quest: Dead Man's Cove slot is excellent. On the other hand, the game's variance is high so you can expect it to be risky as it won't land very frequent wins. However, once you win, you will win big. Plus, the maximum win is pretty high, being at 6,000x the stake, so the more enemies you kill, the better your payout will be. Here you can read more about the Variance, Volatility and RTP in online slots.
Gameplay and Features on Max Quest: Dead Man's Cove Slot
As we've mentioned above in our Max Quest: Dead Man's Cove Slot Review, you're playing a role-playing game that includes firing bullets at enemies, paying for every bullet. You can control the weapon with your mouse cursor or it can be automated, and even if you miss, the bullet will keep moving around until it hits some enemy. But, just because the bullet hits, it doesn't mean that it pays, because enemies have multiple HP points and you need to take them all to win.
The special features included in the Max Quest: Dead Man's Cove slot are nothing like what you can find in a regular online slot. Here are the main features of this incredible game:
Weapons - In this game, you can play with different weapons starting from regular pistols to shotguns, machine guns, grenades, plasma rifles, lasers, rapid-fire versions, flamethrowers, cryoguns, rocket launchers, railguns, and more. Some hit more enemies at the same time, while others take away multiple HP. Every hit increases the multiplier. The multipliers here are 2x, 3x, 5x, 7x and 10x the stake. If you shoot from a pistol, it can give you a 2x multiplier.
Enemies - As you already know, you're playing against enemies that appear and move on the screen. There are three types of enemies and each type has three levels: standard (crabs, rats, gulls), special (zombies), and legendary bosses (Leviathan, Captain Blackbeard and Aluren the Siren).
Treasure Chest - Each Loot Chest contains a random special weapon with 1x, 2x and 3x multipliers. You need to get three matching keys in order to open the Treasure Chest and win the prize.
Instant and Bonus Win - If an enemy's Hit Points are low, any weapon can kill it, providing you with a bonus win. The bonus win is a cash prize that comes along with the standard prize. Moreover, you can get a bonus win if your weapon is able to do more damage than the enemy's HP.
Max Quest: Dead Man's Cove Slot on Mobile
Betsoft has made the Max Quest: Dead Man's Cove slot mobile compatible. Thanks to HTML5, the game can work on all mobile devices and operating systems without issues. The design and all features that are part of this game work fast and smooth when playing on a smaller screen.
Other Betsoft Slots
Betsoft is a popular developer known for its innovative and quality slots. You can find plenty of Betsofts slots at the most popular online casinos. For example, some of the greatest Befsoft slots is the Stampede slot, a five-reel game dedicated to African wildlife. Furthermore, another popular game from Betsoft is the Book of Darkness slot that takes you to a mysterious world where people have uncanny abilities and superpowers. Or, if you want to play some more interesting game, you can play The Hive slot, a game filled with bees that has a reel set with hexahedron clusters.
SlotsWise Verdict
The Max Quest: Dead Man's Cove slot is a unique and innovative game that will introduce you to a new world of online slots. The purpose here is to fight enemies using your weapon and collect winnings. Betsoft really did a great job with the whole Max Quest slot series and gave us something new and refreshing when it comes to online slots. You can always try the Max Quest: Dead Man's Cove slot in a demo version in order to see how this game works in action. With an RTP being at 97.5%, you will win some huge prizes if you manage to fight more enemies. Good luck!
Discover the Max Quest: Dead Man's Cove slot by claiming a welcome offer right from this page and play at top-notch online casinos.
Key Features
Provider

Betsoft

Reels

0

Min Bet

0.03

Max Payout

TBC

RTP

97.50

Paylines

TBC

Max Bet

1.00

Bonus Rounds

0

Variance

High
About The Author
Sanja Tasevska
Fact
Sanja is our game expert and uses her knowledge to review all kinds of slot games, both old and new. The detailed reviews include the most important info about a particular slot game. She's been a part of this industry for many years and so far she's played and given her opinion on thousands of different slot titles. Contact Sanja sanja@slotswise.com
Similar Games
Welcome to our Mailing List
Keep a look out for our emails containing great offers!