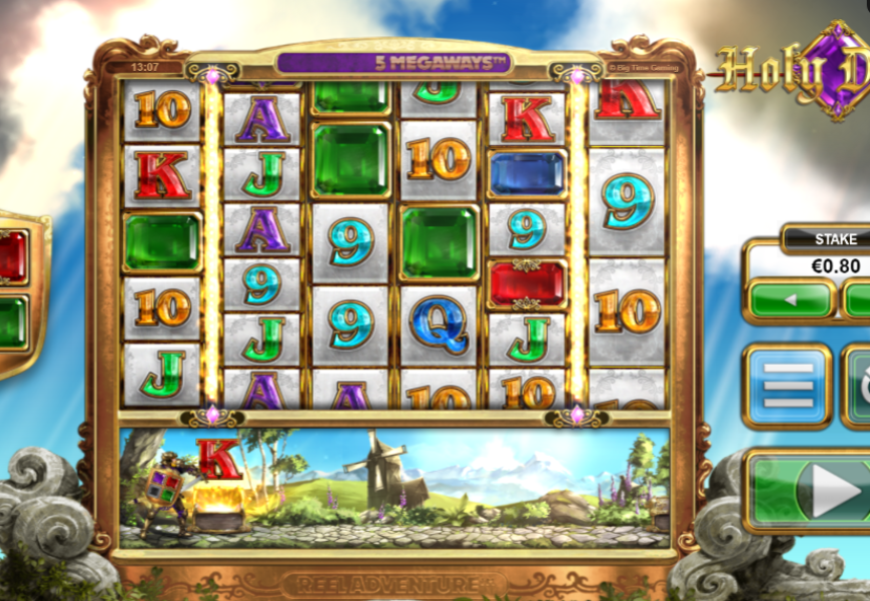 Key Features
| | |
| --- | --- |
| Reels: | 6 |
| Min Bet: | 0.10 |
| Paylines: | 586971 |
| Max Bet: | 20.00 |
| Bonus Rounds: | 0 |
Holy Diver Slot Online
Play on a brand new 586,971 maximum Megaway Holy Diver slot and progress on the scrolling adventure. You can play for a chance to win a stunning 343x multiplier and we have the springboard that takes you to the welcome bonus right here. 
Holy Diver Slot Overview
Embark on a valiant adventure of 15120Megawayson the Holy Diver slot. Don't let the title confuse you. This game has little to do with divers, but you could be diving into some interesting cash amounts when you trigger the incessant string of subsequent falls and prizes that occur on the reel set of Holy Diver. 
The game's theme itself is a combination of chivalry and gems. It has been set up like some already familiar slots such as Bonanza and Extra Chilly, and it is a welcome addition to the list of similar such slot games that diverge from the standard five-reel format. All this with the purpose of excellent gaming entertainment in mind. 
Otherwise, we couldn't expect anything less from the company that has produced online and land casino slots such as White Rabbitmegaways, Danger High Voltage slot, Bonanzamegaways, Extra Chillymegaways, Book of Gods, Temple Quest and other famous games. 
It seems like themegawaygrid is the new hottest thing in the world of online casinos, and we are glad for bringing you closer to it.
How To Play Holy Diver Slot
The game's total 15120 Megaways means there aren't anypaylinesthat need to be set up. That, in turn, means that the game's wager can be set up withfewclicks in the Stake window. This is where you have available a range of amounts to use for the wager per spin. 
If you want to make Holy Diver a low stakes game, you are welcome to do so by choosing the smallest bet per spin of just £0.10. You can raise the stakes by selecting bigger amounts which include anything from £1.00 to the highest wager of £20.00. Of course, between the £0.10 stake and£1.00you can select a range of bets that go up by increments of £0.10.
To access the Paytable and view the information about the bonus features and how the winnings are made, you just need to select the three-dash symbol from below the Stake window. 
The game can be set to play in Autoplay mode, in which you can kick back and let the reels spin for a number of times that you specify from the menu. And last but not least, pressing the 'Play' button sets the reels spinning for a one-time only. 
Holy Diver Slots Design
There are two major details that make the game stand out and feel on the same page with those in its class. We would have hoped to find more diverse symbolsbesudesthe cards numbers and letters and the gems. Being a knight and magic game, Holy Diver slots should have offered some object thatarefitting to the theme. But we have what we have and we can settle with that because thegamplayis smooth and quite engaging with the shifting reels and rows on the grid.
The difference between it and the other slots of themegawaystyle is in the scrolling game that takes place underneath the reel set. Namely, with each turn of thereelthe knight walks few steps forward. Whenever he comes near the treasure chest he kicks it open and from it emerge either Wild symbols or a coin prize.
These elements of the gameplay make Holy Diver a really entertaining game that will certainly challenge Bonanza and Extra Chilly, even though they come from the same developer at Big Time Gaming. 
How To Win Holy Diver Slot
The game's shiftingmegawaysis a spectacular feature, both for the viewing and for the potential winnings. As the reels are spinning and as you are making big or small winning combinations, the symbols on reels may expand or shrink in size. So the grid could end up having lots of positions or fewer. 
With the expanding Wild symbol, which is the sword,theris a better chance of ringing in some matching symbols. The scrolling game on the bottom also contributes to the gameplay, with the knight discovering Wild symbols, which can become preserved on the coat of arms located to the left of the grid, or it could go directly onto the grid. At any event, the Holy Diver slot gets more than one kicker during the gameplay, and sometimes as many as three or four wilds in the same turn. 
Holy Diver - Bonus Game
Big Time Gaming has unveiled a new and quirky bonus style to this latest game in its repertoire.  
As with other BTG slots, this one also features MegaWays paylines, but there are a couple of extra features that you need to pay attention too.
Holy Diver Knight and Chests!
As you progress through the base game, you may have noticed the knight at the bottom of the Holy Diver Slot.  As you spin, he moves forward along the brick path encountering chests on the floor. These chests can contain Wilds, expanding wilds, symbols and even wild multipliers that can dramatically increase your return in the base game of Holy Diver.
Levels!
However, when it comes to activating the bonus, you need to find the 4 coloured gems in these chests on your base game adventure.  On the Left hand side will be a shield that has 4 empty slots, once you have filled them with the Blue, Green, Red and Purple gems you will have successfully activated level 1 of the Holy Diver slot.
Although you could choose to take this bonus now, all of the gems you have collected will act as wilds if they appear in the 2nd to 5th reels.  If you wanted to get some multiplier action, you can choose to carry on the base game and find the 4 gems again to get level 2. Level 2 will make these Gems a times 2 multiplier.  You can then choose to do the same for level 3.
The Holy Diver Bonus
Similarly to the base game,for each spin the knight will travel across the screen attacking the evil cloaked beings along his way, if he manages to get a Diamond off of them, he will gain you an extra spin.  If he finds 5 of these diamonds, you will be rewarded with a massive 8 extra free spins.
While all of that is happening, remember that during your free spins the gems will also have their multipliers attached, so if you decided to go for level 3, they will all have a times 3 multiplier between reels 2 and 5.
This game can be very volatile with a potential for high risk and high reward.  It can obviously take a while to gain the gems from those chests a total of 12 times, but when you get several times 3 multipliers activating at the same time, you will receive a huge payout.
If you are eager to take on the treasure chests and all those gems

, play Holy Diver online at your chosen casino that offers this fantastic slot!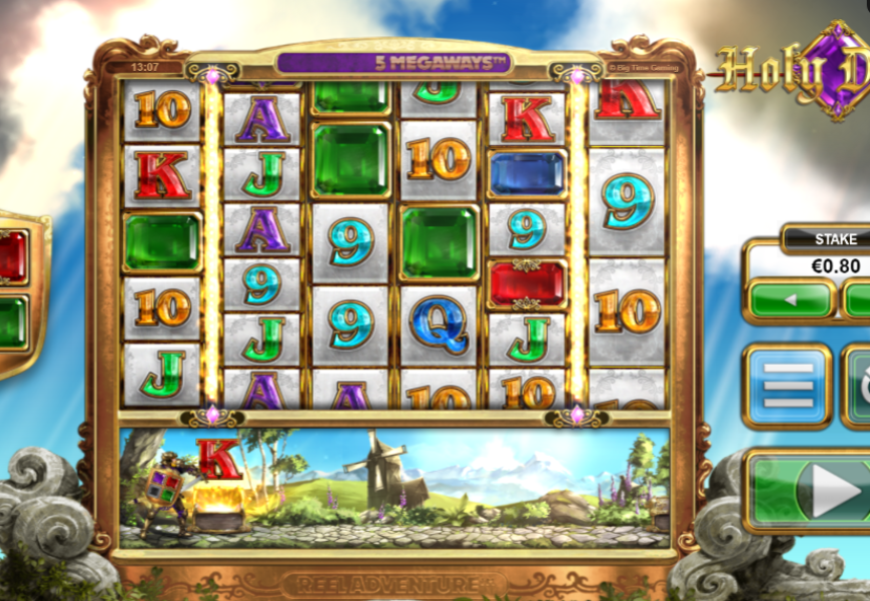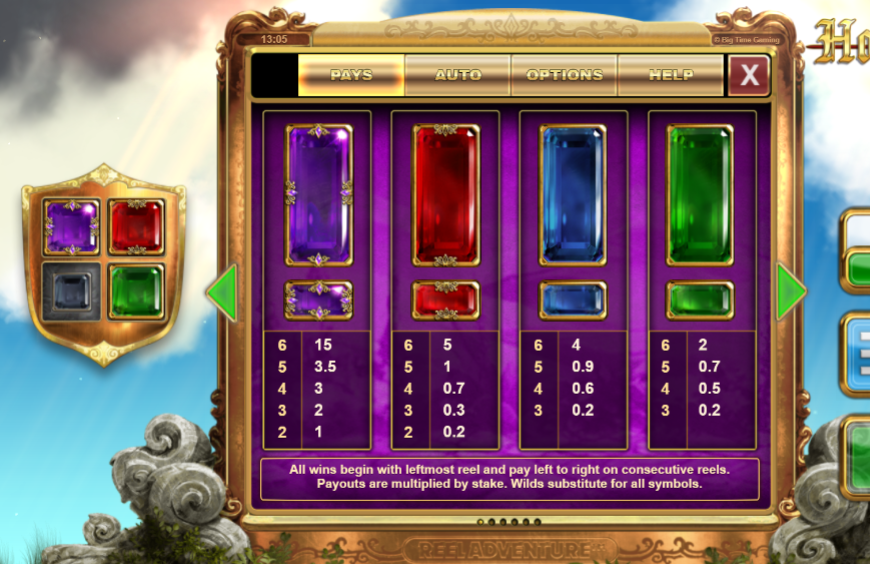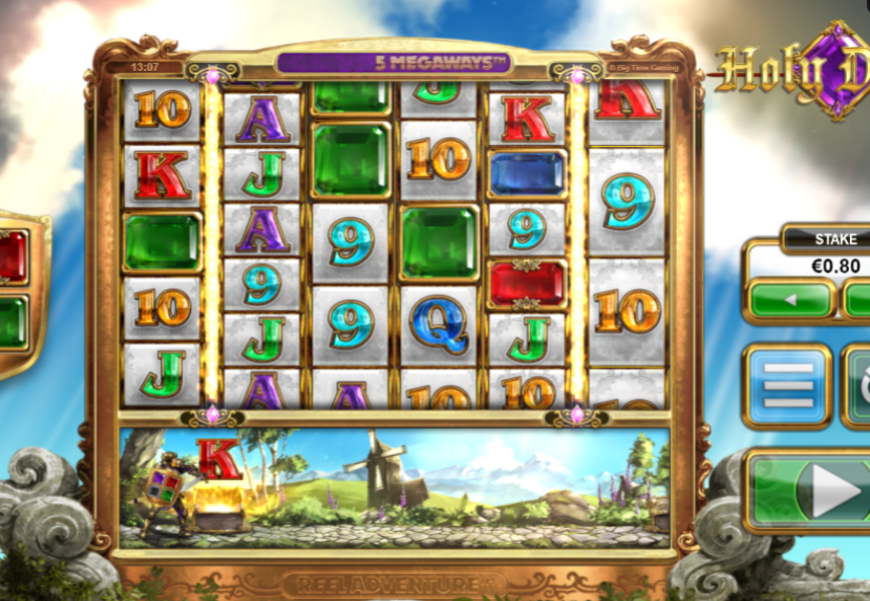 Want great offers sent straight to your inbox?
Enter your email below and we'll do all the hard work for you
Welcome to our Mailing List
Keep a look out for our emails containing great offers!