Overview
Superman is back!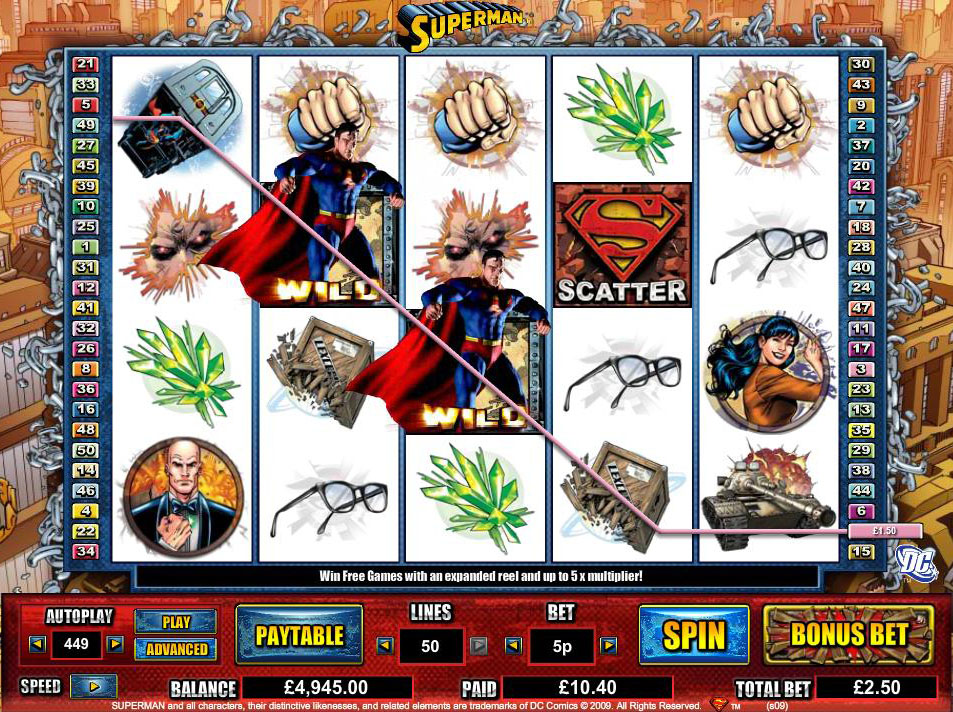 Key Features
| | |
| --- | --- |
| Reels: | 5 |
| Paylines: | 50 |
| Bonus Rounds: | 0 |
Superman Slot Online
Throw on Superman's cape and fly to the reel-action involving four rows, five reels and a top cash prize of 10,000. This NextGen Gaming slot has all the thrilling slot fun that revolves around the famed franchize of the perfect superhero in the world of science fiction. 
Superman Slot Overview
Are you ready to don Superman's superhero costume and battle against the awesome powers of the kryptonite? This epic slot has the thrilling fun and the prizes that can tempt the luck of any civilian superhero. They say it is enough to be a hero to just one person in order to be one, and we completely agree. The slots experts at NextGen Gaming have created the perfect platform for the slots superheroes out there - play the Superman slot for a chance to win the 10,000 jackpot, among other cash prizes. 
Superman Design
In-between the reels you will find lots of references to the famed Superman franchize. Infactevery single symbol refers to something from the original Hollywood movie series that featured Christopher Reeve. There is Lois Lane, there are Clark Kent's reading glasses, the Superman slot logo, and lots and lots of action symbols, such as exploding crates, chains being torn asunder, the deadly stare of a villain, a train car being lifted in the air by the Super guy himself, the Superman wild and so on. 
As for the controls, you will have everything at hands reach, including the buttons to change thepaylines, the bet per line and a neat Autoplay option. A rare feature that we noticed, and duly utilized, is the Speed button which is a fast-forward play that speeds up the spinning of the reels. Other than these neat functions, everything else in this NextGen Gaming release is on par with the company's best slots. The gameplay is smooth, there are not-annoying soundbits,and some animated sequences in between the reel-action.   
How To Play Superman Slot
Setting up for the gameplay requires pushing some buttons that will give you the total bet per spin. To do this you need to first figure out how manypaylinesyou are willing to play one. This slot has selectablepaylinesthat are 50 in number. When you have selected all 50 lines you have ensured that no winning combination will remain unclaimed. Playing fewer lines means smaller cost per spin, and that is also a mode in which you can play and extend your gameplay longer and stretch your play money farther. 
So the players are given a choice how to approach the game. You can indeed play with all 50 lines and select 1p per spin, which will produce a cost per spin of £0.50. If you want to make this a high stakes game then you may select all 50paylinesand raise the bet per line to a higher number. The display on the Superman slots will immediately change the amounts so that you know how much goes per turn of the reels and how much you have made when a winning combination has occurred. 
How To Win Superman Slot
NextGenhavebeen known as slots experts for quite some time, being responsible for the producing of dozens of excellent slots. So they have made a superhero slot game that does not have a progressive jackpot, which would have become a cliche. Instead, a very neat jackpot of 10,000 is up for grabs when your luck servers you handsomely. That being said, there are other amounts that could be considered hefty when you have scored apaylinecombination on a higher wager. 
For example, landing five of Lex Luther's symbols will bring 500 coins times the amount of the winning wager. The next best combination is five Lois Lanes, which will haveyoupocket 250 coins times the wager. Of course, there are plenty of ways to land more cash by way of combining other winning symbols across thepaylines. With the expanding Wild superman symbol, these prizes could become higher. 
The highest prize, like we said, is a 10,000 coin payout which comes by way of landing the Superman slots Wild symbol in five instances. 
Superman Bonus Features
The Superman game has two special features. One of these is a free spins bonus which occurs when theSUpermansymbol lands on the middle three reels - the second, third and fourth reels. The prize is ten free spins, which can be retriggered by landing the same three symbols again. 
When you get the Scatter symbol, which is the Superman logo, in three or more instances, you will play the Save the World bonus game. The feature can lead to you winning 100x multiplier on the winning wager and the game entailsflythingagainst a shower of meteors that have been unleashed by Lex Luthor. Escaping the hapless event unscathed, Superman reaches a point at which the player needs to choose one of three doors. As long as the room behind that door does not harbor the deadly Kryptonite, Superman leaves with a neat prize or a multiplier. 
To embark on your Superman slot adventure, select your welcome bonus from any of the casinos on this page. Claim the offer and play for fun or for the win today.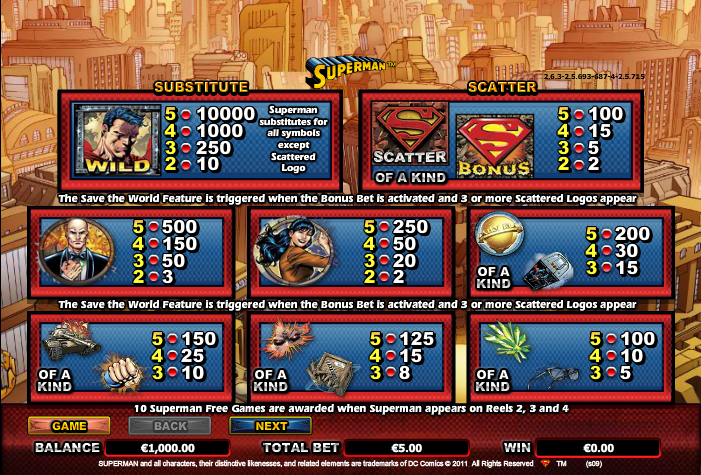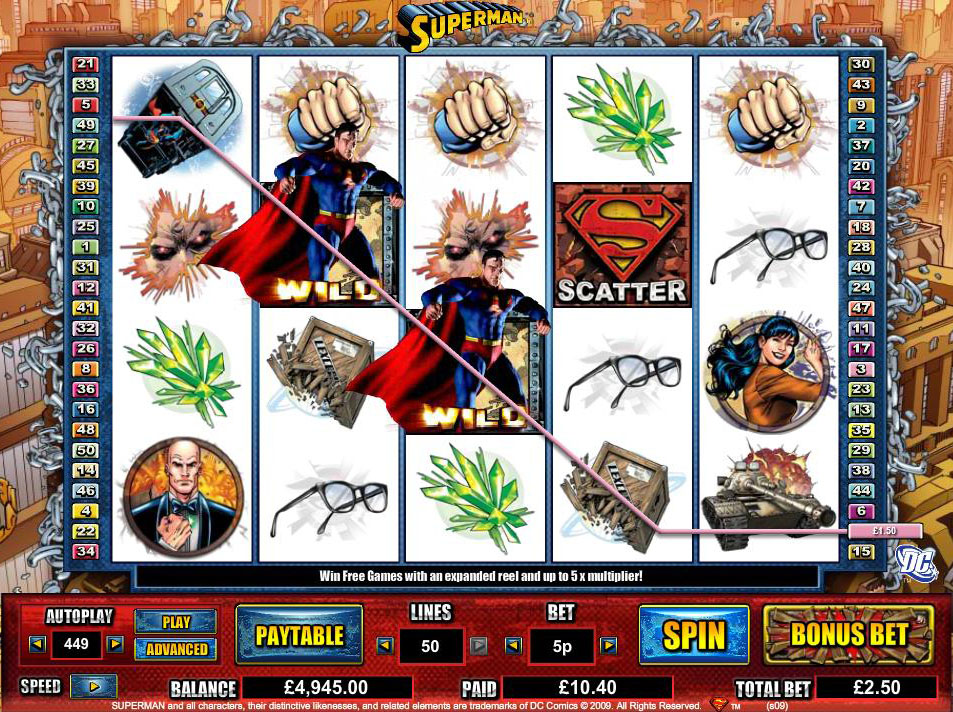 Want great offers sent straight to your inbox?
Enter your email below and we'll do all the hard work for you
Welcome to our Mailing List
Keep a look out for our emails containing great offers!