Some players will be shocked from not finding a classical reel set of three rows and five reels or a grid, or any of the familiar layouts for that matter. If you play Dungeon: Immortal Evil you will be taken to a world where your barbarian character walks, runs and fights. But regardless of the look and feel of the game, this is still a game of chance and has medium to high variance and a theoretical return to player of 96.20%.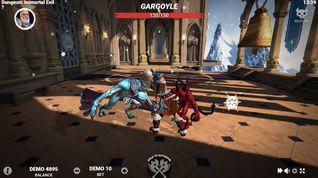 Dungeon: Immortal Evil Slot Online
Perhaps Evoplay Entertainment is not a household name in the world of online slots but it certainly is coming up the ladder of producers that make their games look more interesting with every coming release. 
The game at hand is called Dungeon: Immortal Evil slot and it's one example of a bold take on the idea of placing a game of chance in a three-dimensional setting that rings home for all the players who are familiar with first-person adventure games.
Dungeon: Immortal Evil Introduction
In terms of gameplay, Evoplay Entertainment has created a truly engaging adventure that is all about slaying an odd assortment of demons, imps, undead and warlocks. Each kill results in a cash prize, however, every hit that's been taken results in a loss of coins from your balance. The game also has extra features and reel modifiers, but that is really not the word that describes the possibility of getting a more favorable arrangement for that random lucky turn. All in all, Dungeon: Immortal Evil slot is an excellent game that can trigger winning outcomes as high as 5000x your bet. 
Dungeon: Immortal Evil Design Features
The mastery of the graphic design is shown at the start of the game. There is a cinematic introduction that tells the back story about how the warrior got himself into slaying gnarly creatures in the first place. The gameplay takes place inside a castle and your character is a 3D model that moves through space with ease and swings his battle axes for the win. Sadly, you can't move the character because his path is preordained by the random number generator for each spin.
Dungeon: Immortal Evil slots is fully-immersive. The player can enjoy a kind of action that is not to be found in any other game of chance. Even though there are few games that have made decent attempts to get out of the reel set zoning, such as Crazy Tooth Studio's Fortress Charge slot, when you play Dungeon: Immortal Evil you really are placed in a different world. 
How to Play Dungeon: Immortal Evil Slot
The game is ready to play at the get-go but each spin will bet the amount that has been laid as default by the online casino. To change the bet simply use the minus and plus buttons in the bottom-center area of the screen to go through the range of wagers between 10p per spin and £100.00. 
To make "spins" which is really, moves, on the Dungeon: Immortal Evil slot, you need to press the button with crossed axes. Your character moves forward and encounters one or a group of monsters with every single move. The fighting occurs automatically and yours is just to behold the spectacle. 
If you want to see what you are dealing with when you play Dungeon: Immortal Evil, press the Bestiary icon in the upper-right corner which opens up an information panel with all of the opponents' hit points and the prizes that they can award. Essentially this is one part of the paytable.
The classical paytable with all of the symbol payouts can be found in the bottom-left corner of the screen. 
Also, you can play the game in hands-free mode. To do that, press and hold the double axes button. A list of presets comes up that has between 5 and 100 automatic moves.
How to Win Dungeon: Immortal Evil Slots
Winning in the game is quite an interesting process. You get to slay all creatures in the game, but they do take from your life points. So the winning outcome, or rather, the condition of your balance is always between losing hit points and gaining cash prizes from the slain creatures. 
The paytable has a list of all creatures and a list of specific artifacts they carry, which generate the cash prizes. These can range between 0.1x and 50x your bet for the first half of the paytable and between 1x and 5000x for the second half. 
For example, the warlock has items that can pay between 1x and 75x and the most unpleasant of all monsters in Dungeon: Immortal Evil slot is the head demon, whose most valuable symbol pays 5000x if he ever drops it. 
Dungeon: Immortal Evil Bonus Features
The game comes with five random events which can occur on any spin.
Mimic is a chest that appears like a chest. Once the warrior approaches, the chest turns into a monster which turn up five guaranteed artifacts.
A chest appears at random and there aren't any monsters during that spin. The chest contains five guaranteed items.
Big Game is when a group of five monsters appears on the current move and where one of the monsters has a high probability of packing a prized loot.
Bad Company is a group of five monsters with a high probability of obtaining loot.
Free Spins Bonus
Surprisingly, there is a free spins bonus in this game that is triggered when the warrior chances upon a portal that takes him to the Dungeon. This is an adventure through seven rooms - six hide a monster and one hides a boss. Each cleared room reveals items that can help you get over the next room.
The player can increase the number of hit points and the volume of the damage. What is more, healing potions restore the warrior's health. Dying means the free spins bonus is over and you are back to the standard game.
Dungeon: Immortal Evil Free Play
Evoplay Entertainment has enabled the game to play as a free play demo slot. This enables players to become acquainted with the idea behind the game, the unique gameplay and the potential payouts.
Dungeon: Immortal Evil Closing Thoughts
This is definitely one of the most unique games of chance in the world of online slots. There has been a number of strange and one-off slots, such as The Incredible Balloon Machine, but nothing that resembles a first person adventure as the game at hand, and all for payouts of up to 5000x.
Claim a welcome offer and discover the Dungeon: Immortal Evil slots at the online casinos on this page.
Key Features
Provider

Evoplay

Reels

0

Min Bet

0.10

Max Payout

TBC

RTP

96.20

Paylines

TBC

Max Bet

100.00

Bonus Rounds

1

Variance

Medum-High
About The Author
Sanja Tasevska
Fact
Sanja is our game expert and uses her knowledge to review all kinds of slot games, both old and new. The detailed reviews include the most important info about a particular slot game. She's been a part of this industry for many years and so far she's played and given her opinion on thousands of different slot titles. Contact Sanja sanja@slotswise.com
Similar Games
Welcome to our Mailing List
Keep a look out for our emails containing great offers!