Overview
Celebrate the founding holiday of the United States on the 4th Of July slot by 888 Gaming. This is one in the slots series featuring renowned locations and events from around the world. The 4th Of July slots has five reels, a basic bet of £0.10, a powerful wild symbol paying 9000x on the line bet for five matching symbols, a free spins bonus feature and 25 paylines.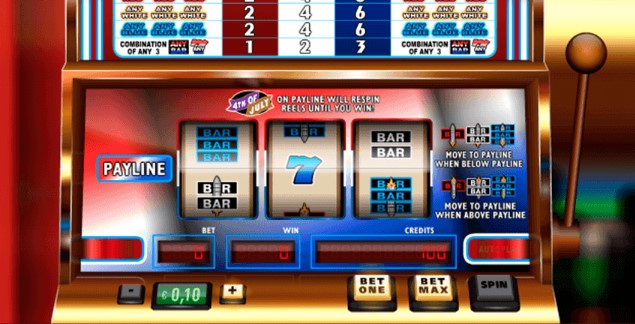 Key Features
| | |
| --- | --- |
| Reels: | 3 |
| Min Bet: | 0.10 |
| Max Payout: | 10000.00 |
| Paylines: | 1 |
| Max Bet: | 100.00 |
| Bonus Rounds: | 0 |
4th Of July Slot Online
Enjoya timeon aclassicalLas Vegas slot that has a top payout of 10,000 coins. Three rows and onepaylineis all it takes for any player, pro and beginner, to get a feel of the retro gaming experience. This is possible with the 4th of July slot. 
4th of July Slot Overview
There is that one time of year in the United States when anyone can relish is lighting fireworks and firecrackers. Roman candles, sparklers, Catherine wheels,airbombs, quarter sticks, band snaps, gerb fountains - you name it - it willbe hearor seen on the 4th of July. But this is not just about pyrotechnics rather about the cracking sounds that some people make when they win a staggering amount of cash on the 4th of July slot. 
The game itself has lots of holiday fanfare occurring on three reels and one. That means there is just a singlepaylineon this game, which makes it as retro as they get. The toweringstatureof this gaming cabinet has been replicated in its online version. Once part and parcel of the land-based casinos across the United States, the 4th of July slot has left its impression on thousands of players. In the era of onlinecasinossuch games are still revered, so we have a digital version of the hefty original. 
Welcome the 4th of July slots made by the slots experts at IGT, for a game that can deliver a top cash prize of 10,000 coins. 
How To Play 4th of July Slot
Setting up for the gameplay really doesn't take any effort as the display has been replicated to the tee. So you will see the bulky square buttons that used to belong to almost every single slot machine on the casino floor. In the bottom leftcorneryou will see two buttons corresponding to the plus and minus. 
The game can be played on a range of wagers, starting with the smallest one at £0.10 and goes to some higher amounts with three figures. The other buttons on the machine are Bet One, Bet Max and Spin. The last does exactly what it states, while the Bet Max sets the highest wager and spins the reels automatically. And to ensure that this is a true classical slots experience, the developers have included an arm on theright handside.
As for the paytable - there is no need to click any buttons in order to pull it up, as you can see the entire grid of pays right in front of your eyes. The pays are dividedinthree rows according to the coin level, which is determined by the button that says BET ONE, and that stands for 'Bet One Coin'. 
4th of July Slot Design 
The designers have created a big casino floor atmosphere in which our machine sits between two other slots machines and you are sitting in front of it. The color layout is in the spirit of 4th of July, and so are the symbols.
You will notice the usual retro stuff that is part of thousands of slots machines out there. There are several combinations of the number seven symbol, with eachunitsof seven in a different color; there is the inevitable BAR symbol appearing in more than few symbols, however in different combinations of BAR, double BARandthe triple BAR.
There are few strange symbols too, like ones that say Any While, Any BlueandAny Red, and there are combinations of these symbols in matching color. The firework displayin sightis located on the top of thecabined, way high with the 4th of July slot logo. 
As you will notice right away the game does not have a Wild symbol, nor does it have a scatter.Wellthese aren't really necessary because they belong to those slots machines that have more reels and rows, and more importantly,paylines, as these are the determinants that make the inclusion of a Wild symbol sensible. 
How To Win 4th of July Slots
The game has a singlepaylineand 15 winning outcomes, so what are the odds, you ask?Wellthe odds are never clear as the slots are games of chance that work on the Random Number Generator, which delivers all winnings at random. That being said, the onepaylinecan turn up winning stops at the whim of randomness, and there is always a probability for that. 
The 4th of July slot has a top payout of 10,000 coins on the third coin level, just don't expect to find any bonus features as there are no free spins or scatters. Pro players who know slots, also know right away that this is a retro game and no retro game ever had a free spins feature, so the merit of playing such games is in their simplicity.
To start your 4th of July slots adventure simply claim a welcome bonus at one of the casinos on this page and discover the game.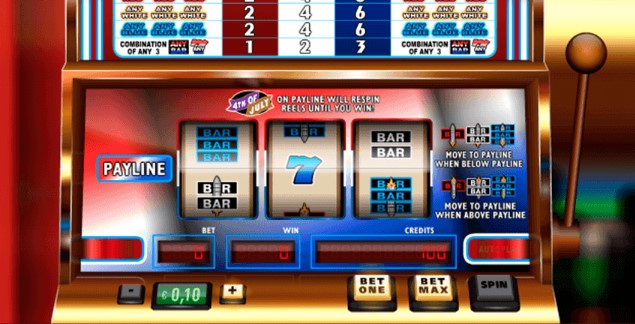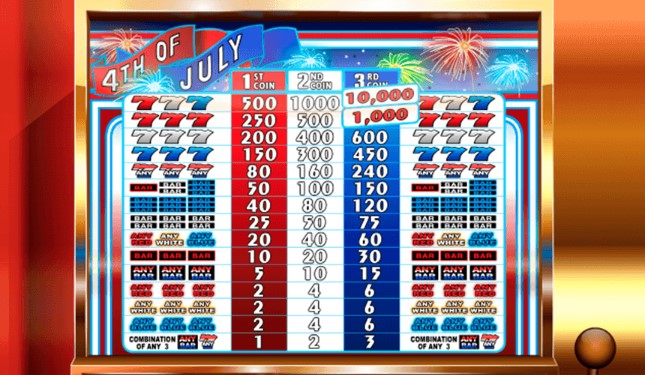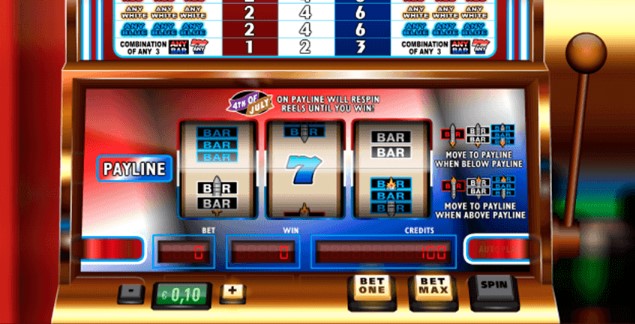 Want great offers sent straight to your inbox?
Enter your email below and we'll do all the hard work for you
Welcome to our Mailing List
Keep a look out for our emails containing great offers!