Overview
Introducing Crown of Egypt slot, IGT's five-reel slot with an incredible 1,024 ways to win. Using MultiWay Xtra technology, you can land winning combinations in more than 1,000 ways across the reels.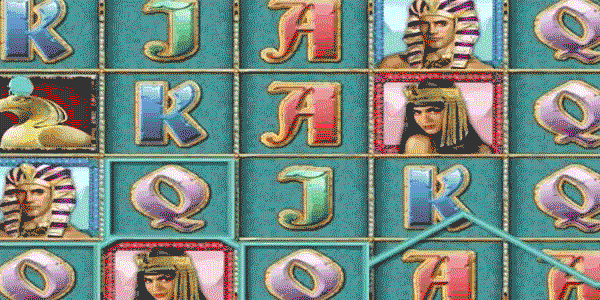 Key Features
| | |
| --- | --- |
| Reels: | 5 |
| Min Bet: | 0.01 |
| RTP: | 95.03% |
| Paylines: | 1024 |
| Max Bet: | 16.00 |
| Bonus Rounds: | 2 |
Crown Of Egypt Slot Online
Egyptian-themed games are common in the slots scene and it's not hard to see why. With well-known Egyptian figures and various architectural structures to represent on the reels, this theme lends itself particularly well to slots games. Introducing Crown of Egypt slots, IGT's five-reel slot with incredible 1,024 ways to win. Using MultiWay Xtra technology, you can land winning combinations in more than 1,000 ways across the reels. 
Crown of Egypt Overview
When you start playing Crown of Egypt slots, you'll notice the incredible amount of time and effort that has gone into designing this game. The background is occupied by ancient carved walls and the reels' border is also on-theme.
The reels themselves are filled with various Egyptian symbols, although those of lower value are made up of the typical playing card symbols including J, Q, K and A. Higher value symbols on Crown of Egypt slot include gods Ra and Anubis, as well as a male pharaoh and female that could be interpreted as Cleopatra.
Aside from the standard symbols, there's a Pyramid scatter and the Crown of Egypt logo that represents the wild, substituting for all others except the Pyramid in order to help create winning combinations.
Crown of Egypt appeals to players of all budgets too; coin sizes range between 1p and £5, meaning you can win in 1,024 different ways for just 80p. Plus, you can wager with a lot less if you decide to activate fewerpaylines.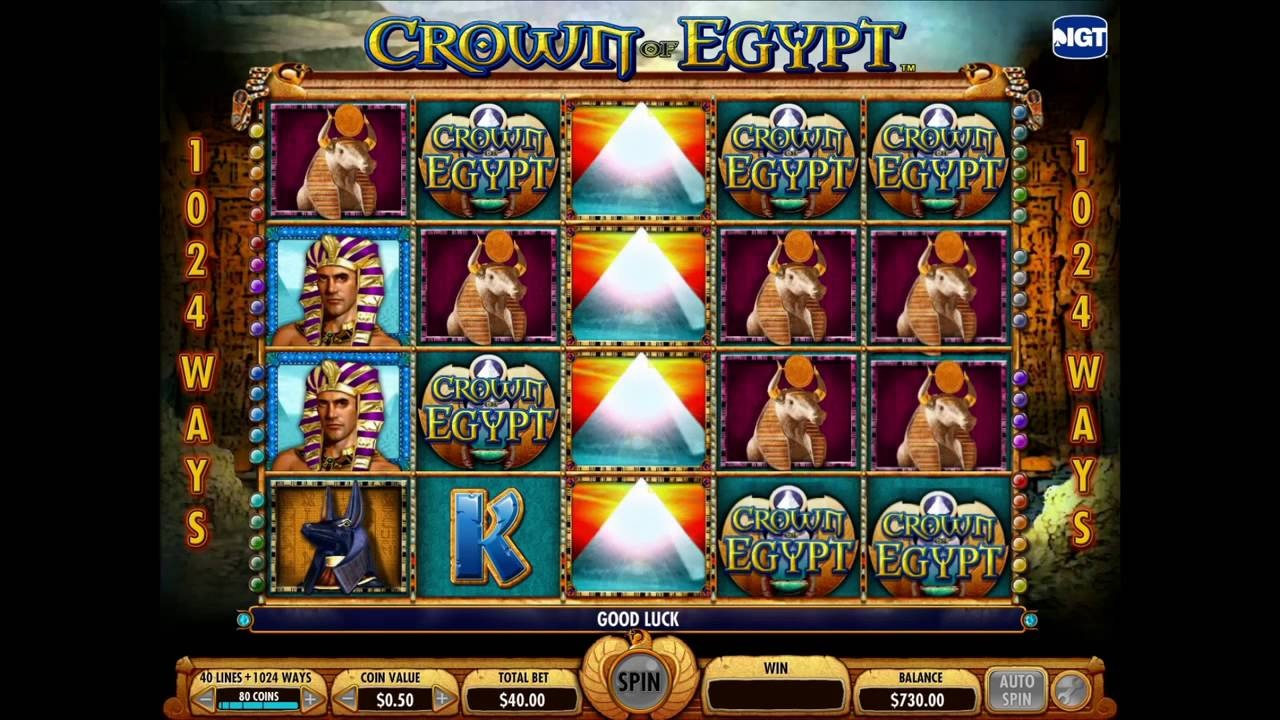 How To Play Crown of Egypt Slot
Before you play Crown of Egypt slots, you'll need to establish your stake. This is done by choosing your coin size and the number ofpaylinesyou'd like to activate. Selecting your coin size is easily done by using the + and - buttons beneath 'Coin Value'. As mentioned, the coins range between 1p and £5.
Once this is done, you'll need to select the number of coins to play with. Unlike other slot games, the amount of coins you can play with doesn't directly relate to the number ofpaylinesyou're activating.
You can play with either one coin, 10, 20, 40 or 80. In order to activate 1,024 ways to win, you'll need to play with 80 coins. Plus, the number of coins you play with dictates how many paylines are active for your spin:
1 Coin - 1

Payline

10 Coins - 10

Paylines

20 Coins - 20

Paylines

40 Coins - 40

Paylines

80 Coins - 40 

Paylines
Your total stake will be the number of coins you're playing with, multiplied by your coin value. It really is that simple!
Once your stake is decided, you can set the reels off by clicking the 'Spin' button at the bottom of the screen, in the middle. Unfortunately, there's no autoplay feature so you will need to manually click for each spin, onegoat a time.
How To Win Crown of Egypt Slot
The rules for receiving cash payouts depend on whether or not the Multiline Xtra technology is activated or not, which more symbols needing to be landed if this is the case.
When playing with 40 coins or less, you'll need to land three or more symbols in order to receive a cash sum. The value of the symbols also vary in this case, although the order of least value to most does stay the same when playing with Multiline Xtra or not. The most valuable symbol is the female character, perhaps Cleopatra.
If you're playing with 80 coins, then the MultiWay Xtra technology will be activated and you'll need to land combinations of four or more of the same symbol in order to receive a cash payout. The female character symbol remains the most valuable.
Plus, landing winning combinations is made slightly easier with the help of the Crown of Egypt slots wild symbol which, as mentioned, substitutes for all others except the Pyramid scatter.
On a related note, the Pyramid scatter can also help to create wins via the bonus round that it helps to trigger.
What Does '1,024 Ways to Win' Mean?
Within slot games, paylines refer to the ways in which you land combinations of symbols in order to receive cash prizes. However, the amount of paylines that a slot has varies. Some may have 10, others may have 20 or even more. With Crown of Egypt slot, its special '1,024 Ways to Win' feature essentially refers to the number of paylines on offer. 
Crown of Egypt Bonus Features
As mentioned, Crown of Egypt slots uses MultiWay Xtra technology, allowing players to potentially land winning combinations in 1,024. This could be seen by many as a bonus feature within this slot game, but if not, it's a nice added extra anyway. The other bonus feature is the Crown of Egypt Free Spins bonus round. Keep reading to find out more
MultiWay Xtra
The MultiWay Xtra Pay is considered a Crown of Egypt bonus feature. Not only does it pay left to right across the reels, this feature also pays up and down the lines. Whenever one icon lands in 4 or 5 of the lines, you trigger the MultiWay Xtra and make a score. Perhaps this is the reason why in the Free Spin Bonus the player doesn't get any multipliers. The 1024 paylines are all derived from multiplying the value of the symbols. It is a bit complicated to do the maths while playing, so the slot has been equipped with an automatic payline display.
Free Spins Bonus
When two or more of the shining pyramid scatters land in the two central reels you enter the other Crown of Egypt bonus feature. Two bonus symbols will bring you 10 free spins, three equal to 15 and four shining pyramids will amount to 20 free spins. This is a sweet deal because you can get multiple free re-spins during the Free Spins Bonus. The most that you can gain is 500x your wager.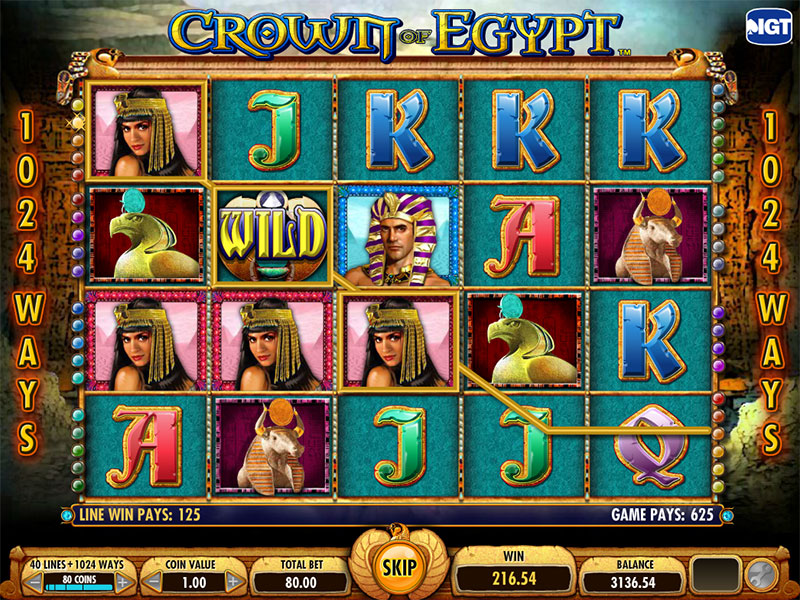 Our Crown of Egypt Review
The Crown of Egypt slot is yet another in the long line of games taking their inspiration from Ancient Egypt. The graphics are very proficient and some of them are nicely drawn.
This game produces fairly regular action, even if a few of the wins are very significant. The bonus round is perhaps a little disappointing as all it offers is free spins - no multipliers or other features. Having said that, some slot games today offer nothing extra at all, so we shouldn't complain.
The 1024 MultiWay Xtra means that there are numerous ways of racking up small pots. However, it really needs some bigger guns to make it a find worth unearthing.
Crown of Egypt RTP
Crown of Egypt slot has a theoretical return to player (RTP) percentage of 95.03%. If you have any questions about the meaning of the term return to player, continue reading this page. We are happy to provide you with all the answers.
What is RTP?
If you have ever played an online slot game, you have probably met the term return to player, or the acronym RTP. This term is most often used in the online gaming world. Many players sometimes confuse it with the average payback, but they are two different terms.
Return to player is a statistical calculation that estimates the percentage of the wagered money on a certain slot game that, over a certain number of played games, will be returned to the player. Most often, this percentage is calculated on at least 1.000 games played on a certain slot. If a game has a return to player rate of 95%, this means that for each £1.000 played in £1 wagers, the game will return to you around £950. However, you should bear in mind that this isn't a precise number. After all, it is statistically calculated and at times it can be different.
Slot games that feature a progressive jackpot have a higher RTP, then slots that don't have one. Also, you should note that all casino brands that are licensed by the United Kingdom Gambling Commission, must display the RTP percentage transparently.
House Advantage and Return to Player
House Advantage and Return to Player are two completely opposite terms. The House Advantage is a percentage of the wagered money that the game is going to keep. If you know the RTP percentage, you can easily calculate the house advantage percentage with this formula: 100% - RTP% = House Advantage%.
Play Crown of Egypt slots for yourself today and claim your free spins at one of our many featured casinos and don't forget to claim your welcome bonus offer.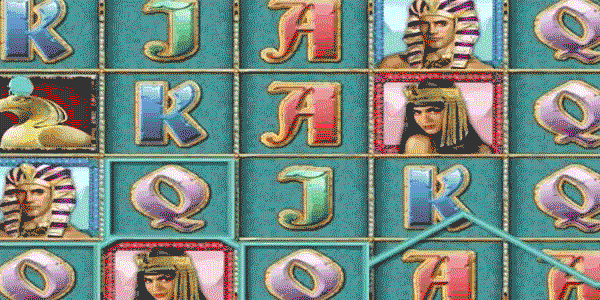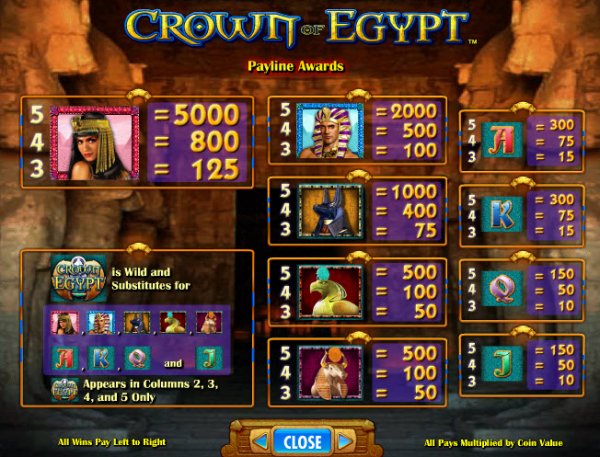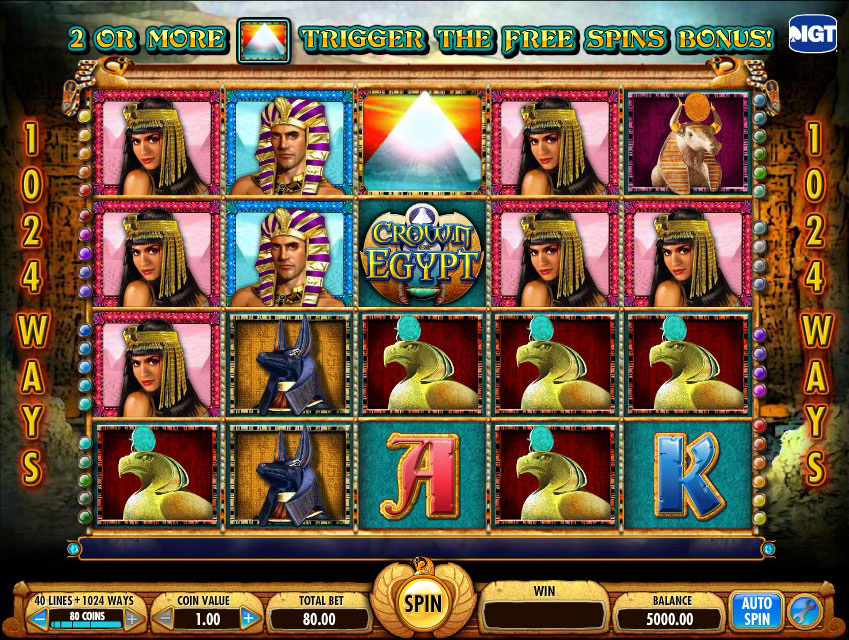 Want great offers sent straight to your inbox?
Enter your email below and we'll do all the hard work for you
Welcome to our Mailing List
Keep a look out for our emails containing great offers!