Overview
Help our heroine and her glamorous mansion-pets amass wealth, jewels, and a rich sugar-daddy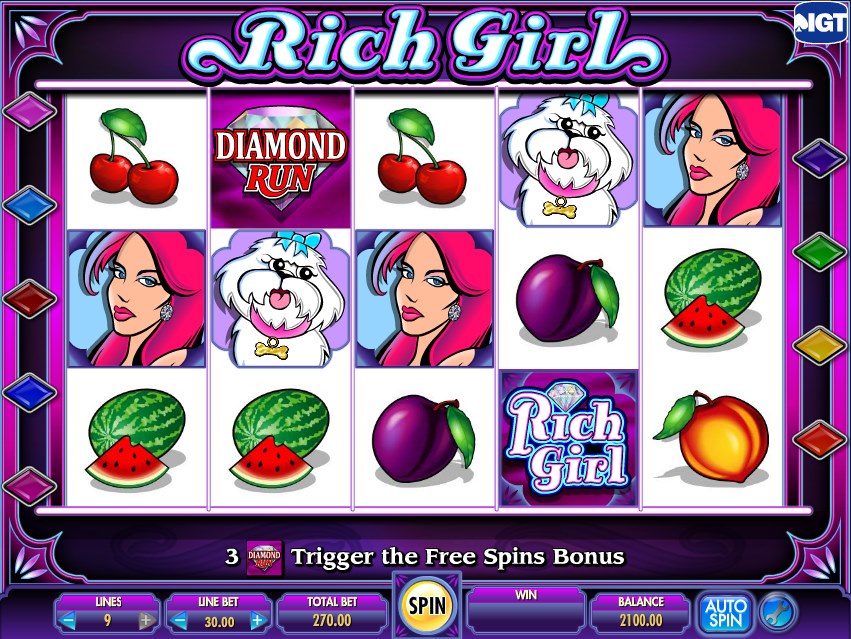 Key Features
| | |
| --- | --- |
| Reels: | 5 |
| Min Bet: | 0.01 |
| Paylines: | 9 |
| Max Bet: | 180.00 |
| Bonus Rounds: | 0 |
Shes A Rich Girl Slot Online
Spin to Win the She's a Rich Girl slot game by IGT. Three rows, five reels and nine paylines may lead to a top payout of 10,000 coins times the winning bet. This game features a rich girl and a very rich benefactor. In our case, that would be the slot game itself. 
She's a Rich Girl Slot Overview
A slot game by IGT themed on a femme fatale redhead who has a license to enjoy the splendor that has found herself in. The She's a Rich Girl slotis about going shopping for diamond necklaces with the maltese terrier under her one armpit and the prized aristocratic cat in her tote bag. Our girl is very likely to be followed by a modern butler behind her who assists her with the bags and takes the dog over while she is trying out a new pair of earrings. And who is the enabler of all this? Who cares! She's rich and loving it and the aristocratic stud who has trudged well into his mid-age years doesn't mind any of it. 
This is what the She's a Rich Girl slot is to our imagination. We could be wrong for all we know. We leave the benefit of a doubt that the girl is the wife of a much older husband who she's fallen in love with on a regular basis, without any pretenses or back motives. They had just fallen in love and the rest is history and lots of shopping and easy living. We are not here to judge because at least this rich girl is happy to pass her riches on to the player. Of course. we are still in the slot game and describing it, as it is always more fun to have a really good back story to know what our game is all about. 
That being said, regarding the reel-set the She's a Rich Girl slot is just a standard online slot with three rows and five reels. It has nine paylines and a smallest coin size of just 1p. However, the maximum bet is a huge £180.00 per spin, that is, if you are willing to spend that kind of money to buy some love. 
She's a Rich Girl Slot Design
The layout of this game is dominated by purple colours and various hues of them - light, bright and deep. The reel set consists of three rows and five reels, and like we said, the paylines are nine in number and they can be brought up or down . The top of the reel-set is headed by a wording that says Rich Girl in regal style. As you could imagine all of the symbols are part of the Rich Girl live. There is her being all swooney with her lush hair and big diamond earring. The pup and the cat are both pampered by her day in, day out. The rest of the symbols are fruits, as she likes to eat healthy, although sometimes she steals herself inside a fast food joint. 
The two bonus symbols are the She's a Rich Girl slot logo which is the Wild symbol and the Diamond Run bonus symbol. The Wild is the game's top paying symbol where landing five matching symbols you can get 10,000 coins times the winning bet. Now that is a rich payout. The Diamond Run and the Scatter symbols both feature precious stones, nbut we will get to these soon in the 'How to Win She's a Rich Girl Slot' section.
How to Play She's a Rich Girl Slot
Being an IGT online slot, the game's screen is cleared of all the buttons that may get in the way. To configure the play option click the green 'Play" button on the left and it is here where you can set the values for Lines per Bet and the amount that you would be spending per each spin. And that is all there is to setting up the game to play. Once ready, click the green Check button and you are back on the reel set where you can click the yellow Spin button which is on the right. 
How to Win She's a Rich Girl Slots
To win the game you ought to land some really hefty winning combinations. If you land the She's a Rich Girl slot Wild symbol your winning would be double. In that regard this is one of the rare online slots where the player could make out with a good return by playing just on a single payline. The winnings attached to the symbols are pretty good, so there is a good reason why the game is called She's a Rich Girl slots. Besides the Wild, there is the Scatter symbol which consists of three diamonds of color. Landing three, four and five on the reel set brings 25x, 10x and 2x multiplier on your winning bet. So even if you have bet a small amount, landing four Scatters would get that amount multiplied by ten. 
Rich Girl Free Spins
The Diamond Run symbol is attached to the Rich Girl free spins bonus. Landing three in any position on the reel set awards three free spins. The caveat is, the Diamond Run symbol appears on reels two, three and four. However, another caveat is, if you land a purple diamond symbol during the Free Spins game, you would trigger one more free spin. This game can be retriggered a total of 100 times. Lucky you if you manage to get at least half the number the possible free spins because during the game, the purple diamond substitutes for any one of the diamonds of color and it comes with great payouts. 
Rich Girl Concluding Remarks
We have here a game that pays a top prize of 10,000 coins. This is the in-game jackpot of She's a Rich GIrl slot that tops the highest payout amount of many online slot games. Although it is a Wild symbol and it doesn't substitute for itself, landing five is not an impossibility as it has happened and continues to happen to the luckiest slots player. Feel free to claim your bonus package and spin the reels on this pretty amazing game, with a silly but not completely unbelievable story.
If the Rich Girl sounds appealing, well not the girl herself but the game, register with one of our featured casinos, claim a bonus and play She's a Rich Girl slot today!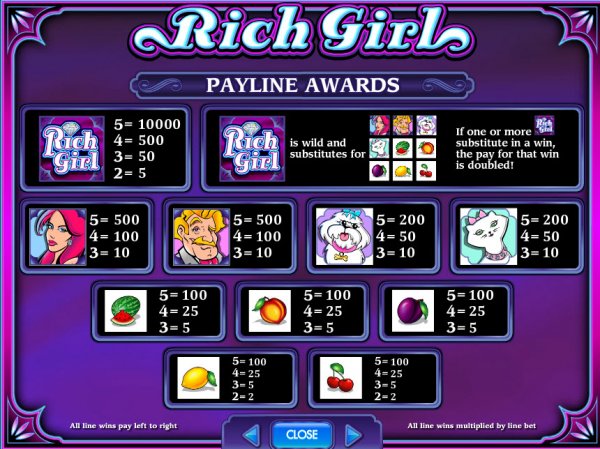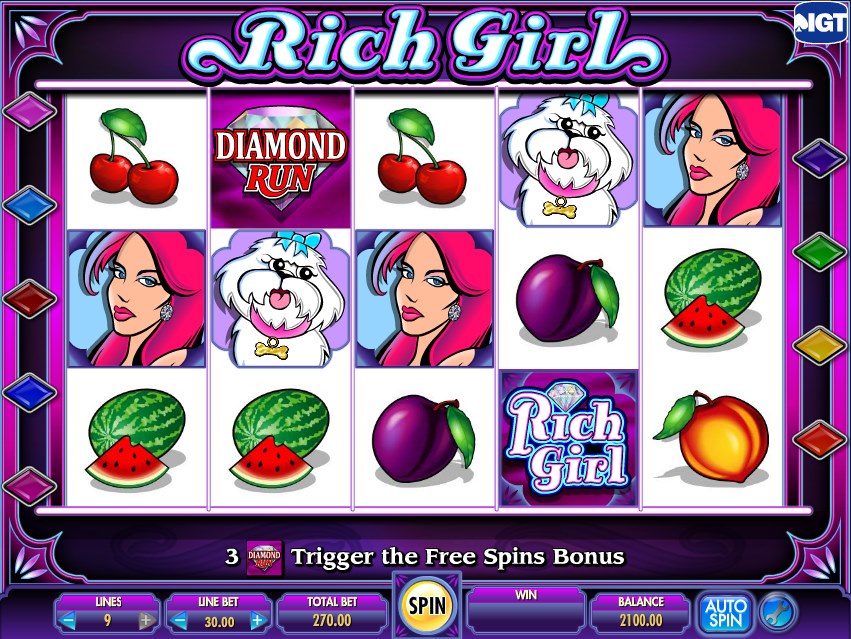 Want great offers sent straight to your inbox?
Enter your email below and we'll do all the hard work for you
Welcome to our Mailing List
Keep a look out for our emails containing great offers!