Key Features
| | |
| --- | --- |
| Reels: | 3 |
| Paylines: | 1 |
| Bonus Rounds: | 0 |
Cash Crazy Slots Online
Turn the reels on Cash Crazy slot, a retro Microgaming slot for a chance to win the top prize of 1600 coins on the winning bet. This game features a wild symbol that works on three reels with only a singlepayline. 
Cash Crazy Overview
Just when you need a crazy contraption that has the potential to alchemically produce gold coins and green bank notes, here is the Cash Crazy slot machine. The slots experts at Microgaming are pioneers in the world of online slots. In fact, they were the first company to launch an online casino, and that was back in the early1990's. 
So we know that can make a solid retro game. We don't know when Cash Crazy slot was made, but it sure looks dated. Does that prevent pro and new players from checking it out? Certainly does not. By all appearances, this is a plain andsimpleretro online slot can let its reels spin on two coin levels, with one or two prize tiers and a jackpot prize of 1600 coins. 
Cash Crazy Wild Win Combinations
There is a strange thing about Cash Crazy - that there is a wild symbol, which is a rarity in retro slots, but hey, it's here and we can'tnotappreciate the fact that there is a substitute on a three reel, onepaylineslot, and that there is the option of a single symbol pay in this game. So, without any further ado, we'll get into the gameplay details of this Microgaming slot machine which may still be available at a number of online slots and online casino sites. The welcome bonuses that are tied to a number of such sites right here on SlotsWise may lead to the game, so do check out what bonuses are on offer today. 
How to Play Cash Crazy Slot
This is how the players can go about setting up the bet on a retro slot machine. The surface at the bottom is reserved for the settings and for the windows that display the current bet, the winandthe credits. This is also where the players will locate the plus and minus buttons, which are to the right of the two rectangular buttons for the Options and Help. 
The plus and minus raise or lower the amount of the bet per coin level. You will notice that pushing the Bet One button will either take the present bet amount and double it or take it back to the previous amount. This button toggles between the first and second coin levels, and by pushing it you will notice that something is shifting on the paytable in front of you. 
The smallest possible bet that can be made is £0.25 and that is on the first coin level; pushing the Bet One button from here will double that sum to £0.50. On a retro slot machine such as this, it isn't a big surprise that the highest possible bet isn't that huge, and doesn't get anywhere near those exorbitant sums found in contemporary slots. So if anyone wishes to engage in some high stakes action on the Cash Crazy slot, £10.00 per spin will suffice, this being the max bet. 
Cash Crazy Design
No one should ever expect pots and whistles from a retro slot game, let alone animated symbol wins. This isn't to say that the design is terrible by default, because it isn't. It's just that there is so much you can do before spoiling the simplicity of a retro slot game, such as those made by the famous Microgaming company. 
They have played on the 'crazy' part of the title cleverly by fitting in a crazy machine underneath the reels that causes the reels to turn. The paytable takes up half of the screen and displays the symbols at play: cherries, a single double and triple BAR, the lucky seven symbol and the wild symbol, which iscrazyscientist with two fistfuls of cash. 
As for the reel-set, it is a plain glass display of three reels that seemingly show three rows,howeverthere is only one row straight in the middle and it represents the singlepaylineon Cash Crazy. 
How to Win Cash Crazy
The game is won through landing any of the combinations that are displayed on thepaytable. There aren't too many of these, but also there aren't too many symbols, so it is perfectly balanced. The players can win two or four coins, times the winning bet, when just a single cherry symbol lands in combination withany oneother symbol. Three ofthe anybar combinations results in 3 and 6 coins. 
The game's highest pay comes when three of the wild crazy professors land on thepayline, and that comes with 800 or 1600 coins on the winning bet. That symbolbeingthe wild, substitutes for any other, including the second most valuable symbol of the green lucky seven.
If you are ready to embark on some retro slots action, play the Cash Crazy slots. You can start by claiming a welcome offer for one of the casinos on this page, and discover this and other retro slots there.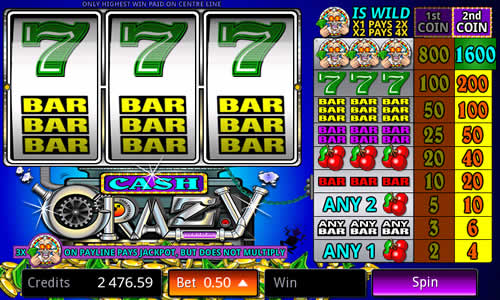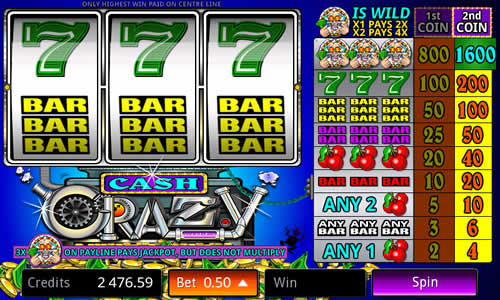 100% up to £100 Bonus + 300 Free Spins
100% UP TO £200 + 100 FREE SPINS
Similar Games
Want great offers sent straight to your inbox?
Enter your email below and we'll do all the hard work for you
Welcome to our Mailing List
Keep a look out for our emails containing great offers!