Overview
Old-fashioned but still awe-inspiring slot-trip through the immensity of our galaxy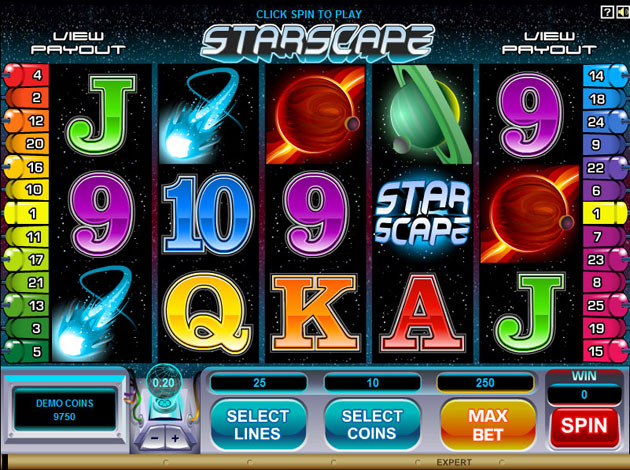 Key Features
| | |
| --- | --- |
| Reels: | 5 |
| Min Bet: | 0.01 |
| Paylines: | 25 |
| Max Bet: | 250.00 |
| Bonus Rounds: | 0 |
Starscape Slots Online
The awe-inspiring scenery of Outer Space has proven fertile territory for slots makers. Starscape slots, in 2006, was one of the first to really try and get to grips with the vast expanses of the unexplored universe. Many years on, it still looks pretty good, with the various planets looking bold and ethereal. Not everything about this game has aged quite so well, though. However, with the 70,000-jackpot, the game still looks impressive.
Starscape Overview
Space and stars are not an uncommon theme when it comes to online video slots. You'll find plenty of games in online casinos offering players a unique space experience when spinning the reels. This is also true for Starscape slots which comes with five reels in three rows and up to 25paylines.
The game makes use of a fairly standard Wilds and Scatters with the Starscape Logo Wild furnishing players with a 2x Multiplier, and the Scatters giving a nice bonus - particularly if you score five of them. However, there are no Free Spins or other Bonus Rounds. And the lack of variation in the Wilds also feels very constrained for a slot that's about outer space. 25 Paylines is decent, but no longer anything remarkable - back in 2006, such a figure was still relatively rare.
Starscape uses standard playing card symbols – 9, 10, J, Q, K and A – and five theme-related symbols on its reels. Both groups of symbols will get you certain payouts for landing combinations of three, four and five matching symbols on an activepayline.
In addition to the standard symbols, Starscape uses two special symbols, a space station scatter and a Starscape logo Wild symbol.
How To Play Starscape Slots
Setting the total bet for the spin is the first thing you need to do when playing Starscape. You can do this by adjusting the values for the coin denominations, the number of active lines and number of coins. Pressing the '+' and '-' buttons below reel two, lets you select the coin denomination that suits you best. By clicking the SELECT LINES button, you can activate anywhere between one and 25 lines to place your bet across. In the same vein, by pressing the SELECT COINS button, you can select how many coins you want to place on a single line.
Once you've decided on your total bet, press the red SPIN button in the bottom right corner of the screen and the reels will start spinning.
How To Win Starscape
As we have mentioned in the text above, payouts in Starscape slots are awarded for landing combinations of matching symbols on the reels. When it comes to the symbol payouts, all symbols on the reels award payouts for combinations of three, four and five matching symbols on an activepayline.
The low-value in Starscape start with the 9 awarding 4, 10 and 20, followed by the 10 with 4, 12 and 25, J with 6, 15 and 30, Q with 6, 20 and 40 and K with 8, 25 and 50. Finally, the A will get you payouts of 8, 30 and 75.
The high values start with the Moon awarding 10, 50 and 100, followed by a comet with 12, 75 and 125, Mars with 15, 100 and 250 and Saturn with 20, 125 and 500. The Sun is the highest-paying high-value symbol awarding 25, 250 and 1000.
The space stationscatterwill get you payouts of 2, 3, 10 and 100, while the Starscape wild is the highest-paying symbol in the game with payouts of 10, 100, 1000 and 7000.
Starscape Bonus Features
Starscape Bonus
As we have already mentioned in the opening section, Starscape slotscomeswith no free spins bonus feature. The only bonus feature is triggered by landing at least three of the space station scatter symbols anywhere on the reels. You will be taken to a grid where you need to pick the spaces until you find matching symbols. Depending on the symbols that you match, you will receive a cash prize of certain value. Besides cash prizes, you may also uncover multipliers which will help you receive higher payouts.
An interesting feature in the game is that you can play with only one activepaylineand still have the same chance to trigger the bonus game because the scatter symbol will still be active.
Our Starscape Slot Review
Starscape slots is another nice-looking game coming from the studios of Microgaming. However, although looking great, the game is a bit dull because it doesn't offer any interesting additional bonus feature. If you are a real space slot aficionado, then there is no reason for you not to spin the reels of Starscape.
So, choose your welcome package from those featured at Slotswise and spin for the chance to win excellent real money rewards on Starscape!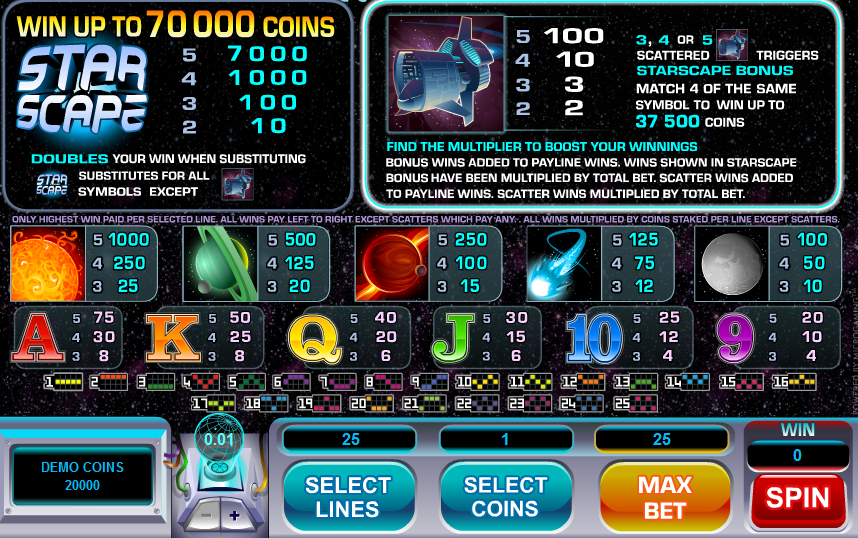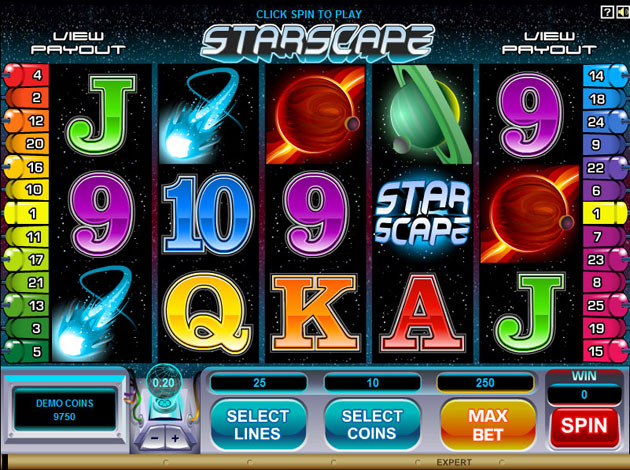 Want great offers sent straight to your inbox?
Enter your email below and we'll do all the hard work for you
Welcome to our Mailing List
Keep a look out for our emails containing great offers!