Overview
Super cute teddy bear game.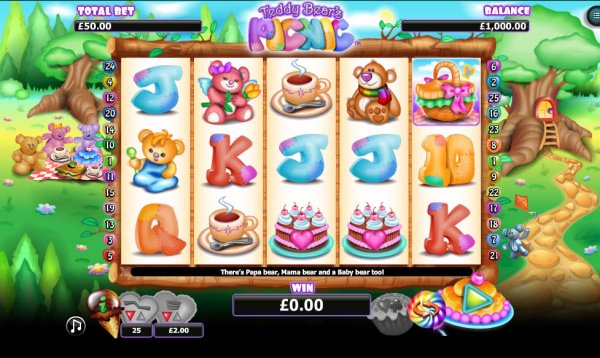 Key Features
| | |
| --- | --- |
| Reels: | 5 |
| Paylines: | 25 |
| Bonus Rounds: | 0 |
Teddy Bears Picnic Slots Online
If you have had it with ultra-modern slots with edgy graphics and modernistic gameplay, then you need to check out the Teddy Bears Picnic slot. This game takes you on a reel adventure to a magical forest that is inhabited by fluffy creatures that not only make delicious picnicfood,but can also cause cash prizes to shake out from the reel-set. Created by the slots experts at NextGen Gaming, this bundle of slot cuteness overload will have you playing just for the fun of it. 
Everything unfolds on three rows, five reels and 25paylineswhich is enough for a fun-loving slots adventure that may result in some interesting cash payouts. The game also has a bonus feature, which just adds to an already complete slots experience. To play, follow through with our review and check out the welcome bonuses that you can claim, right from this page. 
Teddy Bears Picnic Slot Design
The first thing that captivates the players at the get-go is the colorful layout. We are yet to find teddy bears that have been drawn and rendered as cutely as these. Although this doesn't matter in the end when it comes to the game's payout outcomes, it does provide with a reason why one should choose this slot over another slots adventure. 
On the reel set of the Teddy Bears Picnic slots you will find the two usualcategoryof symbols - the high paying ones which are pictures and the lower value symbols which are some number and face cards from ten to ace. The first category that everyone cares about consist of a cup of coffee, a delicious-looking cake, a bear cub holding a rattle toy, mama bear holding a tulip and papa bear with a fancy shawl. 
How To Play Teddy Bears Picnic
Setting up for the gameplay on this NextGen slot is rather easy. To the right of the fifthreelthere is the Play button with its ample presence and next to it is a single coin, which whenelectedwill open up a drawer that lets the player select the coin size value. 
The coin size has a nice range that allows the players to select thebetthat works for them. So you can play with a bet perpaylinestarting at one penny and pay all the way to £20 per line, which bumps up the bet per spin to £500 which is not at all a naive sum of money. 
As for thepaylines, there are 25 in number and are selectable, so you can play on as few as onepaylinethat draws across the center row, or you can play on all 25 or any number in between these. Playing on allpaylinesmay be the best approach so that no winning combinations are ever missed. Veteran player, depending on their balance, play all lines but with a smaller coin size in respect to the balance, and depending on the gains switch around the total bet per spin. 
How To Win Teddy Bears Slot
Even though these bears are as cute as they get, sadly they don't just give out cash prizes to everyone. Well, in a slot game everyone will win an amount when making enough turns on the reels. At any rate, the cash prizes at available for everyone through therandonnumbers generator, which is a mathematical program that delivers sequences of numbers which in turn ensure that each and every outcome is a random occurrence. So now for those who didn't know, slots are games of chance whose outcomes can't be influenced by the players or the house. 
What actually entails in winning the game is scoring multiple cash prizes that will result in the player raking in a big sum from the slot game. The top paying symbol is the Wild, which is a honeycomb that pays 500x for five matching symbols. Next in line is thepappabear which pays 400 and the mamma bear paying 300 for five. The rest of the symbols are 250 and below.
The scatter symbol is also here in the shape of a picnic basket, so it gives the Teddy Bears Picnic slot its name. 
Teddy Bears Picnic Free Play
There is a bonus game in this slot game and it is free spins, which is the favorite to players. Landing the basket in three or more positions will bring on 8 free spins, which, unfortunately,can notbe retriggered. However, the wild symbol becomes a sticky wild, because it's honeycomb - get it - and stays until the end of the free spins bonus game. 
Then there is another perk in the Teddy Bears Picnic slot. Following any appearance of the Base Game turn, a teddy bear may appear on the reels and add the honeycomb on the middle threerealsand the same is true after the Teddy Bears Picnic free spins bonus, howeverin that casethe teddy bear appears on any reel. 
To start your picnic adventure with the bears, select your welcome bonus from this page and spin the reels.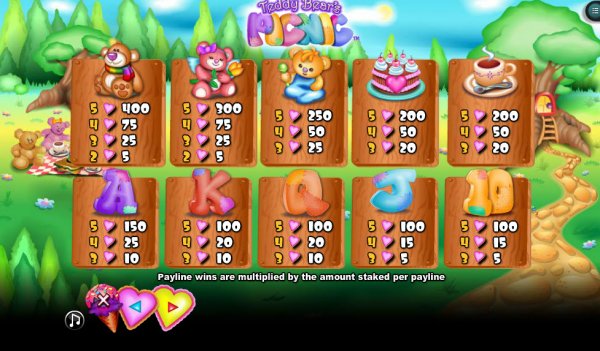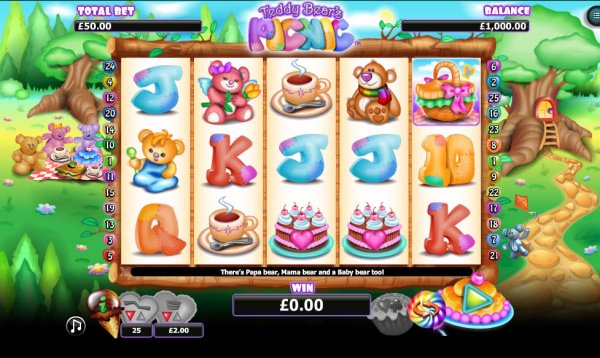 Want great offers sent straight to your inbox?
Enter your email below and we'll do all the hard work for you
Welcome to our Mailing List
Keep a look out for our emails containing great offers!