Overview
Romeo and Juliet: Sealed with a Kiss slot by GreenTube/Novomatic is an amazing online slot rendition of one of the most famous love stories in the world. The slot game may as well reach the same fame thanks to four reel modifiers and a gameplay that both have flawless graphics execution and can lead to a potential payout of more than 3000x.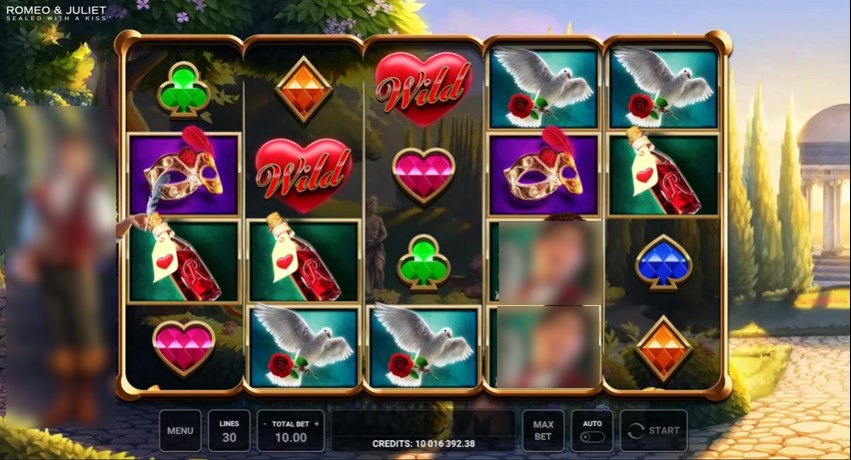 Key Features
| | |
| --- | --- |
| Reels: | 5 |
| Min Bet: | 0.20 |
| Paylines: | 30 |
| Max Bet: | 30.00 |
| Bonus Rounds: | 4 |
| Variance: | Medium |
Romeo And Juliet: Sealed With A Kiss Slot Online
An evergreen story that has inspired many lovebirds around the world, and which has been masterfully told by Shakespeare. The story in its full glory has been retold by the slots experts at GreenTube who have recreated it for the slots players who want to warm up their heart to true love.
Romeo and Juliet: Sealed with a Kiss Introduction
The game has wilds, lots of wilds, and these are shaped like hearts that fly around the reel-set and post on the reels to substitute for an array of symbols. The action on Romeo and Juliet: Sealed with a Kiss slot takes place on five reels and four rows. The game is fully animated and very lively at that, which is always a welcome setting for a gaming adventure. 
Those who are eager to try this game, either casually or in anticipation of potential big wins, will discover extras and features such as expanding wild symbols, colossal wild symbols, a free spins feature and more. Claim a welcome offer on this page and discover the idyllic and timeless story of Romeo and Juliet. 
Romeo and Juliet: Sealed with a Kiss Design Features
The slots creators at GreenTube/Novomatic have created a game that is filled with features that post during the gameplay in a way that is animated and fully engaging. Romeo is the lead character and he can be seen always standing to the right of the reel-set.
Juliete appears on the reels and also as part of the reel modifier ploy, when she blows a kiss-sealed letter to Romeo. As it can be expected, each of the high-paying symbols are related to the story. The low paying symbols are the card suits made of gems and the wild is a heart-shaped symbol, which also appears as a fully-expanded love letter.
Romeo and Juliet: Sealed with a Kiss slots has a light but dramatic musical score which sounds as if composed by Vivaldi. Nevertheless, it all fits into the exceptional gameplay of a slot that is a lot of fun to play. 
How to Play Romeo and Juliet: Sealed with a Kiss Slot
You can prompt the reels to spin by pressing the square Start button, which can be found in the bottom right corner of the screen. 
This action makes the reels spin once, so if you want to play the game hands-free, without manual input for an unspecified number of spins, then use the Auto button.
Pressing the Auto will start the automatic spins. Since there aren't any additional options and controls, this feature goes on until you press the same again, in which case the autoplay mode stops.
But before you start playing Romeo and Juliet: Sealed with a Kiss slot, you should select a bet from the available range. This can be done by pressing the minus or plus button on the Total Bet. 
The game has bets that start with either £0.20 or £0.30 per spin, depending on the casino. The maximum bet is £30.00 per spin which reflects one pound for a payline bet.
To view the payouts, game rules and bonus feature details you can press the menu button and open up the paytable, which isn't absolutely necessary as all of the payouts are automatically registered and impossible to miss. 
How to Win Romeo and Juliet: Sealed with a Kiss Slots
A game of four rows and five reels warrants wins made of three or more matching symbols, which can post on any of the game's always active 30 paylines. The volatility of the game is medium, so it can be expected that small, medium and big wins are possible but wouldn't post often at all. With a medium risk regarding the volatility, the iterations will be likely inclined to make small and medium payouts a lot more often than big wins. 
High-paying symbols of the game are a carnival mask, a dove holding a rose, a love potion with a love note attached to it, and Juliet's portrait. The wild symbols can appear either as a heart or as an expansive love letter. The reel action, however, on the Romeo and Juliet: Sealed with a Kiss slot comes with the extra features.
Romeo and Juliet: Sealed with a Kiss Bonus Features
Both Romeo and Juliet have lively characters that flank the reel-set, however it is Romeo who initiates the reel modifiers, of which there are four in total: Change of Heart, Reel Love, A Brush With Love abd Sealed with a Kiss.
The most exciting reel modifiers is the fourth one. This is where Rome writes a letter to Juliete, sends it on the first reel where it posts expanded. If the wild letter symbol produces a win it will continue on to the next reel.
This way, the expanded wild can reach Juliete on her balcony, who can kiss the letter and send it back, which triggers five free spins. These are actually ten free spins, since the wild has caused a respin to occur for each consecutive win.
The free spins then can result in wild hearts posting on the reels. Another modifier is a purple heart, which emanates from the side of Juliet. This adds extra spins to the bonus. Last modifier is a huge, colossal wild symbol which is bound to interact with the other symbols. 
Romeo and Juliet: Sealed with a Kiss Free Play
It is expected that the game will be released as a free play demo at casinos that host demo slots and games by GreenTube/Novomatic. 
Romeo and Juliet: Sealed with a Kiss Closing Thoughts
Here is a medium variance game with lots of exciting features that are going to come out beneficial towards the potential big wins. GreenTube/Novomatic have been making slots for years now, but it seems that with this game that are stepping into a new, edgier dimension, even though the theme at hand is all about the love letters. 
Discover the Romeo and Juliet: Sealed with a Kiss slots by claiming a welcome offer right from this page and play at top notch online casinos.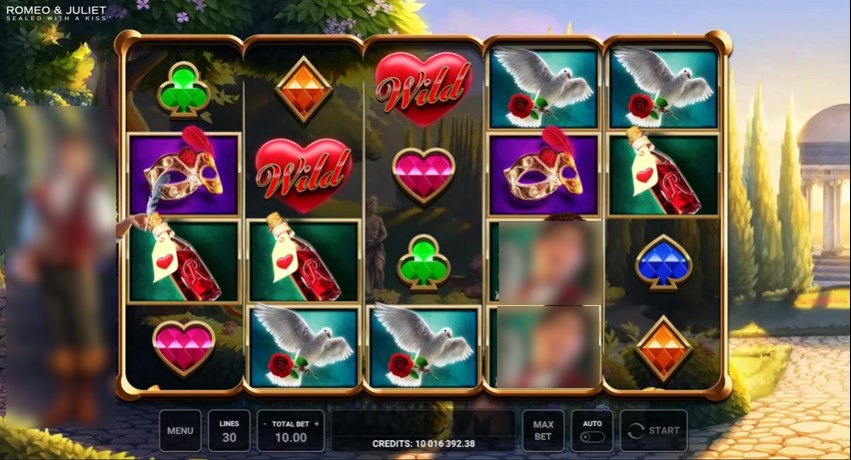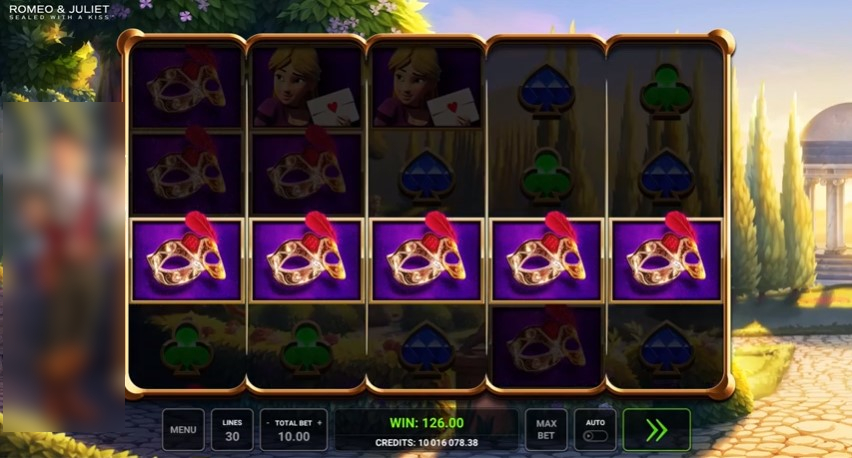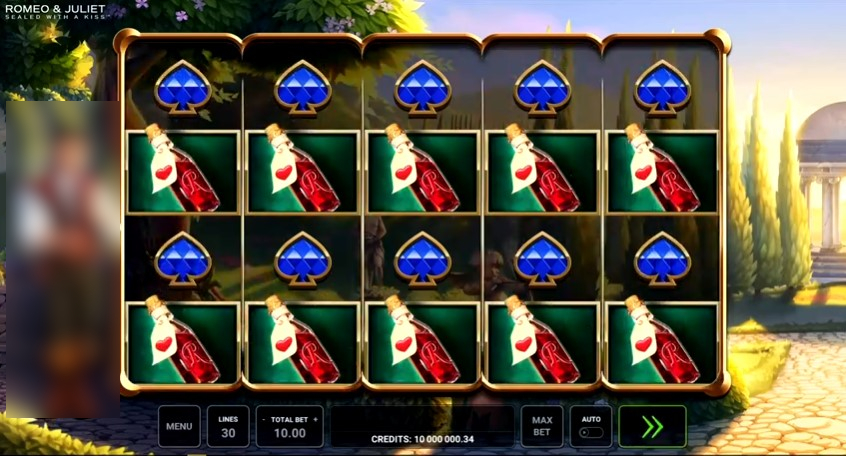 Want great offers sent straight to your inbox?
Enter your email below and we'll do all the hard work for you
Welcome to our Mailing List
Keep a look out for our emails containing great offers!