Introducing Hot Cross Bunnies, the three-reel online slot game that brings the most unlikely of inhabitants to a tropical island for your spinning pleasure.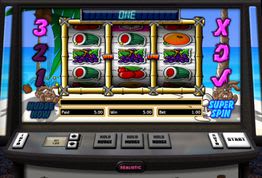 Hot Cross Bunnies Slot Online
Introducing Hot Cross Bunnies, the three-reel online slot game that brings the most unlikely of inhabitants to a tropical island for your spinning pleasure. This is a game by WMS Gaming, a company that has already produced a number of very exciting games. Hot Cross Bunnies slot was produced with the intent to resemble old school slots that have been released in the past, and that is pretty much the case. So, if you're feeling a bit nostalgic about the games of the olden days, then Hot Cross Bunnies is the game for you. 
The graphics don't intend on being realistic on Hot Cross Bunnies, but they are clean and crisp. The symbols are typical of a slots game; you have the chance of landing cherries, grapes, melons, oranges and bells, whilst the pink bunnies will trigger the exciting bonus feature. After all, these are the symbols that appeared on the reels of older slots, so it is completely understandable why fruits appear on the reels. 
Hot Cross Bunnies Overview
Hot Cross Bunnies features just one payline, bringing an element of simplicity back to the online slots scene. This is a Vegas-style slots game, in terms of its single payline and design, although there are some incredible bonus features that can be triggered, adding an extra fun element into your gaming experience when playing this slot. 
Basically, when you see the reels of this game, they look just like the reels of an old land-based casino style slot and nothing like modern slots with enhanced graphics and all. Still, the game looks a lot more modern compared to older land-based games. So, it is, in a way, a retro remake of older games, even though it is not based on a specific older game. 
Even if you aren't nostalgic and you have never played older slots before, you will certainly enjoy Hot Cross Bunnies slots, because the game is quite authentic and unique. Hot Cross Bunnies was released back in 2013 and it became an instant hit. It is still popular, even though it has been a while since it was launched. 
Design
The game is somewhat of a strange clash between a beach-theme, fruities and a pink bunny that appears three times to bring on the Bunny Money Feature. There isn't much to say regarding the graphics. If you are looking for a full blown modern slot experience, don't play this. On the other hand, why be a slots snob when you can have a ball with the Hot Cross Bunnies slot? 
Surely, this game provides lots of fun even though there are only three reels and one payline. Remember, the origin of the most sophisticated slot machine is from the simple one-liners such as the Cross Bunnies demo that you can play to experience what we have with this online slot.  Besides everything else, the reel action unfolds smoothly as this slot isn't cranky at all like some others that have been designed to act as fillers. The Hot Cross Bunnies demo has sound too, but the sounds are mere bleeps and silly jingles, that, admittedly, follow the given style. 
How To Play Hot Cross Bunnies Slot
Playing this game will make you feel like you're playing a classic slot game at a land-based casino. There are three reels and you will notice the buttons placed below the reels. The control panel is quite simple and straightforward. The buttons look like actual buttons. 
The start button on the control panel of Hot Cross Bunnies slot is placed in the bottom right corner. The auto button is to the left, whereas the three nudge buttons are placed centrally. There are bet line buttons to the left, just below the leftmost reels.
So, the first thing you need to do is choose your bet level and then press start. Once the reels start spinning, different things can happen including nudges. 
The bet range for Hot Cross Bunnies is vast; you can play with 25p up to £200, and with a jackpot of 30x your bet amount, there is the opportunity to win some big money! As there are just five symbols and the winning combinations can only be consisted of three symbols, it is not difficult to calculate the potential winnings.
How To Win Hot Cross Bunnies Slot
As we mentioned, you will need to get three instances of the same symbol across a winning combination. The cherries are the least valuable symbol, whereas the bells are of highest value. Your stake will be doubled if you hit three cherry symbols across a combination, whereas your wager will be multiplied by 30 if you get three bells on the winning combination.
That's pretty much everything there's to be said about the winning combinations in this game. We'll say a bit more about the nudges below.
Hot Cross Bunnies Free Play
To get the most out of the game, you can use the free play version of it.
The free play version is basically the same game as the original one, with only one difference where you will be spinning the reels of the slot with credits given to you from the site you are playing rather than your own money. This is perfect for times when the slot game is relatively new and you need to learn the game before losing your money in the process.
Another way to get free spins on Hot Cross Bunnies is to find a casino which offers free spins as their welcome bonus. For this, you would need to make a deposit one time, and you will be able to use those free spins and get all the prizes from the game – something that's not the case with the 1st example.
Hot Cross Bunnies Bonus Features
There's a Nudge & Autonudge feature on Hot Cross Bunnies which is randomly triggered after each spin, so you'll be given the opportunity to receive between one and three nudges. A common feature on land-based fruit machines, nudges allow you to bump the reels in order to try and make a winning line. This can be done manually or automatically by using the Autonudge button. 
However, if you don't do as well as you'd like when nudging yourself, the Autonudge feature will take over to give you the best possible win. The Super Spin feature will sometimes be awarded after an unsuccessful nudge attempt. A Super Spin will reward you with a guaranteed win.
Hot Cross Bunnies also has a Bonus Money Feature which will be launched when you land three pink bunnies on the reels. Once launched, the camera will then pan out, revealing the slot machine and an image of the rest of the casino. The reels then spin a random number of times, and each symbol that lands will contribute to the fruity meters at the top of the screen. Once a meter is full, you'll be given the relevant rewards and the meter will be emptied. As the lower value meters fill up first, it's often difficult to fill the bells meter. We still think it's a pretty enjoyable feature anyway.
This feature adds a lot to the game and it is a quite interesting twist, it makes Hot Cross Bunnies slot a perfect mixture of classic land-based slots and modern online games. 
Our Hot Cross Bunnies Review
We think Hot Cross Bunnies has a classic feel to it, featuring typical symbols and just one payline! Whilst some people may like this, others may not, although the enjoyable bonus features do their best to offer something a little bit more than spinning reels and landing symbols!
The prizes you could win aren't to shabby either, so we are assuming that you're going to have tonnes of fun playing Hot Cross Bunnies slot. 
Once you're ready to play, just sign up with one of the casinos featured on SlotsWise, claim your bonus and enjoy!
Key Features
Provider

Realistic Games

Reels

3

Min Bet

TBC

Max Payout

TBC

RTP

TBC

Paylines

27

Max Bet

TBC

Bonus Rounds

0

Variance

TBC
About The Author
Sanja Tasevska
Fact
Sanja is our game expert and uses her knowledge to review all kinds of slot games, both old and new. The detailed reviews include the most important info about a particular slot game. She's been a part of this industry for many years and so far she's played and given her opinion on thousands of different slot titles. Contact Sanja sanja@slotswise.com
Similar Games
Welcome to our Mailing List
Keep a look out for our emails containing great offers!