Overview
Rainbow Ryan slot is a game with six reels and four rows which tells the story of Ryan, a funny leprechaun who enjoys playing his guitar. The game has 4096 ways to win, it features six reels and four rows.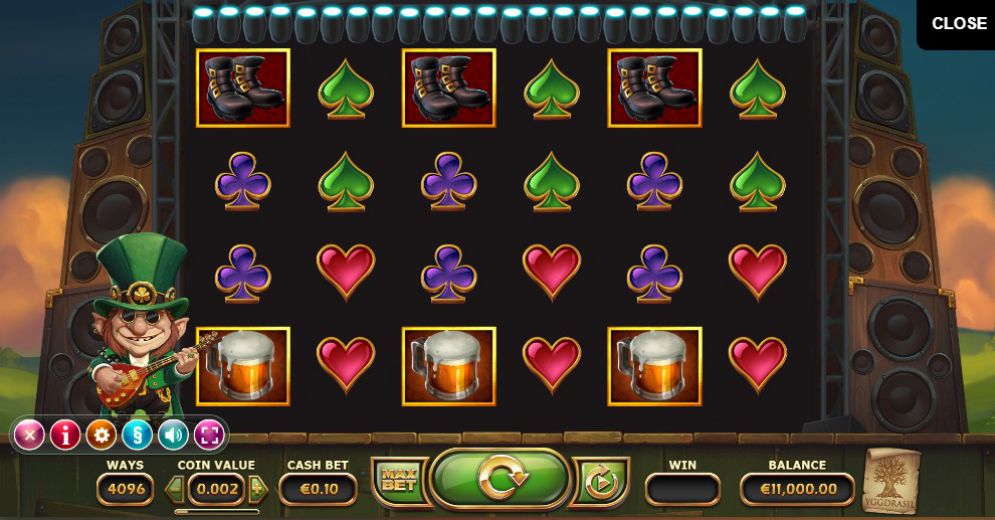 Key Features
| | |
| --- | --- |
| Reels: | 6 |
| Min Bet: | 0.10 |
| RTP: | 96.30% |
| Paylines: | 4096 |
| Max Bet: | 100.00 |
| Bonus Rounds: | 0 |
Rainbow Ryan Slots Online
Rainbow Ryan slotis a game with six reels and four rows which tells the story of Ryan, a funny leprechaun who enjoys playing his guitar. You will see Ryan on the left side of the reels. There are 4096 ways to win in Rainbow Ryan. The game is played with 50 coins and if we exclude the non-standard features like the six by four layout and the unusually high number of winning combinations,Rainbow Ryan slotis a typical Irish-themed game, so if you are a fan of leprechauns and you have enjoyed other games by Yggdrasil, this game will be your cup of tea.
Introduction
This game features a standard design with its cartoonish symbols and the animated leprechaun. The standard main game jackpot is 250 coins, but you can win a lot more in the bonus games. Rainbow Ryan slots features are rather amusing, specially the Rainbow Reels which can result in hefty payouts. The 4096 winning combinations generate a lot of opportunities, but payouts are only possible if the symbols are aligned left to right and not the other way round.
The soundtrack is a rocky theme with suitable ambience sounds whenever something interesting happens.
How to Play Rainbow Ryan Slot
Rainbow Ryan slots winning combinations are always fixed, you cannot change the number of active paylines. However, as there are so many winning combinations you are not required to place one coin per payline. Instead, the game is played with 50 coins and the minimum coin value is much lower than 1p. So, if you choose to wager the minimum amount per coin, one spin will cost you just 10p, which means that you'd be able to play ten spins with a quid.
Simply click + or – on the coin value and you'll notice how the cash bet amount is changing. Alternatively, if you wish to wish to raise your stakes and try your luck with the maximum amount, you just need to click on max bet and then you will see the cash bet amount change to £100. While the minimum stake per coin is lower than 1p and the maximum is £2, you can choose multiple values in between. In addition to the play button which there's also an autoplay button which you can use to set the reels to spin non-stop. You can choose the number of spins, but you may also set the reels to spin forever, i.e. until you choose to stop it.
If you activate the advanced options panel you can set more specific parameters for the autoplay. For example, you can make the autoplay stop after a single win, where you have the freedom to specify the winning amount, or you can have the autoplay stop after your bankroll grows or decreases to a certain amount of money.
In the advanced panel you can adjust the game speed, change the volume of the sound effects and the ambience music, and enable the space bar as a play button. A full-screen option is available on this game, which is great for those who want to watch the reels spin from a closer perspective.
How to Win Rainbow Ryan Slot
Rainbow Ryan slot has low symbols, high symbols and special symbols. The winning amount depends on the number of symbols per combination, their specific value and the coin value, i.e. the amount that you have staked. If you wish to compete for the highest prizes you will need to raise your stakes to the highest possible amount.
The card suits are low value symbols in Rainbow Ryan slots, but you'll notice that the suits are coloured somewhat unconventionally, the club is purple, the diamond is orange, the heart is red, and the spade is green. You'll get ten or 12 coins for three card suit symbols, 20 or 25 for four, 40 or 50 for five and 60 or 70 for six.
A beer mug, a microphone, boots and a green bag full of money are the high-valued symbols. These symbols pay more than the card suits and you can get a winning combination with just two symbols. You will win 30 coins if you get two green bags and as much as 75 coins for three bags. For six high symbols you will get a 100+ coins payout – 100 coins for five beer mugs and 250 for a combination of five coin bags. In addition to the standard Rainbow Ryan slots symbols, there's also has a wild symbol and a free spins scatter.
Bonus Features
The free spins symbols activate the Free Spins mode in Rainbow Ryan slots. With three symbols you will get seven free spins, ten free spins with four symbols, 15 spins for a combination of five symbols, and if you're lucky enough to land six free spins symbols across a payline 20 free spins will be activated.
The wild symbol can replace all symbols and that substantially increases your winning chances. The Rainbow Reels are the special feature. Randomly, Ryan will point his guitar towards the reels and a rainbow will appear. The reels that have been affected by this feature will be synchronised, they will display the exact symbols. If all reels are affected by the Rainbow Reels it can result in massive wins, since all reels will display the same symbols and that guarantees multiple six-symbol winning combinations. Whenever the Rainbow Reels is activated at least two reels will be synced.
Conclusion
Rainbow Ryan slots is a great option for all of you who are fond of Irish themed games, especially if you're also into rock. The soundtrack performed live by Rainbow Ryan is a high-quality rock tune and the visual effects are completely suitable for the game style and design. The RTP is 96.30%, which is better, at least fractionally, than the RTP of most other Yggdrasil games, but also slots in general. Register at one of the online casinos featured on our website, then start playing Rainbow Ryan and hope that Ryan will like you enough to activate the Rainbow Reels on all six reels for you.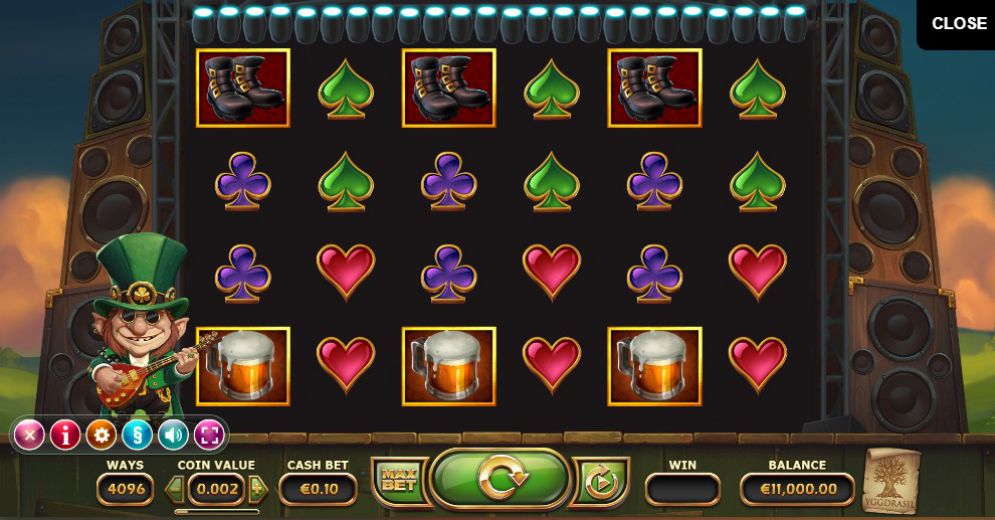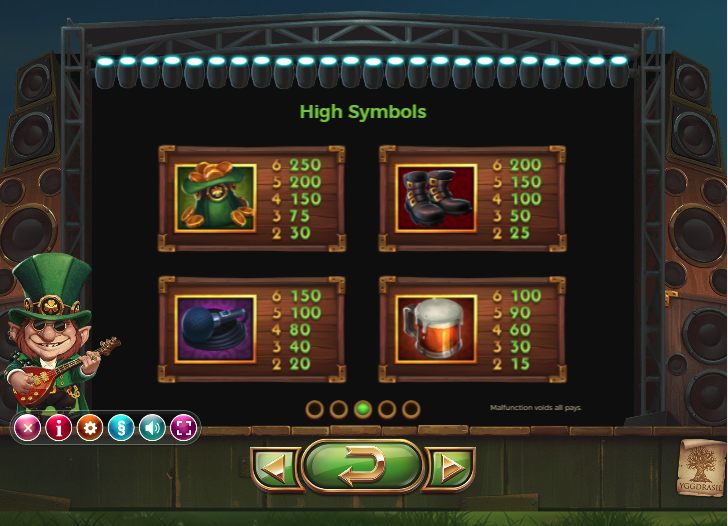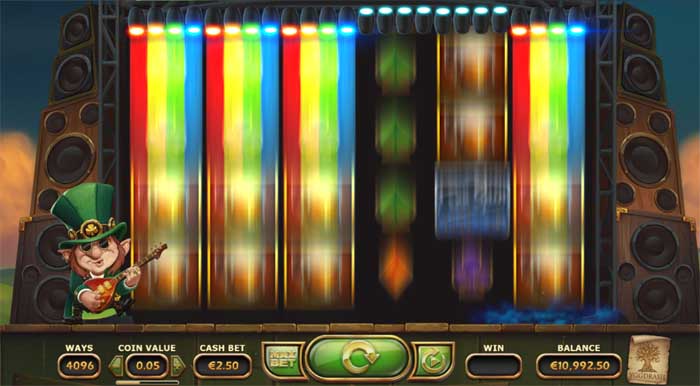 Want great offers sent straight to your inbox?
Enter your email below and we'll do all the hard work for you
Welcome to our Mailing List
Keep a look out for our emails containing great offers!