Were you born to spin? Were you also born to ride? Enjoy both passions on the Slots Angels slot, and play for the in-game Progressive Jackpot.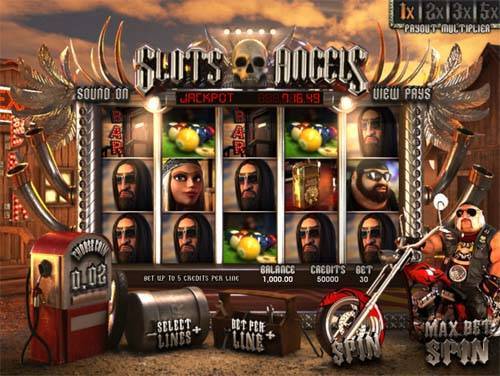 Slots Angels Slot Online
Grab a hog and join the gang when you play the Slots Angels slot. This progressive jackpot slot invites a fun-loving gameplay revolving around bike culture in the American southwest 
Slots Angels Overview
Here is a slot game that pack all the grit and reputation a bike gang could have. We are not talking about small town easy riders but right about the Slots Angels gang. Now these are not vile outlaws, these guys and gals just like to ride, but they do it as way of life. Being on the road at all times has given them a thick outer crust of salty sweat. This too: they love playing the slots. In fact, they have their own game called Slots Angels slot, and you are looking at right now. Find out what this Betsoft slot machine is all about before you play it with real money, or with one of the welcome bonuses that are available on this page. 
Slots Angels Slot Design
The slots experts behind the idea and execution of the Slots Angels slot have earned the bragging rights for making one of the most unique games in the world of online casinos. This is not an overstatement, as there are plenty of great slots, but many if not most are not on the same level of entertainment as this one. 
You will encounter an interesting cast of characters on the reels. There is the midage white mustached man riding a helluva hog, because he is the lead biker and is tied to the Biker Race bonus game. Then there is another heavily bearded guy with a bandana, a slinky and seemingly tall man in his early 30's who has an eerily messianic resemblance, and a dandy young blonde. 
Those were the high paying symbols and those that are worth a little bit or significantly less are a desert town BAR sign, a pair of choppers, an old gas lighter, a game of pool and a really cool money clip. There are few other symbols which trigger the Slots Angels slot bonus games and the in-game progressive jackpot, but we will get to these in just a bit.
How To Play Slots Angels Slot
Setting up for the gameplay is a fun thing in and of itself, as you'll find yourself in front of a desert town bar where you will have to find your way around a gas pump, a toolbox and some kind of cylinder that has something to do with riding. To set the coin size spot the gas pump and click on it. This will set the value between one penny and £1.00. 
Next to the pump is the object where you can set the number of active paylines. Use the minus or plus button to bring the number of lines up or down. There is a total of 30 lines, but you can play only on one. This is one of the rare slots in which playing the singe payline that cuts through the middle row is actually worth your time and effort. It is tied to the jackpot and you will find out how. 
Next there is the Bet Per Line value, which is on the toolbox. Clicking on the minus or plus values will nudge the Bet amount to the higher or lower level. The Next to the Spin button is the Max Bet Spin, which is right underneath the lead rider and his hog. When you spin he does tricks with the bike and that just adds more punch to the game in terms of visual effects and feel of play. 
How To Win Slots Angels Slot
There are few bonus games that you are welcome to enjoy once you land the triggering symbols. The first game is called Party Free Spins Mode. Land three or more symbols depicting an inventory of liquor bottles on any except the middle reel, and get the free spins. There is a reason why the middle reel doesn't invite the bonus symbol - it becomes the expanded wild that links up with the other symbols.
The Darts is another Slots Angels bonus games. Have three dartboards stop on reels one, two and five, and you will pick a board that reveals your prize. 
Then there is the Reel Respin feature which lets you earn more cash and here is how. With each base game win the center reel spins again and gives you a chance to win yet again. If that does happen then the middle reel spins again but this time along with the top corner row with Payout Multipliers. Each subsequent win nudges up the multiplier, so you can get up to 5x times your winning bet. 
Slots Angels Jackpot
Last but certainly not least with this game, is the in-game progressive jackpot. It occurs when you land five of the bearded biker on the center reel with the top bet, brings the progressive jackpot which is to a mighty tune of many thousand coins. This feature is available only during the base game and at the first spin, meaning, if you get it with the help of the middle reel re-spin, it's not going to count as a jackpot. So, best of luck.
To play for fun or for the win on the Slots Angels slots, select your welcome bonus at any one of the casinos and claim it now. 
About The Author
Sanja Tasevska
Fact
Sanja is our game expert and uses her knowledge to review all kinds of slot games, both old and new. The detailed reviews include the most important info about a particular slot game. She's been a part of this industry for many years and so far she's played and given her opinion on thousands of different slot titles. Contact Sanja sanja@slotswise.com
Similar Games
Welcome to our Mailing List
Keep a look out for our emails containing great offers!