Double Bubble is the incredibly popular online video slot from software providers Gamesys. With 20 paylines, there are plenty of ways to land combinations for cash prizes.  If you want to play Double Bubble online in the UK, then select the bonus that works for you the most and you can enjoy this game for real money today.  Of course, you can always try the free play version, if you want to get an idea of how the game works. Read our Double Bubble Slot Review to learn more.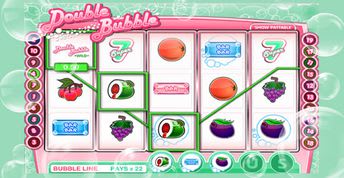 Double Bubble Slot Online
Last updated on 03/01/2022
If you're a bit nostalgic about the old fruities, yet you want a game that looks modern and fresh, we recommend that you give Double Bubble slot a shot. 
Since its launch in January 2014, this Gamesys slot has paid out more than £1.8 million in wins, whilst being triggered on average every 1.6 days. With this slot game's Return to Player (RTP) standing at around 96.02%, the stats don't appear to lie. The various coin sizes and paylines seem to accommodate all types of slots players, so the game gets a thumbs up from us!​
Play Double Bubble slot online to win cash prizes across five reels and 20 paylines! Check out the key details below:
Reels - 5
Paylines - 20
Bonus Games - 1
Release Date - 2014
RTP - 96.02%
About Double Bubble Slot
At first look, Double Bubble slot is actually a pretty simple looking yet attractive game. The gameplay is nice and easy to get the hang of, nothing too complex to understand and figuring out the win lines is nothing to be concerned about. It is aesthetically pleasing, has a nice border, and the reels have a nice "click" as they spin and land.
The design, in general, gives a classic slot feel something reminiscent of what you would expect from older style fruit machines. Probably the most enjoyable aspect of the slot is that the bubble bonus has the potential to pay out a huge sum, up to 20,000x the stake from a single spin. 
The Double Bubble slot plays on 5 reels, 3 rows, and 20 active paylines. Winning combinations are formed by landing 3 or more matching symbols on an active payline, starting from the leftmost reel.
To start spinning the reels of this popular slot, you have to place your bet which ranges from £0.01 to £100 per spin. Press the plus and minus buttons under the reels to set your preferred bet level, and then you can press the green spin button and start playing.
How Unique is Double Bubble?
When looking around both online and checking searches across the web and casinos for "Double Bubble slot" we found that this was a very popular game. So much so that it is one of Gamesys staple slot games, and is actually exclusive to them.
We couldn't find many examples of people streaming this game online, but we suspect that this is because of the casino exclusivity attached to it. Many Twitch streamers and Youtube videos of online slots feature casinos with a very wide variety of games from different providers. Most casinos like JackpotJoy will only feature games produced by Gamesys. 
So, how unique is Double Bubble? Well, actually it's actually pretty unique, other than the other games developed on top of it like the progressive jackpot and triple jackpot slots. 
The reason we think it's so unique is that the bubble feature and the rather large potential payout are rare amongst many other slots. This gives it a platform from which to draw in a lot of potential users looking for something that other casinos don't have or don't have the right to host.
Double Bubble Origin
The Double Bubble meaning can vary, as this interesting word combination refers to many different phenomena in different areas. In the world of online slots, it is pretty clear what this name refers to - the most popular online slot by Gamesys. 
The slot game itself isn't based on a specific idea like a film, book, or legend. The designers have been pretty creative and they managed to develop a game that resembles retro slots in terms of symbols but is also quite modern when it comes to design and all of the visual features. 
What Type Of Slot Is Double Bubble?
In order to win any slot game, you'd have to get a combination of multiple instances of the same symbol arranged in a certain way. In that respect, Double Bubble is a multiline slot. 
As the name suggests, multiline slots have more than one payline, consequently giving you, as a player, a chance to wager across various lines on one spin.
In the early days, slots featured just one payline, so these were obviously known as single-line slots. With the appearance of the first online slots came variety in terms of symbols, but also the number of payline and thus we got the first multiline slots.
Multiline Slots are considered to be classic slot variations nowadays because we have new technological improvements that allow pay systems to work differently and, in some cases, more excitingly. However, maybe this is still part of the charm for this particular slot, as it retains this classic element.
There are of course other things to consider when playing a multiline slot like Double Bubble. If you choose to wager across more than one line your bet amount, or coin size, will be multiplied by the number of lines you're playing on. So, if you're wagering with a 50p coin size on ten lines, your total spend on that spin will be £5 for this slot game! This is useful to remember before you press spin and potentially spend more than you wanted to!
Double Bubble Slot Stake Options
As well as the option to bet across multiple lines when playing this game, players are also provided with a vast choice of coin sizes. Ranging from 1p to £10, the coin sizes in this game really do suit slots players of all levels, including both beginners and indeed high rollers.
Better yet, no matter what size coin you're wagering with, you still have the opportunity to win big cash. If you manage to get your hands on the highest payout in the game, you'll receive 20,000x your coin size! So, even if you're wagering with a coin size of 1p, the maximum payout could win you £200. That seems pretty good to us!
Any winnings you happen to get are dependant on your coin size. The winning reward will be a multiplier of your original coin size. In essence, you'll need to wager with higher coin sizes and values if you want to win more.
Double Bubble Video - 10 Spins Challenge
Check out our Double Bubble 10 Spins Challenge and see how much money we won on this exciting Gamesys slot. Sign up and deposit at a site offering this game and choose your wagering options. Spin 10 times and let us know if you're a winner.
How To Play Double Bubble Slot
This vibrant slot is popular and for good reason. Players are presented with plenty of ways to win and excitement levels are sure to remain high throughout. With five reels and 20 paylines, players can land winning combinations in many ways!
When you launch this slot game, you'll notice that it has some great illustrations and graphics. Not only do the reel symbols look fantastic, but the bubbly background and reel surroundings are also eye-catching, not to mention including the bubbly background, the area surrounding the reels, and of course the symbols themselves!
When spinning the reels, you can land grapes, cherries, plums, oranges and more in order to make some winning combinations when playing this bubbly slot.
If you're wondering 'where can I play Double Bubble slot?', we've got it covered too. You can play on various Gamesys sites, including those focused on slots, but also plenty of bingo sites that also have a nice selection of video slots to play.
Now that you know where to find it, you can start playing. After choosing the coin size that you want to play with, the next step is deciding how many paylines you'll be playing across. You can choose between one and 20, with the latter being the maximum available. Selecting the number of paylines to play across can be done in the three following ways:
Click 'BET ONE' - this will add another line, and if you click past the maximum, it will reset your choice to one line.
Click on the coloured numbers - these are to the side of the reels.
Click  'BET MAX' - this will select all 20 lines, the maximum amount and the reels will start spinning automatically.
If you don't choose 'BET MAX', you can get the game started by pressing 'SPIN', after selecting the number of lines you'd like to wager on.
Double Bubble Symbols
Double Bubble slot features a total of 12 symbols, including a wild and the game logo which is the most valuable and most rewarding symbol. You will need at least three of the less valuable symbols on the reels for a winning combination, but if we're talking of the four most valuable symbols, two will be sufficient for a win. 
The five symbols of lower value are all fruits and that's in line with the game theme, considering that retro slots were the main inspiration for the creators of this online slot. There are 20 paylines and you'll need to align the symbols from the leftmost towards the rightmost reel for a winning combination. 
The cherries, the watermelon and the grapes are the three least valuable symbols and each of these three symbols triggers the same payouts for a combination of three, four and five instances across an active line. Five coins are awarded for a combination of three symbols, 20 coins for four symbols and 100 coins for five symbols across an active line. 
The plum and the orange are the next two symbols and you would get half your wager for a combination of three oranges or three plums. With four plums or four oranges, you would get an amount that equals your wager, whereas if you are fortunate enough to hit five plums or five oranges you will get an amount ten times your stake. 
Next, we have the pink bar and the blue double bar, which pay equal amounts for every combination. You will get your wager back for a combination of three symbols, and 50 coins for a combination of four symbols. With five bars or double bars across a line, you would get 500 coins, which equals 25 times your stake. 
The green triple bar and the bell come next and these symbols trigger a payout with a combination of two symbols. You will get two coins for a combination of two symbols, and 25 coins for three. Four-symbol winning combinations are where these two symbols differ, as the green triple bar pays 100 coins, whereas you would get 200 coins for a combination of four yellow bells. On the other hand, both symbols pay 500 coins for a combination of five. 
The Super 7 symbol is the next in line and this one pays five coins for two, 50 for three, 200 for four and also 500 coins for a combination of five. Finally, the most valuable regular symbol is the logo of the game which pays a maximum of 20,000 coins for a combination of five symbols. The remaining payouts are 500 for four symbols, 100 for three and 20 for two. 
This game features a wild symbol that can substitute all symbols except for the scatter, so it can complete any winning combination. 
Double Bubble Gameplay
So, now you know that this is a game that can suit your budget, whatever that may be, it's probably time that you found out about the fun and important stuff - how to win!
As already mentioned, betting on a higher amount of lines increases your chances of winning. It's also important to note that your payouts will be based on multiples of your coin size.
Any symbols that appear inside of a bubble after the reels have spun will be placed in the second win area along the Bubble Line. If a winning combination is made in this second area, it is then multiplied by the number of lines you wagered across.
If the Double Bubble symbol appears throughout the game, it acts as the wild symbol and can be substituted for any other to form a winning combination. Landing 5 wild symbols on one payline will trigger this slot game's maximum payout.
There is also an extra gaming addition, the Bubble Bonus game. This bonus round will be initiated if three bonus symbols appear anywhere across reels 1, 3 and 5. When this round is active, players will be presented with three bubbles and asked to pop one of them for the chance to win a cash prize. If the chosen bubble features a random coin multiplier, that's what players will win!
Double Bubble RTP
The Double Bubble RTP is 96.02%. This means the house edge for this slot can vary, so the average winnings paid out can change from time to time.
Double Bubble Variance
RTP is an important factor when discussing slot games and their features, but so is variance. Double Bubble slot is a game with medium variance, which means that you can't expect a moderate level of win frequency and a moderate level of amounts won. 
If you're looking for a game where you won't have to wait for too many spins before your first win, but you can still hope to get a decent amount, then Double Bubble is definitely an option you should consider. Still, the game is completely random and there are no rules regarding the likelihood of winning. The word volatility is also used to signify variance. 
Although this slot has a medium variance or volatility rating it is worth noting that this slot unlike many others does have the potential to award huge payouts as previously mentioned. 
This is quite rare for a slot that is also still relatively generous with its win frequency.  Even though it has the potential to pay out a max win of 20,000x this slot still entertains by awarding wins regularly, just maybe at a low value. 
If you want to learn more about RTP and variance models, read our detailed Variance, Volatility and RTP guide and see which one suits you best.
Double Bubble Slot Free Play
If you want to try out this game without having to make a real-money wager, Double Bubble free play is the right option for you. Many online casinos offer games in demo mode, and you can even play it for free on your mobile. Double Bubble no deposit play is also an option, as there are casinos that offer free spins on this game.
This is a perfect opportunity to test a game and see how you like it before you can commit to making a real money wager. You can play as many spins as you like. If you're playing the demo version, you will be awarded virtual funds, but even if you lose them you can just reload the game and start over.
Bear in mind that any potential winnings in demo mode will not be replicated once you decide you want to start playing with real money. The opposite also holds, if you lose funds in demo mode, it doesn't mean that you won't be luckier when playing with real money. 
Double Bubble on Mobile
Double Bubble is optimised for mobile devices and this is a trait of pretty much all Gamesys slots. The game was developed in HTML5 technology. As a result, players can access the game on their smartphones and tablets. There's no need to download any apps, just visit a casino site with mobile capabilities, and you will be taken to the mobile-friendly version of the site.
Basically, if the desktop version of the casino site features it, then the Double Bubble slot will also be available in the mobile version. Earlier, mobile casino gaming was just another option and there weren't a lot of options, but these days you gain access to all settings and options regardless of whether you're on a mobile device, a desktop computer or a laptop.
Slots Sites With Double Bubble Slot Game
Double Bubble is available to play at multiple slots sites online. Carry on reading to find out where you can play this Gamesys slot for the chance to win real cash prizes.
Starspins
Out of the three on our shortlist, Starspins may well be the only one that is strictly a slots site. The name might give this away but if it doesn't, the extensive selection of video slots will.
You can play this game at Starspins as well as a whole host of exciting slots. The likes of Rainbow Riches, Da Vinci Diamonds and even the sequel to the eponymous game, Double Bubble Jackpot!
Virgin Games
Established in 2004, Virgin Games casino is one of the largest UK-based casinos. It has developed into the Virgin Games network, which offers an instant-play online casino to its players. Virgin Games is licensed by the UK Gambling Commission and the Gibraltar Gambling Commissioner.
The online casino of Virgin Games has strict regulations, and this is the reason why it only accepts players residing in the United Kingdom.
There aren't many online casinos that have as many games as Virgin Games online casino. Players can enjoy various releases from a dozen different software providers, including NetEnt WMS, IGT and Gamesys. If you're more into table games, then you'll be happy to learn that you can find different variations of roulette, blackjack, baccarat, keno and craps, as well as video poker.
If you like to experience the thrill of a land-based casino from your living room, you should visit VirginGames' Live Casino room. There you can play table games against live dealers.
Jackpotjoy
Probably the best thing about playing at Jackpotjoy is the variety of games on offer, the great promotions and the low wagering and withdrawal requirements. As with Virgin Games, Jackpotjoy is a UK online casino which is available only to players residing in the UK and Ireland.
The two main focuses of Jackpotjoy are slots and bingo, so that is why it can appeal both to bingo players and slots aficionados. The casino also has a decent selection of table games, including variants of Blackjack and Roulette.
*Double Bubble can only be played at casino sites powered by Gamesys!
So, choose your bonus today at one of our featured casinos.
Other Gamesys Slots
We have seen the game features, we've told you where you play Double Bubble slot and we concluded that it is possible to play the game for free. Now, let's see who the mastermind behind this piece of art is. 
Gamesys is one of the rare examples of a company that is both a slot developer, but also owns a few casino sites and although they might not be up to the level of the most renowned providers like NetEnt and Microgaming, they are still quite successful.
There are more than several online slots by Gamesys and in fact, some of the most popular slots that we have reviewed are Gamesys slots. Let's have a look at the top Gamesys slots and what are their similarities.
Secrets Of The Phoenix
Secrets of the Phoenix slot is undoubtedly one of the most successful titles by Gamesys, but also in general. In that respect, it is very similar to Double Bubble. In terms of features and symbols, not so much. Secrets of the Phoenix has a five-reel, three-row layout, but the number of paylines is not the same, Double Bubble features 20, whereas Secrets of the Phoenix has five paylines more.
In this slot, there's a special symbol that triggers the bonus game, whereas in Secrets of the Phoenix you get cascading wins as the main bonus. You'll need at least four cascading wins to trigger the Free Spins bonus and with eight cascading wins, you'll get to play as many as 25 free spins.
The theme is also different – Secrets of the Phoenix depicts the Ancient Aztecs and their world, whereas Double Bubble is a modern twist on the classic slot machine.
Da Hong Bao
This is a slot with an oriental theme, with various Ancient Chinese symbols appearing on the reels. It also comes with five reels, three rows and 50 paylines. This game can be played with 50 coins with a minimum wager of one penny per coin or a total of 50p. In that respect, Da Hong Bao is similar, as it can also be played with just a penny per line, or a 20p minimum stake per spin.
Double Bubble Variations
Slot providers often release sequels of popular games and in the case of Double Bubble, there are two versions so far, but we can't say that there won't be new versions in the upcoming years.
Double Bubble Jackpot is the first sequel that resembles the original, with a minor twist – namely it features a lucrative jackpot prize. Even though the likelihood of hitting that jackpot is slim, a lot of players are drawn by the potential. One player from the UK, who played the game at Jackpot Joy won over £200K in 2016, and there have been more than few players who netted prizes exceeding £100K.
Double Bubble Triple Jackpot is the third and, so far, last Double Bubble variant. It was released in the spring of 2019 with all the familiar features that made the original game so popular, as well as three jackpot prizes – Mini, Major and Grand jackpots. With three variations, it is no wonder that this slots UK popularity is still on the rise even though the original Double Bubble was launched more than five years ago. 
Is There A Strategy To Win On Double Bubble?
Technically speaking, there is no strategy to win on any slot, the key is to make sure that you play within your means, don't bet high until you are comfortable with the games RTP.  As we mentioned above on how to win though, you should experiment with the different pay lines, but betting on max paylines gives you the lowest variance and highest potential for win frequency.
How Popular is Double Bubble Slot?
One of the questions we come across is how popular is this slot by Gamesys?  It seems interesting that there are so many reviews out there about this particular slot, but it doesn't feature much time on YouTube or on Twitch...  Why is this? 
Double Bubble Slot actually has quite a big search volume on search engines like Google.  We can find data and using our own analytics determine how many people look for the game on direct search each month. 
It turns out quite a lot of people do, over 1000 searches a month sometimes.  In relation to many other slots online, this is actually a very high standard. Being beaten only by some of the most popular games like Book of Dead, Starburst or Fishin Frenzy.
So, why aren't there a ream of YouTube videos and twitch streamers playing this game regularly? It all comes down to exclusivity and availability. Gamesys is a genius company because as mentioned they don't just produce their own online slots, they also host their very own casinos.
With that setup, they can choose to host their own slots exclusively on their own casinos.  This helps them to retain and entice new players on their own platforms (very clever). What this means however for streamers ad youtube video makers, is that they need to sign up to specific casinos, that might not have or host a wider range of games to play, meaning that their content would become singularly focused.
So, although the Double Bubble slot game is incredibly popular to people searching online, it hasn't found its way into the heart of Twitch Streamers yet, this could change if the Gamesys platforms increase their slot offerings.  
SlotsWise Verdict
Double Bubble slot is the most popular game here at SlotsWise. There are several reasons why that is the case – the game is both very modern looking and stylish, yet it has an old school feel about it. There are bars, 7s, cherries and other fruit symbols and the RTP is 96.20%.
This game was released back in 2014 and it is as popular as it was during the first year. The game can be played on mobile devices, and it is available at the casinos listed above. It is one of the most played Jackpot Joy slots.
We here at SlotsWise think this game is definitely one of the more enjoyable to get involved with quickly, it offers a decent level of excitement and interactivity, a medium level of volatility with the potential for the player to pick up some big wins (20,000x - is one of the larger top wins offered by a slot machine online). We would quite happily rate this game 5/5.
Play the Double Bubble slot and claim your welcome bonus at some of our featured casinos! 
Key Features
Provider

Gamesys

Reels

5

Min Bet

0.01

Max Payout

20000.00x

RTP

96.02

Paylines

20

Max Bet

100.00

Bonus Rounds

1

Variance

Medium
About The Author
Sanja Tasevska
Fact
Sanja is our game expert and uses her knowledge to review all kinds of slot games, both old and new. The detailed reviews include the most important info about a particular slot game. She's been a part of this industry for many years and so far she's played and given her opinion on thousands of different slot titles. Contact Sanja sanja@slotswise.com
Similar Games
Welcome to our Mailing List
Keep a look out for our emails containing great offers!