Overview
Starburst slot is one of the most widely played online slots in the world. The game has five reels, three rows and just ten paylines, but comes with lots of reel action and features that are fused into the gameplay. The maximum possible win has been estimated at 50,000x coins multiplied by the line bet. The expanding reels and automatic re-spins exist in addition to the cluster wins. The absence of a free spins bonus shouldn't trouble anyone looking for a fun time on the slots with a chance for a win, because Starburst has a win two ways feature too.
Key Features
| | |
| --- | --- |
| Reels: | 5 |
| Min Bet: | 0.10 |
| RTP: | 96.10% |
| Paylines: | 10 |
| Max Bet: | 100.00 |
| Bonus Rounds: | 0 |
| Variance: | Low |
Starburst Slot Online
Starburst slot has become the most frequently played online slot and even though it was released back in 2013, it is still found at the very top on the online casino sites.
The company behind it are NetEnt, which is a well-known company for producing stunning games, both in terms of design and quality. Starburst slot features five reels and 10 paylines, although there is much more to offer, including the Starburst jackpot prize, as you'll soon find out when you play this game.
The game possesses one bonus feature and an amazing RTP of 96.10%. You can start spinning with a denomination range from £0.01 up to £100.00  and the maximum amount that you can win is an astonishing coin multiplier of x50,000!
Find a proper casino here at SlotsWise, check out the Welcome Bonuses and try Starburst Slot!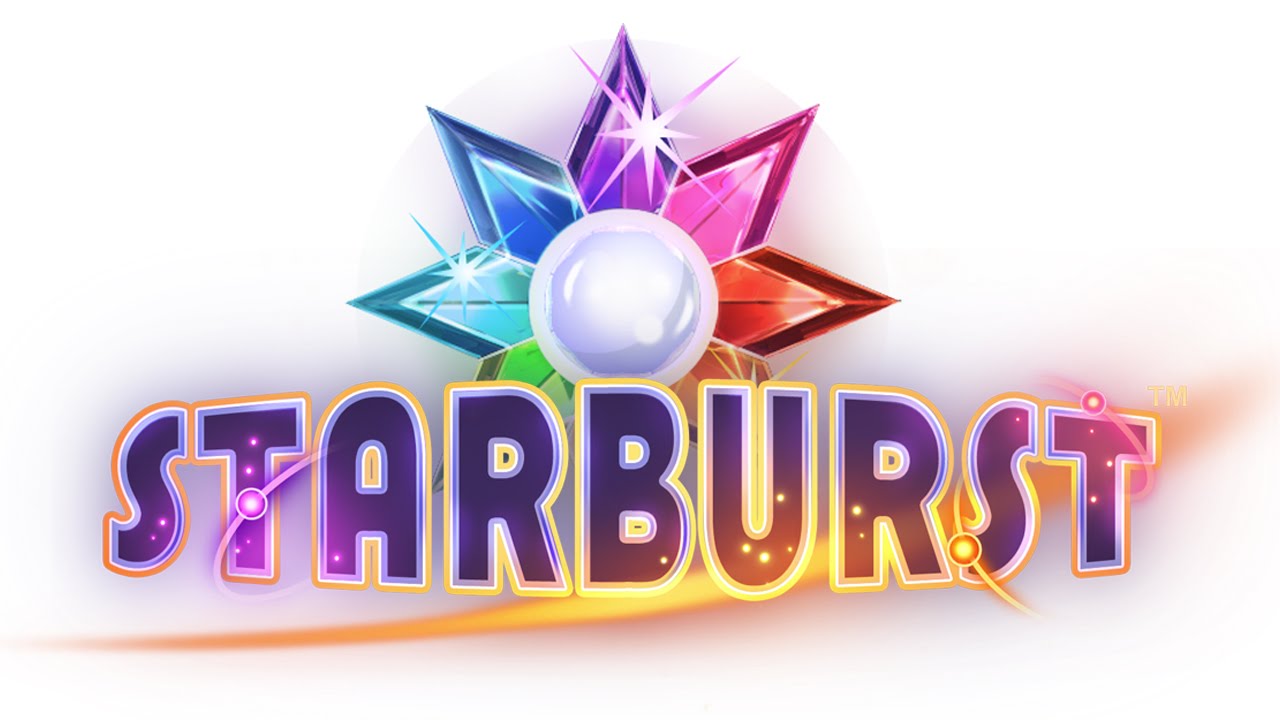 Starburst Overview
Play Starburst slot and witness its great gameplay first-hand. The five jewel symbols come in purple, blue, orange, green and yellow colours and their value ascends in this order too. These symbols really do brighten up the screen, plus they look even better on HD screens!
Starburst slot also brings a classic element to the game by having seven and bar symbols, commonly found on old-school slot and fruit machines. The other symbol is the Starburst logo which is the wild symbol, substituting for other symbols to help create winning combinations.
Once the spinning starts, you'll realise the Starburst slot game offers more than attractive gems and glistening features. The perfectly-pitched gameplay really presents this slot as more than a one-trick pony. The reels spin quickly and smoothly, before they come to a halt, hopefully landing winning combinations of symbols across any of the 10 paylines. When playing Starburst slot, you can also use the autoplay feature, allowing you to sit back and enjoy this video slot as the reels spin by themselves.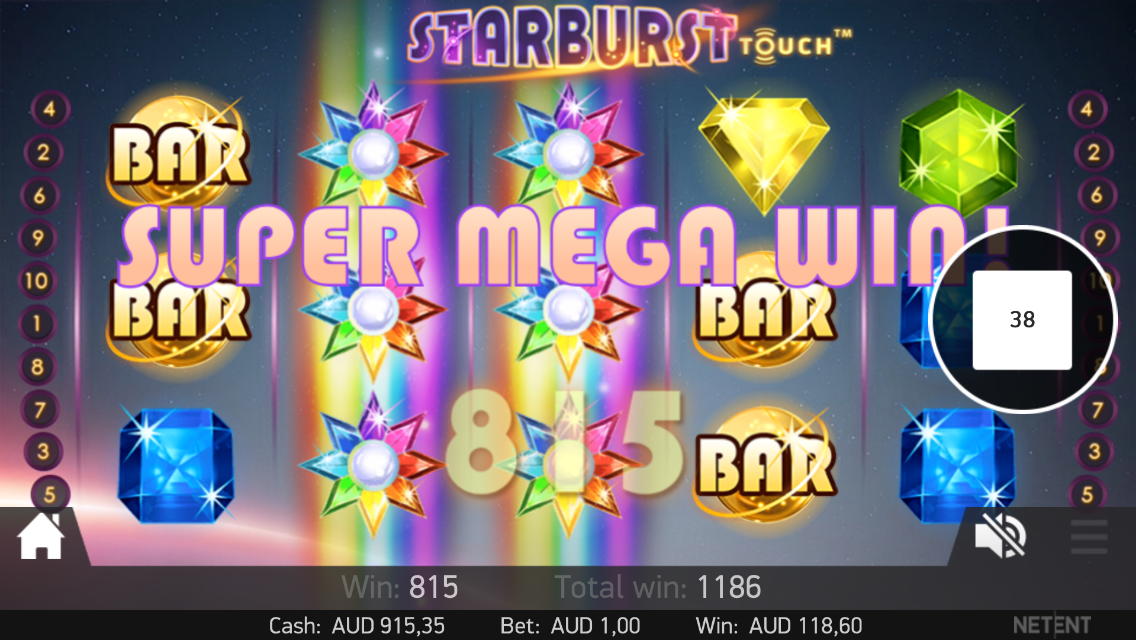 Starburst Video Review
We are fully aware that there is a lot to cover regarding NetEnt's most popular game, so we've made the perfect video review for players who want the scoop on the game but don't have the time to read the full text. The YouTube video that you can play at the bottom of this page provides a succinct view in the to the look and feel of the game, it highlights the extra feature and puts up the most important figures about the game. It takes less than a minute, but worry not, the online casino bonus that lets players explore Starburst can be still claimed right from this page.  
How To Play Starburst Slot
Before you start spinning the reels of the Starburst slot, you must select your coin value and 'level', which is a number of paylines you'll play across. On the bottom right side of the screen, you can choose a coin size between 1p and £1. Then you'll need to select your 'level' using the buttons on the bottom left side of the reels. You can choose between level one and 10.
It's worth noting that playing on 'level 1' will multiply your coin size by 10, level two by 20, three by 30 and so on. This means that your total stake for each spin is dependent on both your coin value and level. Alternatively, if you'd like to play across all paylines or levels, you can use the 'Max Bet' button to do this. If not, you may use the central spin button to get the reels going.
With the total stake amounts ranging between 10p and £100, Starburst caters to players of all pocket sizes, and with a jackpot of a whopping £50,000, the potential winnings for this slot can be absolutely huge!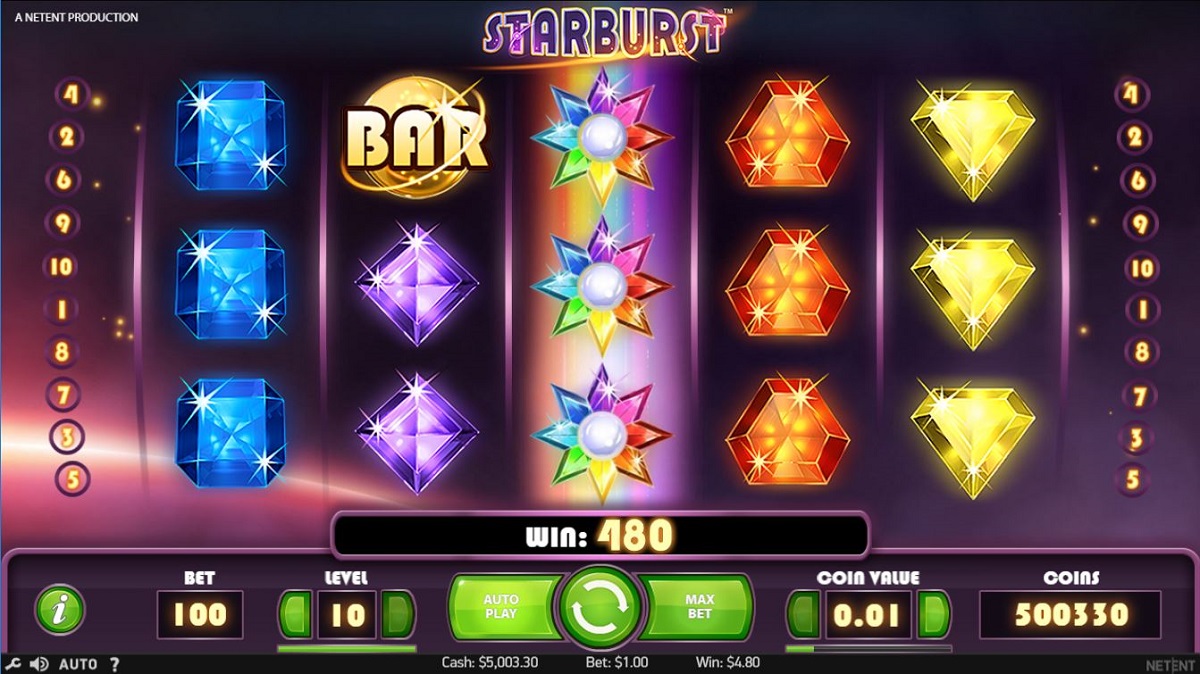 How To Win Starburst 
In order to win in the  Starburst slot, you have to land combinations of three or more symbols. The bar symbol is the most valuable in the game. The Starburst wild symbol, when landing on reels two, three and four, will expand over the reel and trigger a re-spin, up to 3x.
Plus, if a new wild appears during the re-spin, it'll expand and hold in place with the previous wild symbols, rewarding you with another re-spin! Once no new Starburst wild symbols appear, this feature will end and you'll return back to the base game.
What is a Bonus Feature?
A bonus feature, in the context of slots, is an extra round within the game that players can trigger while playing. Slots' bonus features can take many different forms, allowing players to get even more from their gaming with the likes of free spins, multipliers and, sometimes, straight cash prizes!
Starburst, like many other online slots, has a number of different bonus features that can be triggered while playing this NetEnt game. Continue reading to find out more about Starburst bonus features.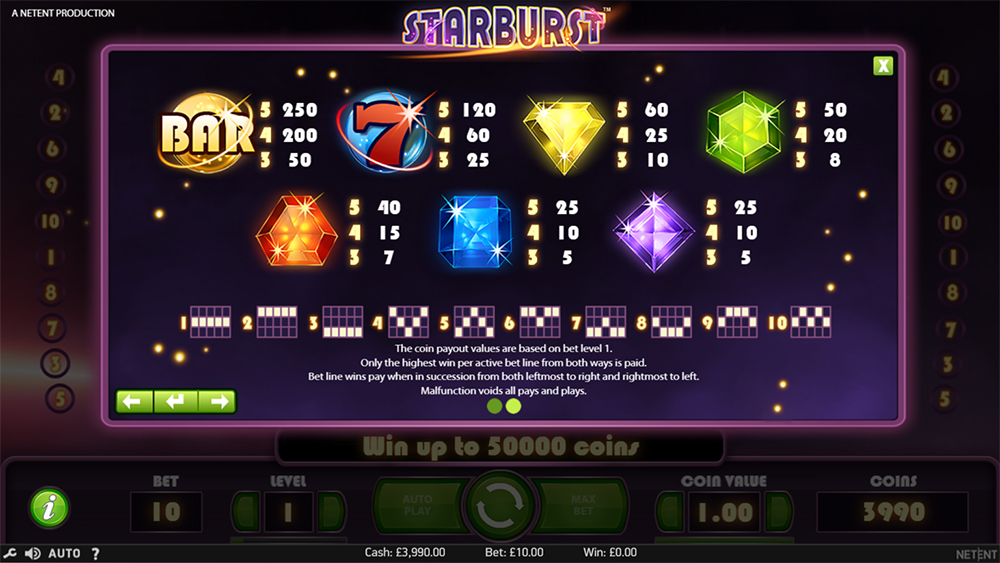 Starburst Bonus Features
Although the Starburst slot doesn't necessarily feature bonus features in the purest sense of the word, there are a few additional extras that occur throughout, keeping excitement levels on edge.
Block Payouts
Players can win money if blocks of symbols are landed. So, if nine jewels land in a triangle, you'll receive a payout.
Win Both Ways
The Starburst slot game also allows players to land winning symbol combinations from both, left to right and right to left. Whilst it may not sound like much, this does offer players a nice advantage when trying to land Starburst combinations and win some cash.
Play Starburst Online
NetEnt's Starburst slot is one of the most popular slots around and for a good reason. Compared to many others, Starburst stands out in many ways. The production of this game really is top quality, as is usually the case with NetEnt slots. This, alongside the great gameplay, leads to a game that really is something special. Jewels will shine as you spin the reels, accompanied by some enjoyable cosmic sound effects. With a Return to Player rate of 96.10%, there are plenty of opportunities for you to win huge cash sums and get the edge over the casino.
Although we've always been big fans of free spins bonus rounds, and Starburst slot doesn't have one, we'd still find it hard to dislike this slot game! Starburst's other additional features allow players to get their hands on some lucrative multipliers, which is always good!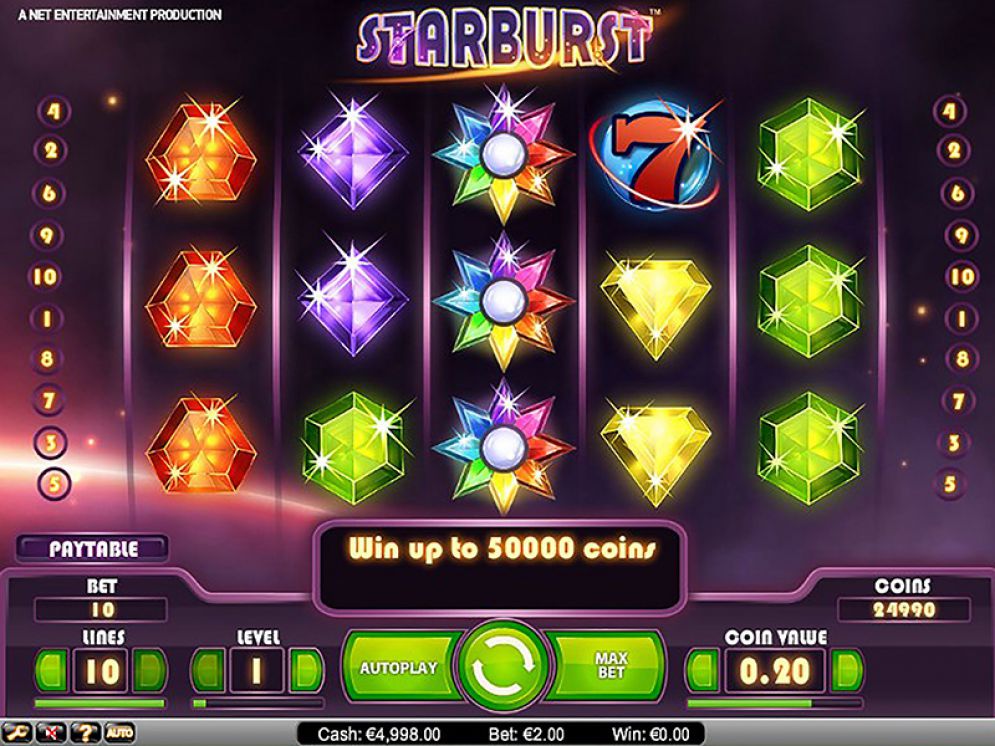 Starburst Mobile
Starburst is available to play on all mobile devices, both smartphones and tablets. Whether you prefer Android or iOS operating systems, it doesn't matter because Starburst slot is available on both of them. Just access the online casino from your mobile browser and you'll find Starburst there. In addition, there are a couple of online casinos that have their own mobile applications from where you can also access the Starburst slot.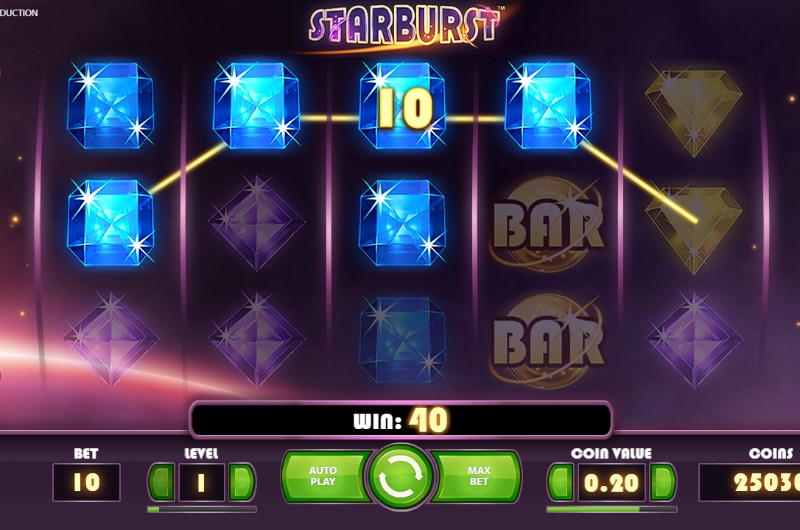 Other Top-Notch NetEnt Slots
As we mentioned, the Starburst slot is one of NetEnt's most popular online slots, but this company has developed quite a few exciting games over the years. Here are five of the most popular NetEnt slots.
South Park
If you are a fan of the hilarious cartoon series, then you are definitely going to love playing South Park slot. So, begin an adventure with your mates Stan, Kyle, Cartman and Kenny on the 5 reels, 3 rows and 25 fixed paylines. There are four bonus rounds that can be activated within the bonus feature: Stan Bonus Spins, Kyle Bonus Spins, Kenny Bonus Game and Cartman Bonus Game. There are 3 more mini-features – Cartman, Mr Hankey and Terence & Philip.
Jack Hammer
By playing Jack Hammer slot, you will have a chance to be a hero and save Grand City from the Evil Dr Wuten. So, join the private eye, Jack Hammer, save the citizens and play to win the game's jackpot prize. This non-progressive video slot has a theoretical return to player set at 97%.
Mega Fortune
This progressive game has 5 reels, 3 rows and 25 paylines and is one of the most popular NetEnt games of all times. When it comes to bonus features, you have the Wheel of Fortune Bonus Game, Free Spins and most importantly, the game comes with a progressive jackpot prize that grows by the minute. Mega Fortune isn't just the only most popular NetEnt progressive game, but it is also one of the most popular progressive games in general.
Aliens
The popular movie Aliens was NetEnt's inspiration for this slot, and all symbols, visual details and bonus features in the Aliens slot are linked to it. The best part about Aliens slot is the bonus feature that has 3 different levels. The first one is the Search, the second is the Encounter and the third is the Hive.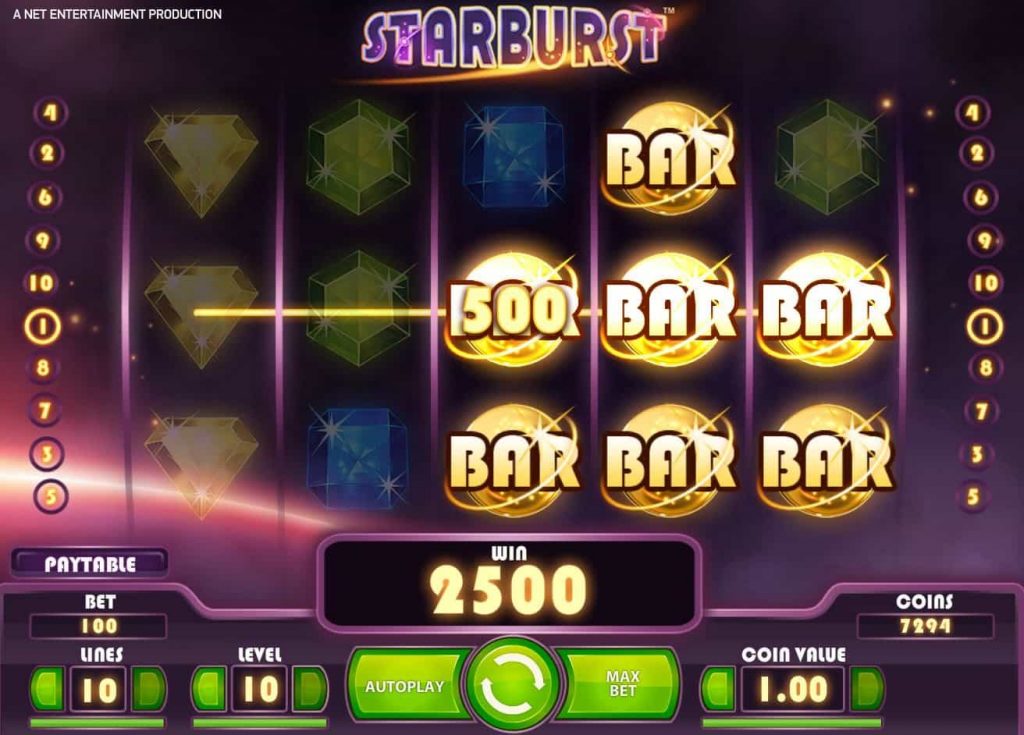 A Guide to NetEnt Slots' Levels
NetEnt is one of the best software providers in the online gaming industry. This software platform offers simple rules and fun games. However, sometimes it can be a bit confusing about the meaning of the coin value and the bet level. And if you had any questions about these two terms, we are here to help you out.
Coin Value
The coin value is located at the bottom of the screen underneath the reels on the right side of the screen. The value of the coin depends on the number of coins that you have selected for a certain game. During the game, you can find the amount of the coins that you are left with, which can help you in calculating the remaining amount of spins.
Keep in mind that if you change the coin value, the money that is available in your balance will remain in correlation with the coin value. You can find the value of the balance, at the top left corner of the screen. So, if you are playing Starburst slot and your balance is £10 and you choose the 0.01 coin value, the total balance of the game will be 1000. But, if you change the coin value to 0.02, the number of coins will be 500.
Also, it is important not to confuse the coin value with the cash value. For instance, if the box for coin balance, shows that you have 1000, it means that you have 1000 coins and not £1000. If the coin value for a certain slot is 0.01, and you get a win of 1000 coins, it actually means that you have won £10.
NetEnt Slots Levels
Now, that everything is clear about the meaning of the coin value, we can continue to the NetEnt slots levels. Many people find the game level, the most difficult to understand. In simple words the level allows you to be freer in personalizing your bet. So, instead of the regular 0.01 cent, 0.02 cents, 0.05 cents, 0.10 cents, 0.20 cents, 0.50 cents or £1 bets per line, you can have more options and choose an amount that is most suitable for you. NetEnt has a total of 10 levels.
For example, if there are 10 lines, the coin value is 0.01 and the level is 1, this means that you will wager 10 coins per spin at 0.01 per coin with a total of 10p per spin. Another example, if the coin value is 0.02 and the level is 2, this means that you will wager 20 coins per spin at 0.02 per coin with a total of 20p per spin. Furthermore, If the coin value is 0.03 and the level is 3, this means that you will wager 30 coins per spin at 0.03 per coin with a total of 30p per spin. This goes on up to level 10.
Play Starburst today and claim your free spins bonus at one of our featured casinos. There are bingo sites with Starburst and slots sites with the game too, so be sure to visit them for your chance to spin and win cash prizes for fun at real money casinos!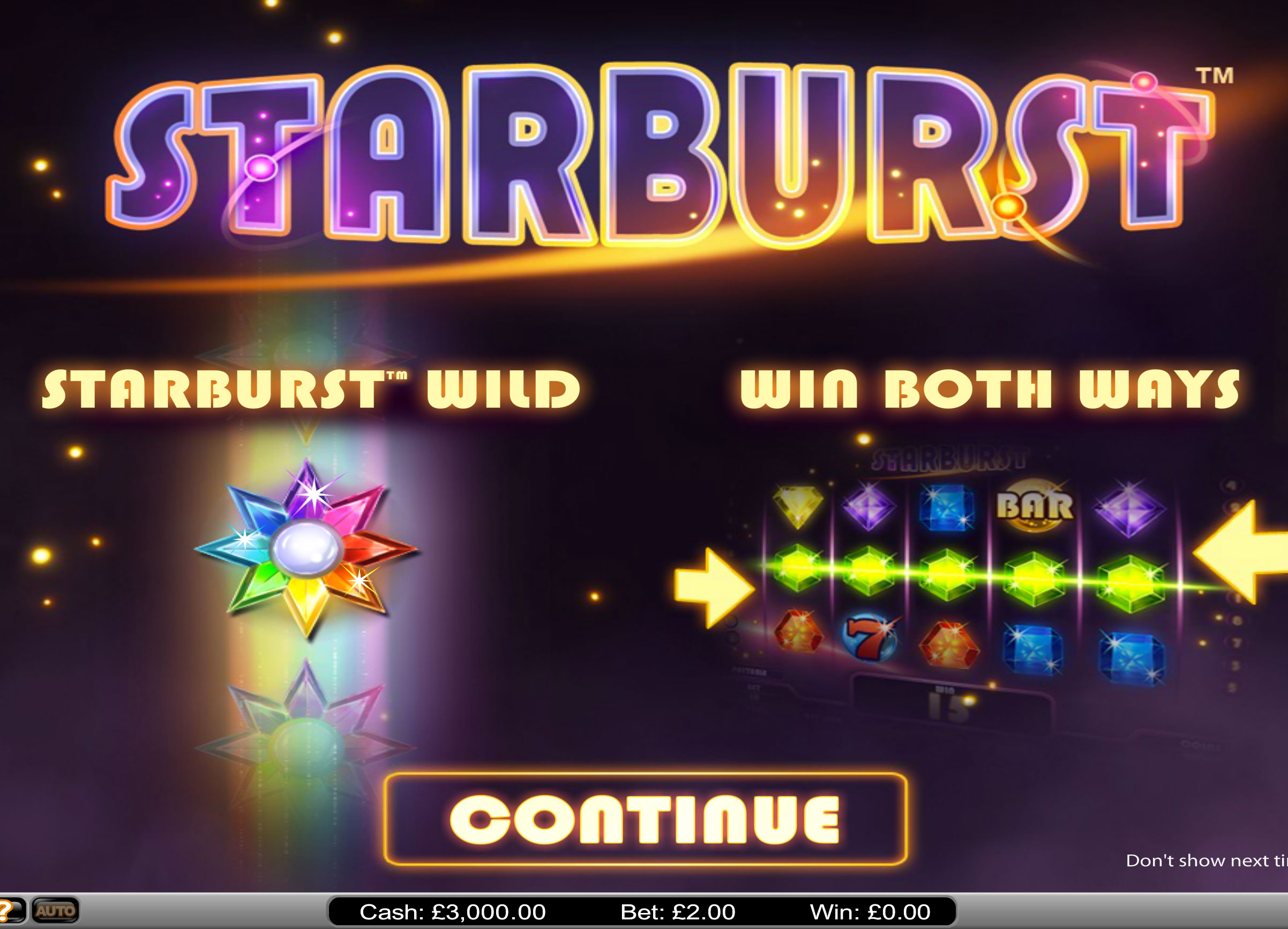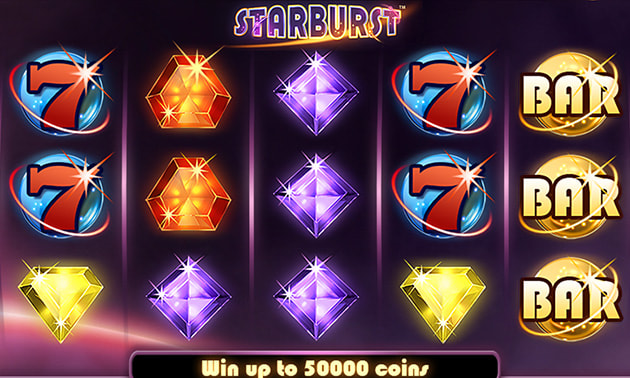 Want great offers sent straight to your inbox?
Enter your email below and we'll do all the hard work for you
Welcome to our Mailing List
Keep a look out for our emails containing great offers!