Reel Time Gaming have left no stone unturned when designing this game. Every aspect is on-theme, from the reel symbols to the background and area surrounding the reels. You will even get a chance to trigger the fun free spins bonus feature and you might be one of the lucky players to win up to 20 free spins. Fishin' Frenzy slot has a simple and straightforward gameplay, ten paylines and one bonus round that could lead to hefty prizes, so keep your eye out for the catch of the day!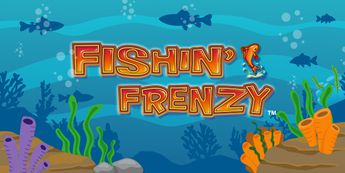 Fishin' Frenzy Slot Online
Reel Time Gaming presents Fishin' Frenzy slot, a fishing-themed game that features five reels and ten paylines. Over the years, this has become a favourite game to many players from all over the world, thanks to the simplicity of the gameplay, the charming design and the potential prizes that are waiting to be caught. Read our full review on this popular online game and get all of the exciting details, including the free spins bonus feature. 
Fishin' Frenzy Slot Review
This is a game that has aged well, released back in September 2014. Years later, this is still one of the most played games in many of the online casinos. At first, it was created for land-based casinos. Thanks to its popularity, the developers made a great decision and created an online version as well. As you can tell from the name, this is a fishing-theme (obviously). So, as soon as you enter this online game, you will notice the boat, the fishing road, the life rafts and more that contribute to the theme. All of these elements are captured in a great design created by the developers at Reel Time Gaming. 
Reel Time Gaming 
Reel Time Gaming is the software provider behind this game. If you aren't new to the online gambling scene, then you've probably heard about this developer. This company was founded back in 2009 in Queensland Australia and since their establishment, they have released some of the most popular online slots. Besides Fishin' Frenzy, they've also created Eye of Horus, Elephant Treasure, Lion Dance, Mermaid's Pearls and many more.
Paylines
Fishin' Frenzy features three rows, five reels and just ten paylines. In order for you to get a winning line, you will need to land at least three matching symbols from left to right. But, before you start spinning the five reels, you can choose the number of paylines that you want to activate. You can choose to activate the minimum of one payline or go for the maximum of ten. The choice is up to you. 
Each symbol has a different value and depending on how many of the same ones you'll manage to land, you will be rewarded with a different multiplier. The highest winning amount in Fishin' Frenzy is 2,000x your bet. Managing to land five pelican symbols will bring you this award. But, let's not get ahead of ourselves, we will talk more about the symbols and the payouts later in this review. 
When it comes to the bonus features, Reel Time Gaming decided to keep things simple, much like the entire gameplay. So, when you are spinning the reels, you will have a chance to trigger the Free Spins bonus round. Managing to activate the free spins round can potentially bring you a maximum of 20 free spins. Keep in mind that it is not possible to win more free spins, within this bonus feature. 
Variance
Before we tell you about the Fishin' Frenzy variance, let us give you a short overview of what is actually variance. In simple words, the variance refers to whether the payout gives fewer, but bigger wins or more frequent but smaller wins. If the game gives fewer but bigger wins it's a high variance one and if it gives more frequent but smaller wins, it's a low variance machine. Book of Dead, Dead or Alive and Immortal Romance are some of the highest variance games around. This is a low to medium volatility game, meaning you can expect a higher frequency of wins.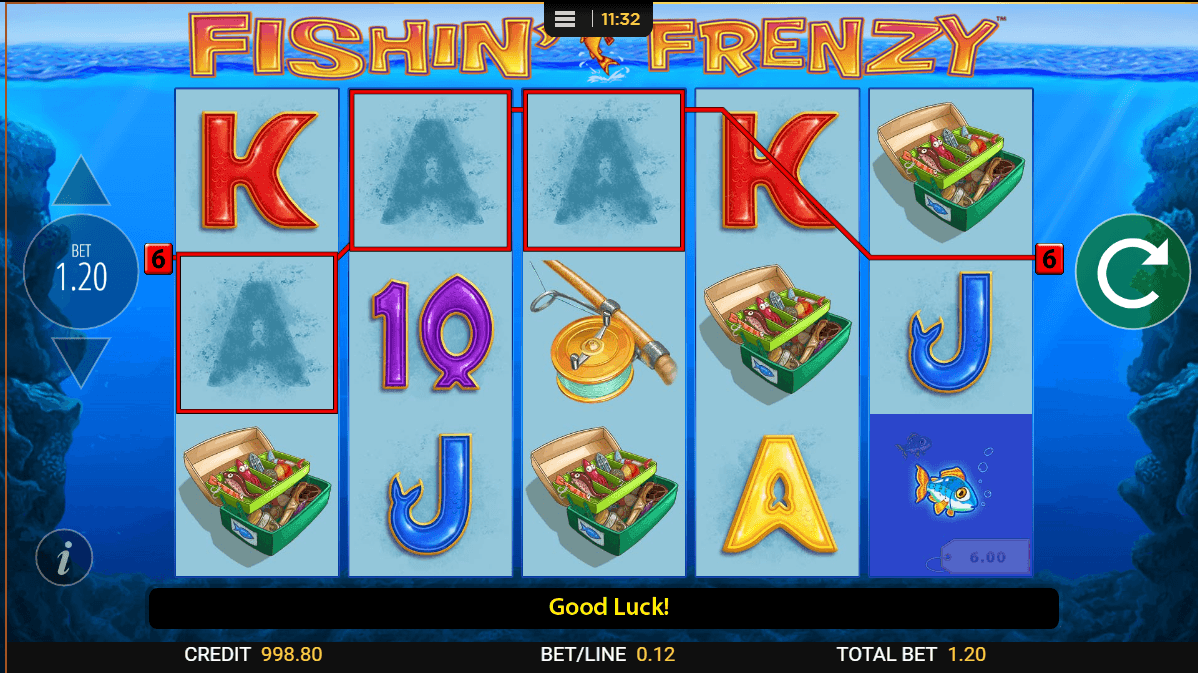 Our First Thoughts on Fishin' Frenzy
We said it a few times already and we will say it again - Fishin' Frenzy is one of the most popular out there, so naturally, we had to give it a try. We have to say that we really had fun spinning the reels and here is why:
Design 
Even though this is a relatively older game, we were surprised by the great design and high-quality graphics. The developers did a great job in capturing the fishing-theme when they created this "Fishin Frenzy". The background is set somewhere at the bottom of the sea, so it doesn't come as a surprise that many shades of blue take over the design. 
Playing Fishin' Frenzy
Before we started the game, we were introduced with all of the ten paylines. Then, we set the bet to a total of £0.40 or £0.04 per payline, which is the minimum bet available. It goes without saying that each player chooses their own bet to play with. In Fishin' Frenzy, you can go from a minimum of £0.40 per line to a maximum of £8 and different amounts of bets in between. 
Once we set the bet, we clicked on the Spin button on the right side of the screen and the reels began spinning. This game also features an AutoPlay feature that allows you to sit back and relax, while the reels spin by themselves. We managed to land four of the fish symbols on a payline on our second try and secured our first win. After ten tries, we hit another win, this time the prize was bigger and we received £10. We kept spinning the reels and we received even more smaller wins, but unfortunately, we didn't have any luck in triggering the Free Spins bonus feature. 
Is Fishin' Frenzy Popular?
Our answer is a definite yes. Even though this game was released almost half a decade ago, it is still a favourite to many players. There are many famous streamers that have given this the green light. We were also interested to see if players still search for the Fishin' Frenzy term and we weren't surprised to see that it has a really high search volume. 
Many players even search for the term "Fishing Frenzy" in search engines, which is yet more proof, why this game is played by a wide range of iGaming enthusiasts and popular streamers. 
Theme
As we already said, this is (obviously) fishing-themed. Fishing is a hobby to many people, so Reel Time Gaming decided to incorporate this pastime in this online game (this is also a great play on their own brand name). There are other providers that have used this theme in their online games, but we believe that Fishin' Frenzy is by far the best one yet. There are new slot releases on a weekly basis, so we can't wait to see if a new one will come to take its place. 
Game Origin
Fishin' Frenzy is an original game, which was first created for land-based casinos. However, it did inspire other software providers to create their own take on this style. 
Blueprint Gaming decided to use exactly the same design of the original. The Megaways edition was released just recently in April 2019 and has quickly become a favourite to many players, thanks to the exciting gameplay. What makes the Megaways version different from the original are the astonishing 15,625 ways to win. Unlike the original game, Fishin' Frenzy Megaways is a high variance game. But we won't get into all details about Fishin' Frenzy Megaways here. If you like to read our full review on Fishin' Frenzy Megaways, feel free to click on the link above.
How To Play Fishin' Frenzy Game Online
The gameplay of Fishin' Frenzyis really simple and straightforward, so it's highly unlikely that players will have any difficulties following the game. As soon as you enter you will see that the game is simple and easy to understand, but far from boring. On the left side of the reels, you have the bet number with two arrows, on the top and on the bottom. Click on the arrows to set the bet that ranges from £0.40 to £8 per line. 
Underneath the bet, you will find the settings button. Here, you can get familiar with the instructions of the game, get more details on the value of the symbols and mute or turn on the sound. On the right side of the reels, you will see the Spin button, which sets the reels in motion and underneath is the AutoPlay button. 
Symbols
The Fishin' Frenzy symbols contribute a lot to the overall theme. Without them, this would be just an ordinary machine set somewhere in the middle of a sea. Like any other slot game, Fishin' Frenzy has low valued and high valued symbols. The low valued ones are the classic A, K, Q, J and 10, which are featured in many other slots. All of these symbols have the same value and if you manage to land five matching ones, you will get a 100x your bet. Remember, you will need to land a minimum of three matching symbols, in order for you to score a winning. 
The blue fish can bring you a maximum of 200x your bet. Next, are the box of bait and the life-ring symbols. Landing five of the same symbols on a payline can bring you a 500x. If you manage to get five matching fishing rod symbols on a winning payline, you will get a 1000x your bet. Lastly, we have the pelican symbol. Landing five pelicans on a payline will result in the maximum prize in this game of 2000x your bet. What's interesting about the pelican symbol is that you only need to land two matching ones to get a prize. 
There are two additional symbols the scatter and the wild symbol. The wild symbol is represented by the fisherman and can take the place of all other symbols and help you create a winning combination. Keep in mind that the only symbol that can't be replaced by the wild is the scatter. The scatter symbol is represented by fishing boat and can help you trigger the free spins bonus round. But, we will talk about this later on in this review. 
How to Win
Landing three matching symbols on any of the ten paylines will secure you a winning. We already went over the value of each symbol and if you want to get more details about them, you can do it by clicking on the settings button. 
Gamble Feature
Whenever you actually land a win, you will be presented with the opportunity of taking your win to the next level in a gambling feature.  As you can do this with every win regardless of size, this feature adds an extra dimension to your gaming experience. 
Although this sounds exciting, it's important to be prepared for what you are about to face. The gamble feature quite simply allows you to either double your money or quadruple it with a simple card game.
After clicking on the gamble button which will be lit up next to the spin icon after a win, you will be presented with a couple of different gamble options. The first is a simple 50/50 no-frills choice, where you as the player will choose simply red or black in anticipation of what the card reveal might be. If you choose a red card and a red card is then revealed you will be awarded with double your winning. If the card is the opposite of what you choose, then you will lose that gamble and therefore your winning so be careful, and don't flip that card too much.
If you want to take things to the next level in difficulty and risk, you have the option to pick a one in four, by selecting the suit of the card you think is going to appear next. By choosing the correct suit, you will find that you are rewarded with 4 times your slot win! Of course, with only a 25% chance to get this correct it doubles your chances of losing too.
With either of these choices, you can gamble in the same way up to five times. So if you want to select either red or black five times in a row, you can double your win five times taking smaller wins to much larger ones, and of course, potentially taking big wins to epic ones!
As with many other gambling features, this one can add that extra level of enjoyment to the game, but it is important not to get too carried away otherwise you might find yourself losing a lot of your smaller winnings.
Fishin' Frenzy RTP
RTP or Return to Player is an abbreviation used to indicate the percentage of the money that is being returned to the players of that particular game but only on a long-term scale. 
For example, if you deposit £100 and the RTP of the game is 90%, you will get £90 back, but only in the long run. That's why we have huge winners and players that get almost nothing back because it's not evenly distributed among the players.
If you want to find out more about RTP and what it means, check our Full Return to Player Guide, where you can also see which games offer the most RTP, and maybe give them a try!
This Game Offers a 96.12%, which is a bit above average.
Fishin' Frenzy Bonus Features
What makes this game even more exciting is the unique Free Spins bonus feature. 
Fishin' Frenzy Free Spins
In order for you to trigger the Free Spins bonus round, you will need to land at least three scatter symbols anywhere on the screen. As we previously said, the scatter is represented by the fishing boat symbol. Landing a different number of scatters will bring you a different amount of free spins:
Three scatter symbols - 10 free spins
Four scatter symbols - 15 free spins
Five scatter symbols - 20 free spins
What's interesting about this bonus feature is that it comes with a twist. If you land the fisherman wild, within the free spins bonus round, he will catch the little fishes on the reels and collect you some cash prizes. The prize depends on the size of the fish. Unforentaly, it's not possible to win more free spins from within this feature.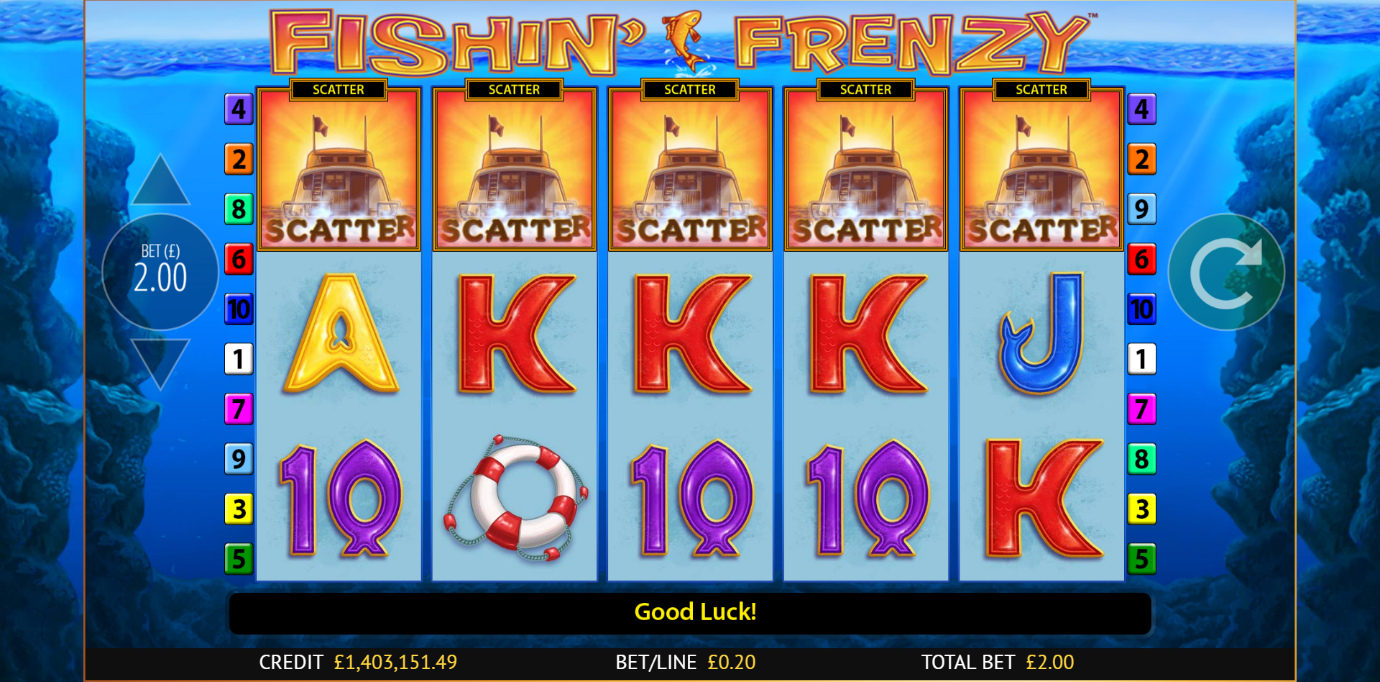 Fishin' Frenzy Free Play
The Fishin' Frenzy free play version is played exactly like the actual game. What separates these two types of gameplay is that you can play the free play or the demo version without having to deposit any real money. However, this also means that you can't win any cash prizes either. So, when you are playing Fishin' Frenzy demo, you will have a chance to play with virtual money and see if you can hit a lot of winning combinations, or not.
Slot Sites with Fishin' Frenzy
If you've decided to give Fishin' Frenzy a shot and try to see if you could catch a big win, we are here to provide you with some guidance. At SlotsWise, we recommend only the best online casinos. So, make your pick, register for an account, make your deposit and start your journey. Oh and don't forget to claim your welcome bonus that will start your adventure and make it much more exciting. 
Winstar Casino
Winstar is just one of the many online casinos that have Fishin' Frenzy in their extensive catalogue. In fact, when it comes to the selection of games that they offer, we can say that they don't disappoint. Winstar Casino features some of the most played online slots and many other games that were developed by the most renowned names in this industry. And if that isn't enough, Winstar provides all new and loyal players with daily offers, unique promotions and many other perks and benefits. 
Similar Games
The fishing theme is relatively popular in the online gaming world. Still, there are other software providers that have based their online ,achines on this relaxing sport. Keep reading to get a bit more info on two other fishing-themed slots. If you like to find out more about these then click on the links below. 
The background of Lucky Angler is frozen water and the theme for this game is also related to fishing. What makes this game so fun to play are the 2 bonus features, which are the free spins bonus and the Jackpot. The Return to Player rate for Lucky Angler slot is 96.4%.
Alaskan Fishing slot offers you 243 different ways to win, so make sure to take advantage of this. And that is not all. The developers at Microgaming also included a free spin bonus feature that can bring you up to 15 free spins and can double your winnings. The Return to Player rate for the Alaskan Fishing is 96.63%.

Closing Thoughts
Reel Time Gaming have left no stone unturned when designing this game. Every aspect is on-theme, from the reel symbols to the background and area surrounding the reels.
You'll be fully immersed in the game thanks to the deep-sea background and decorative coral. Plus, that's only a small part of the game and you'll be able to land combinations of fishy symbols to potentially get your hands on nice cash sums.
You will even get a chance to trigger the fun free spins bonus feature and you might be one of the lucky players to win up to 20 free spins.
Fishin' Frenzy has a simple and straightforward gameplay, ten paylines and one bonus round that could lead to hefty prizes, so keep your eye out for the catch of the day!
About The Author
Sanja Tasevska
Fact
Sanja is our game expert and uses her knowledge to review all kinds of slot games, both old and new. The detailed reviews include the most important info about a particular slot game. She's been a part of this industry for many years and so far she's played and given her opinion on thousands of different slot titles. Contact Sanja sanja@slotswise.com
Similar Games
Welcome to our Mailing List
Keep a look out for our emails containing great offers!