Overview
Venture into the deep blue sea and play Fishin' Frenzy slots, the five-reel, 10 payline game from Reel Time Gaming. Potential big wins and more. Land various on-theme symbols in combinations for a chance to receive cash prizes, and a big bonus game loved by many! Released in 2014, this slot has stood the test of time and still plays like a champ in many online casinos. Land three or more of the fishing boat scatter symbol and get in return the free spins bonus game, where the small and big fish all add up towards the final prize.
UP TO £250 + 100 BONUS SPINS
Deposit £10 Play With £60
100% up to £100 Bonus + 300 Free Spins
Fishin Frenzy Slots Review
| | |
| --- | --- |
| Game Name: | Fishin' Frenzy |
| Software: | Reel Time |
| Reels | 5 |
| Paylines | 10 |
| Minimum Bet: | £0.02 |
| Maximum Bet: | £40.00 |
| Bonus Games: | 2 |
| Release Date: | 2015 |
| RTP | 96.12 |
| Bonus Feature Buy: | No |
Fishin Frenzy Casinos:
This game is available at most casinos, but select any of the deals on the right column for your preferred option. However we find that this particular slot is best Enjoyed on Paddy Power or BetFair.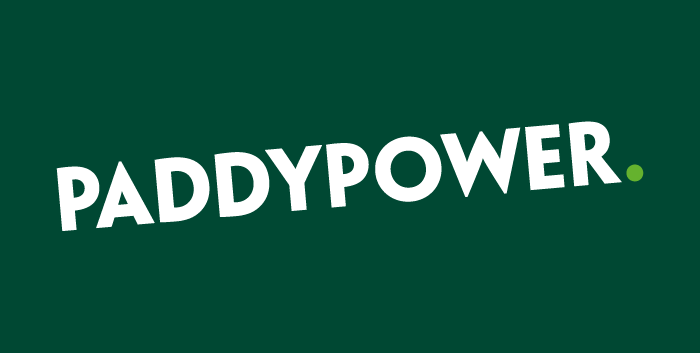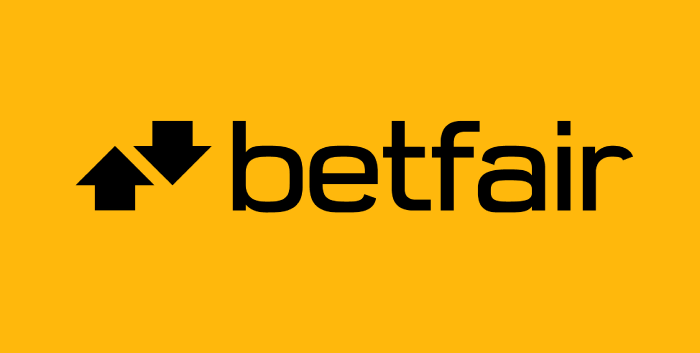 Fishin Frenzy Overview
With 10 paylines and some splashing great bonus features, keep your eye out for the catch of the day!
Reel Time Gaming have left no stone unturned when designing this game; every aspect is on-theme, from the reel symbols to the background and area surrounding the reels.
Even though since the release of the original game they have released the Fishin' Frenzy Megaways slot, the players have a choice to play on either of these seemingly same slots, yet with a different style of gaming experience.
You'll be fully immersed in the game thanks to the deep-sea background and decorative coral. Plus, that's only a small part of the game and you'll be able to land combinations of fishy symbols to get your hands on nice cash sums.
Playing card symbols make up those of lower value. However, even these symbols have been designed with the theme in mind and each of them come with a fishy twist, featuring tails and fins of some sort.
The higher value symbols bear the theme in mind more so, as is usually the case with online slots. You can spin to win landing the likes of lifebuoys, fishing tackle boxes, fishing reels, fish and a seagull for the bigger payouts in the game.
You needn't feel stranded when spinning for the chance to win too because there are plenty of bet sizes to choose from. Players of all budgets are welcome to play, and we'll explain below how many you can bet for the chance to win cash prizes.
How To Play Fishin Frenzy
Before you play, you'll need to choose your stake for each spin. To do this, there are a few things you'll need to consider and decide on before spinning the reels or casting yours!
Firstly, you should decide on your coin size for each spin. By clicking the 'Change Bet' button at the bottom of the screen, you'll be able to change your bet per line, starting at 1p. The maximum you can wager per line is £1 and the amounts you can choose from are:
Once this is done, you can then choose how many of the 10 paylines that you'd like to activate and wager across. There is a maximum of 10 to play with and obviously a minimum of one. You can use the 'Change Lines' button at the bottom of the screen in order to change the amount that is active.
Your total stake is then decided by multiplying your coin size or bet per line, by a number of active paylines. So, if you're wagering with a 10p coin size across all 10 active paylines, your total stake will be £1 per spin.
The minimum stake per spin is 1p and the maximum is £10, so players of all budgets are welcome. It's worth noting that the more paylines you activate, the better chance you have of landing more combinations in various ways, although this will bump up the price per spin.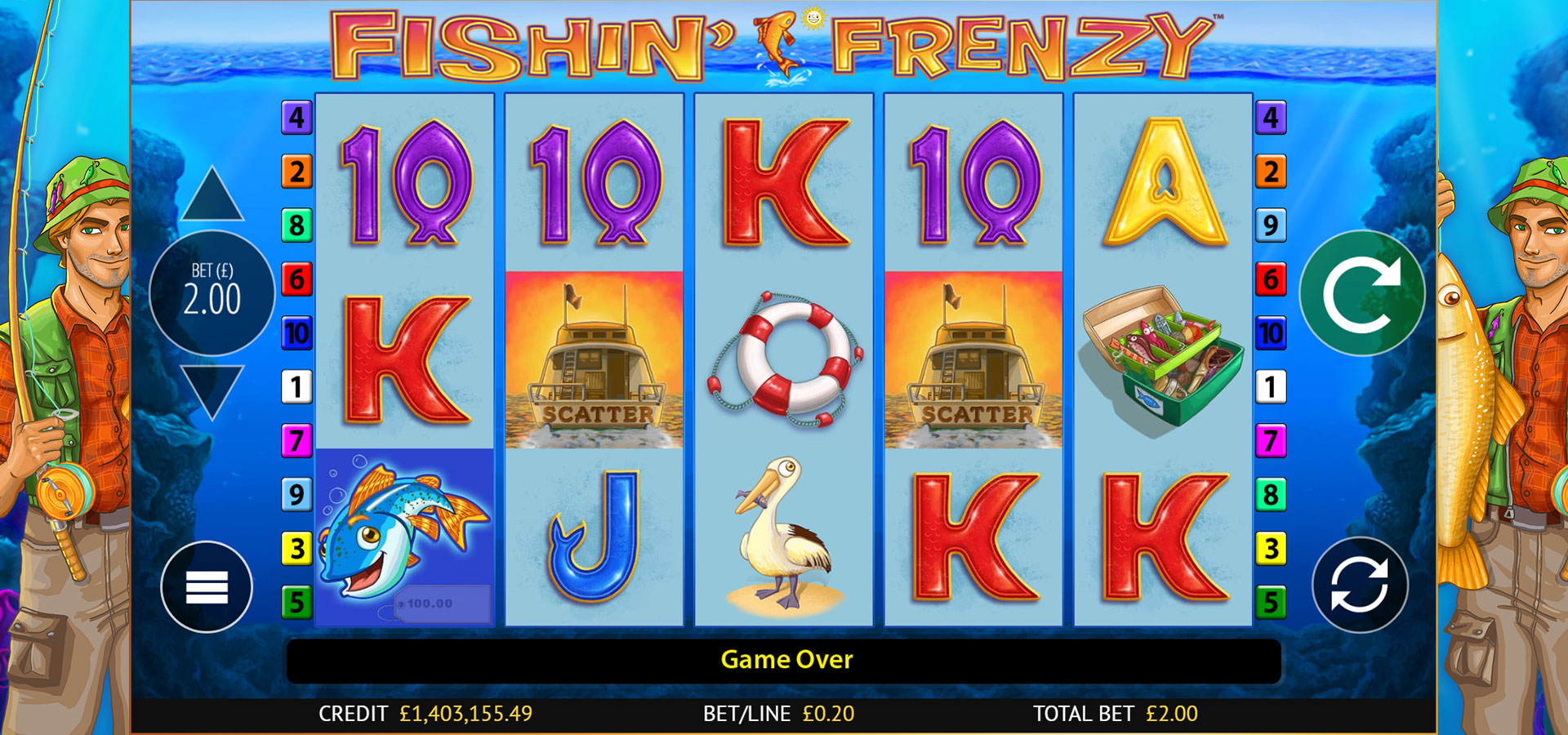 Fishin Frenzy Bonus Features
Fishin Frenzy has an incredibly lucrative free spins round which can be triggered by landing three or more of the fishing boat scatter symbols. The number of free spins you start the round with is dependent on how many scatters you land to trigger it:
3 Scatters - 10 Free Spins
4 Scatters - 15 Free Spins
5 Scatters - 20 Free Spins
Not only is the free spins round lucrative because of the free spins themselves, but also because of the extra additions to the reels during this feature.
During the free games, various fish with price tags are added to the reels. Every now and then, a fisherman will appear to reel in these fish with their price tags and the combined total of their value will be added to your balance. Plus, there's also potential for two fishermen to appear on the reels, meaning you could win double the amount in extra bonus cash!
This game also has a gamble feature, meaning you have the chance to double your money after each win, should you choose to do so. All you'll need to do is correctly guess the colour of the next playing card to be turned over. It's that simple.
Fishin Frenzy RTP
This slot offers 96.12%, an acceptable percentage for a game that you must try, resulting in a winning combination in the choice as well as on the reels. It isn't the highest of percentages, but you have to keep in mind that most online slots these days run between 94% - 98% RTP. This can actually be a good indicator of what the slot variance is like (How much you can expect to win regularly, or do you receive one big payout after a lot of spins).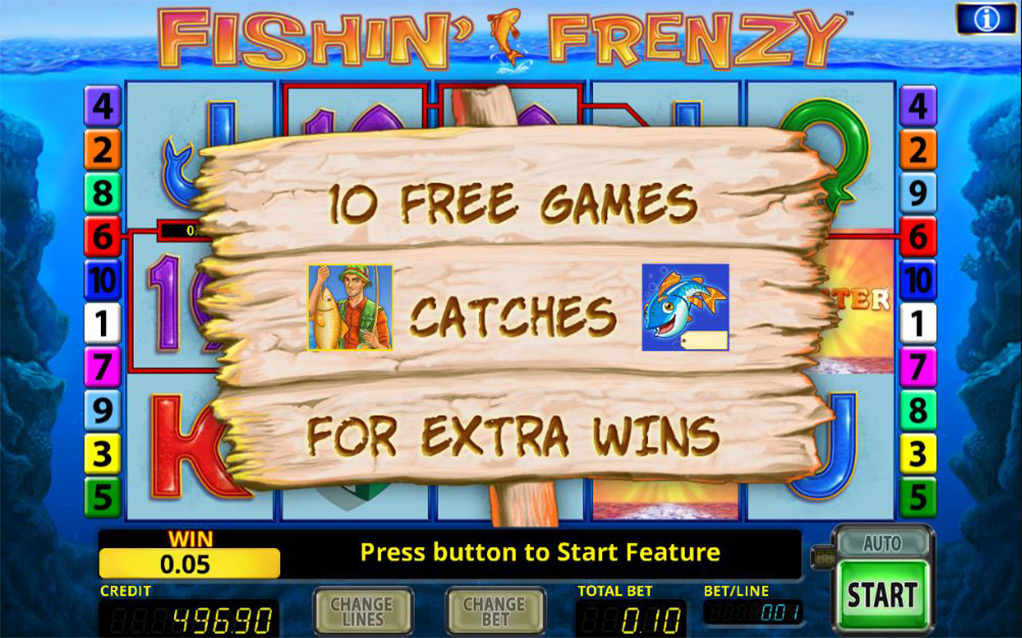 Fishin' Frenzy Gambling Feature
Whenever you actually land a win, you will be presented with the opportunity of taking your win to the next level in a gambling feature. As you can do this with every win regardless of size, this feature adds an extra dimension to your gaming experience.
Although this sounds exciting, it's important to be prepared for what you are about to face. The gamble feature quite simply allows you to either double your money or quadruple it with a simple card game.
After clicking on the gamble button which will be lit up next to the spin icon after a win, you will be presented with a couple of different gamble options. The first is a simple 50/50 no frills choice, where you as the player will choose simply red or black in anticipation of what the card reveal might be. If you choose a red card and a red card is then revealed you will be awarded with double your slot winning. If the card is the opposite to what you choose, then you will lose that slot winning.
If you want to take things to the next level in difficulty and risk, you have the option to pick a 1 in 4, by selecting the suit of the card you think is going to appear next. By choosing the correct suit, you will find that you are rewarded with 4 times your slot win! Of course, with only a 25% chance to get this correct it doubles your chances of losing too.
With either of these choices, you can gamble in the same way up to 5 times. So if you want to select either red or black 5 times in a row, you can double your win 5 times taking smaller wins to much larger ones, and of course potentially taking big wins to epic ones!
As with many other gambling features, this one can add that extra level of enjoyment to the game, but it is important not to get too carried away otherwise you might find yourself losing a lot of your smaller winnings - but they do all add up.
Fishin' Frenzy Variance
You will find that this game has a tendency to pay out in varying ways, but for the most part you can expect smaller but regular wins in the base game (game without the main bonus) and then potentially larger wins when the scatters and therefore the bonus lands.
Because of this variance, this makes Fishin Frenzy quite an exciting game once you get into the bonus. As each fish can be worth a large volume, and there is a very slim chance that you can land 2 fishermen (meaning you can double your win on that screen with fish catches), you can expect to see a lot of potential.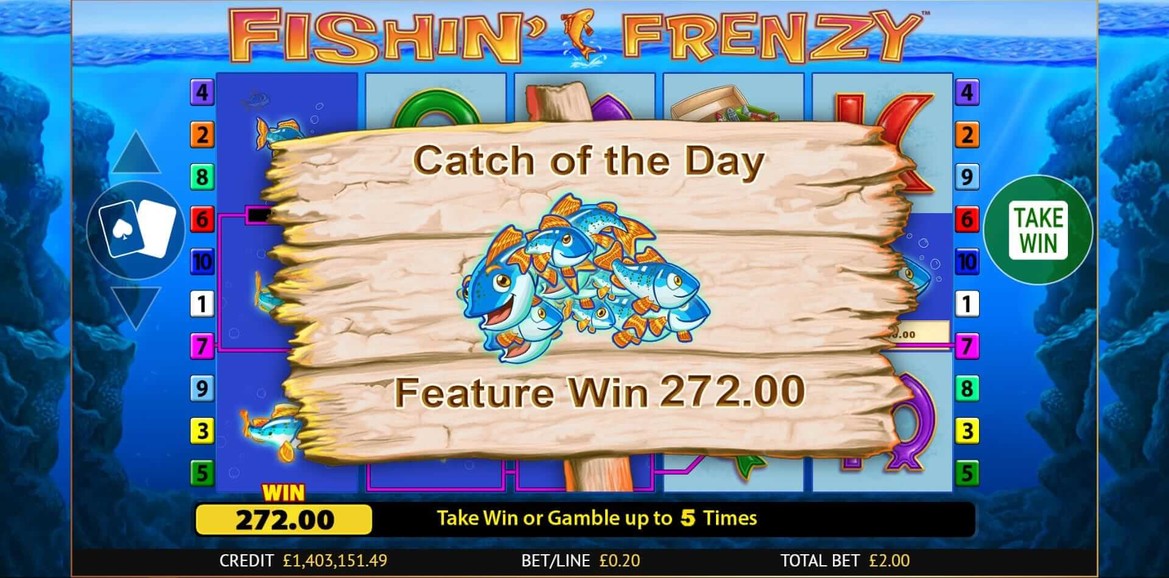 Fishin' Frenzy and Blueprint Gaming
This is one of BluePrints and Merkurs oldest slots all the way back in 2014, one of the stalwart and long lasting slots online. BluePrint weren't the first to think of a "Fishing" based online slot, but they did design one that captured the vision of what a fishing slot should represent.
Many people and even streamers on twitch regularly play this game, with it even becoming a personal favourite of people like the Bandit online. This just goes to show that the innovation of Blueprint / Merkur had even garnered a lot of followers all the way back in 2014. Since then they have created 100's of online slots all of which pick up a lot of followers.
One of the interesting things about the Blueprint games is that they always have exciting and on some occasions lengthy bonuses, which can be quite an attractive prospect for online slots players. The win potential isn't necessarily in the 10's of thousands, much like the Red Tiger games are, but they do offer regular wins, a fun experience and a great way to kick off an early online slots experience!
Why is Fishin' Frenzy so Popular?
Why is when we have online slots that cover off themes and topics surrounding amazon warriors, dragons and space themed adventure slots does Fishin Frenzy still appeal to so many people?
I mean fishing is considered by many people to be quite a boring activity. Afterall how many maidens do you save when you take your fishing rod out for a trip? However, there appears to be a certain quality attached here that pulls (or should I say "reels") in so many people. It isn't the reels, or the spinning setup of the slot itself… It is in fact quite simply the general design.
With so many slots out there themed to exciting and action packed adventures, some of them miss the obvious. That is quite simple making sure that your slot matches the theme with which it is associated seamlessly. FF does this quite well, hitting every aspect of the fishing theme without going off the rails. The entire experience with regards to the boat, the colours, the bonus games, the scatter symbols and the general symbols as they are, suit the slot perfectly. You could say you would even feel like you are out on a day out fishing!
When the design like this is so well thought out, the slot starts to touch on other senses and sensations that can conjure up elements of nostalgia! Fishing is a great pastime that has touched the hearts of millions of people, which means that the slot is likely to appeal to many of those people too.
For those that find the fact the design is the reason people are interested here to be dubious. Then maybe for you it is the big bonus game mentioned above. 20 free spins is quite the number of free spins which is actually quite rare on a lot of online slot games today.
What are the Fishin Frenzy Symbols
Probably the most important element of any slot is taking notice of the symbols that the slot uses for it's pay lines. Sticking closely to the theme, with a mixture of different sea, boat and fish related symbols on each reel, along with the standard 10 to Ace setup. The only difference with the tens, jacks, queens, kings and aces is that each is also themed to match a fishing theme too. This all adds up to keeping the general fishing theme strong throughout the players experience on the slt, and yet another reason why the game is so popular.
The slot then features several other symbols outside of the numbered icons. The next lowest value symbol is the fishing tackle box and the red and white life buoy ring. If you manage to get 5 of either of those on a payline though it still delivers you with 20 times your initial stake. So it's not like they should be ignored.
Next up is the rod itself, paying up to twice what the first two symbols can offer. This slot does a good job of scaling up the wins of these. The Fish themselves actually come in lower on the pay table, but this only counts in the base game and because they are more likely to show up than the other symbols, often in stacks. 5 of the fish in the payline will only give you 6 times your initial stake, but as mentioned they can show up frequently.
For the "Reel" big money in the base game you want to keep an eye out for the pelican. Being a premium symbol, like many other slots you only need 2 of him to get half your initial stake back, and a line of 5 of these pelicans will deliver you a whopping 150x. The only time that the fish become the best paying symbols is if you are lucky enough to get into the bonus game and have old Fishin Frankie pick em up with his fishing rod!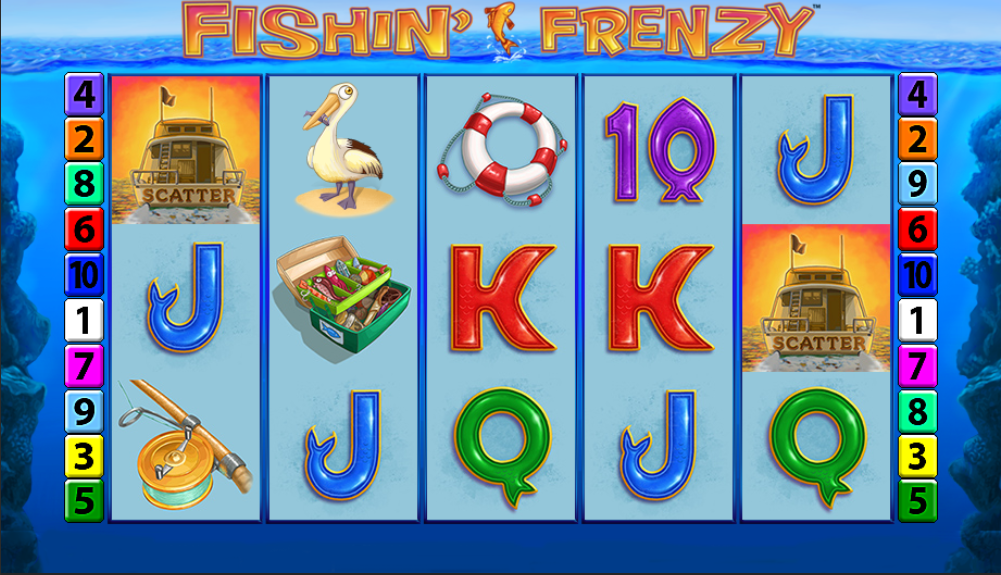 Does Fishin Frenzy Slot Work on Mobile?
Fortunately for everyone Fishin Frenzy does also work on Mobile, as it is set up in a HTML5 format, which means that it can be enjoyed on any device! Although Blueprint gaming first started as an online slots development company many years ago, they have not stuck to retro ways, and have continued to develop and innovate their own slots. They will even go as far to make sure that original slots like this one can still be enjoyed by people with their Mobile phones. This goes a long way to show their dedication to keep these older slots running and available to people as times change!