Overview
Horus was an Ancient Egyptian god of major significance amongst the people of this realm and his eye was a symbol that carried an equal amount of weight, both for pharaohs and commoners. The game at hand carries a maximum prize of 10,000x on the winning bet, which can amount to sizeable buckets of cash in your currency. Eye of Horus slot features a standard layout of five reels and three rows which spin across ten paylines and there are bonus features that can elevate your gaming experience a notch or few higher by increasing the odds for bigger wins. Play Eye of Horus with as little as £0.01 per payline.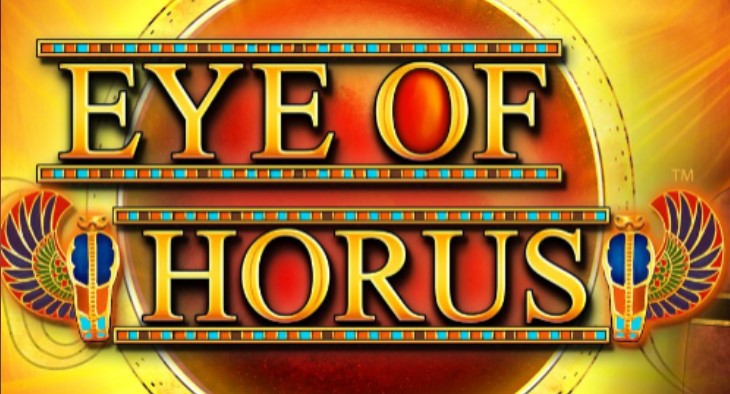 Key Features
| | |
| --- | --- |
| Reels: | 5 |
| Min Bet: | 0.01 |
| RTP: | 96.31% |
| Paylines: | 10 |
| Max Bet: | 20.00 |
| Bonus Rounds: | 2 |
| Variance: | Medium |
Eye Of Horus Slot Online
The earthly tones dominate the screen and the title Eye Of Horus is placed just above the reels. The symbols are in different colours, mostly bright ones and the ten paylines are marked by squares placed on both sides of the reels. The game was released in 2016 and even though it isn't the most popular Egyptian-themed slot and certainly not the first one, Eye of Horus slot quickly became one of the most played slots at a range of online casinos. This is a mobile-friendly game and the mobile version has been designed in a way that makes it as user-friendly as possible for players who are playing the game on their smartphone or tablet.
Introduction To Eye Of Horus
This game was developed by Reel Time Gaming, a company that was founded in 2009, but despite the fact that the company hasn't been on the market for two long, Reel Time Gaming has developed some pretty exciting online slots, and the standard of quality is rather high.
Eye of Horus slot features ten paylines and you can choose how many of them you wish to activate. The number of active paylines will be shown on the screen, i.e. only the number of the active paylines will remain on the screen.
Features
The gameplay during the standard game is standard, unless a winning combination occurs, in which case the Gamble feature gets triggered. During the gamble feature you have several options at your disposal, but we'll cover that in depth below.
The game features a Free Games bonus feature and the wild plays a particular role, it not only substitutes other symbols, but it can also become stacked and take up a whole reel.
The maximum amount that you can win in the Eye of Horus is £1,000 if you're playing with a £20 wager, but that's just the main game base win, if you choose to go with the Gamble feature you may double your winnings more than once.
Volatility
When it comes to variance, Eye of Horus is a medium volatile game, meaning that you could win fair amounts of payouts from time to time. So, make sure that you adjust your bets are adjusted accordingly. The volatility shows the winning pattern that the players can expect when playing a certain online slot game. We played ten spins before the first win and the amount that we managed to win amounted to nine times our wager, so that proves the point that you need to be moderately patient when playing this game.
Multiline Slot
Eye of Horus is a standard multiline slot, which means it comes with more than one payline and the paylines are regularly aligned, you will need multiple instances of the same symbol arranged from the leftmost towards the rightmost reel. In the past, multiline slots were a novelty, but nowadays it's the norm. Only really old or retro slots are single-line games. Plenty of new types of games are available nowadays, such as scattered, grid and megaways slots, but most games are still multiline slots and that's what players are used to.
Eye of Horus is a video slot game, but again, that term defines most slots that have been released in the last decade, so that's really not surprising. Video slots have quite a few sub-categories, with the most notable one being progressive jackpot games. Eye of Horus isn't a progressive jackpot game, the prizes that you can win in this game are fixed.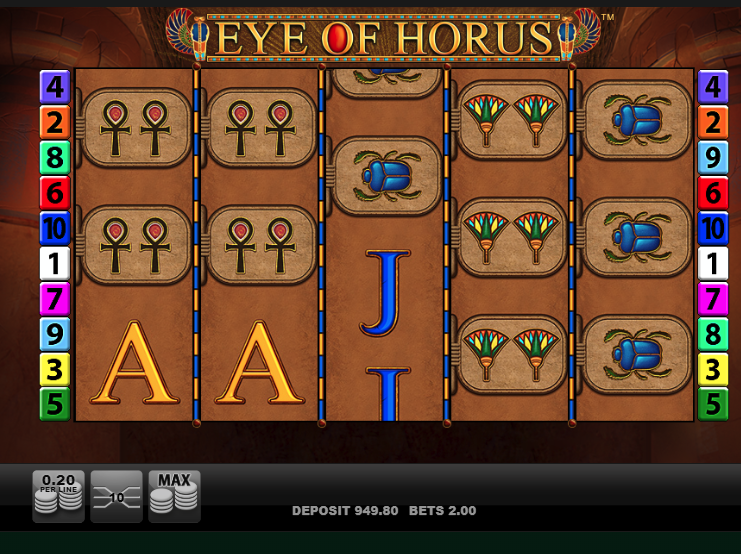 Our First Thoughts On Eye Of Horus
Eye of Horus is an amusing and original game, although the theme isn't the most unique one. There have been quite a few Egyptian themed games over the years and it is clear that players like them. We can't really judge Reel Time Gaming for making Eye of Horus, especially since they did a pretty good job with it, in fact, they managed to create one of the most played and most popular games based on an Ancient Egyptian theme which is even more impressive, knowing that there are so many games based on the story of this historically notable civilisation.
Design
The design doesn't look too modern if we're to be honest with you, and in all sincerity, that might've been the idea behind. The symbols are simple and straightforward, but plenty of colours are used. Overall, despite some questionable solutions the game looks exciting and aesthetically pleasing.
Control Panel
The game features several versions in terms of operations and the overall screen layout, but the controls remained pretty much the same. The game invites you to play, so to say. The popularity of Ancient Egypt and the Eye of Horus in particular is one of the reasons behind the popular of the Eye of Horus. Reel Time Gaming launched this game originally via the Merkur platform, so it was quite popular at land-based casinos as well. In fact, many players who discovered it at an their local casino or betting shop went to search it online and the writer of these lines is one of them.
My Experience With Eye Of Horus
For the purpose of this review, I played the game and noted what was happening on the reels. Initially it took me ten spins before I hit the first win. I was playing with 20p per spin, which means I spent two quid before the first win. The first win amount was £1.80, which means I got the money from nine of my previous ten wager.
However, I didn't need to wait that long for the second win. I didn't change the stake and the second win came after four spins, so after a total of 13 spins I hit two wins. And they say 13 is an unlucky number.
Then few spins later, it was probably the 17th or the 18th spin in total, I managed to activate the bonus feature – Free Games, which is basically the standard free spins bonus. I got to play 12 spins in total and I got additional three spins, but no significant winnings during the free spins mode, apart from few minor wins. Still, it wasn't too bad, with the overall amount won during the free games amounting to four times my wager.
I am not aware of the maximum amount that this game has paid on a single spin but bearing in mind that the game has a gamble mode, including a Ladder Gamble option, I am pretty sure that some players managed to get quite a hefty payout. There is no information on how many times you can use the gamble feature consecutively, or what is the maximum amount of money that you can win on it.
The Ladder Gamble feature is the feature that sets Eye of Horus slotapart from its competition, including all Egyptian themed slots, but also online slots in general. The game's RTP percentage as well, set at 96.31%.
Eye Of Horus Theme
The theme of Eye of Horus is pretty evident, and we have mentioned that already, Eye of Horus is one of the many Egyptian slots. Although, it is fair to say that this is not just an Egyptian slot, it is one of the best and most played ones.
Reel Time Gaming
Reel Time Gaming was established in 2009 and in the past decade the company developed quite a few games. In fact, it was more than 100 games in total. We have to say that when it comes to Egyptian games, Reel Time Gaming haven't developed a lot of these over the years, but other providers have been pretty active on that front.
Other Reel Time Gaming Slots
This is a multiline slot as we have already mentioned, and most games developed by Reel Time Gaming are multiline slots. Eye of Horus is one of the most popular slots by Reel Time Gaming, together with Fishin' Frenzy slot, Mermaid's Pearls slot, and many more.
Eye Of Horus Origin
The Egyptian slot theme has been popular since the beginning, i.e. since the first online slots were released. In fact, the first online slot that gained prominence was IGT's Cleopatra. This game was originally a land-based slot machine and due to its popularity, IGT decided to release an online edition which surpassed the popularity of the original Cleopatra slot machine.
Eye of Horus, as you may know, is the Egyptian symbol of protection and it is believed that it brings power and good health. The concept Eye of Ra is similar to the concept Eye of Horus, although Ra is a different Egyptian god.
It is not quite clear why the Ancient Egypt theme resonates so well with slots fans, both some of these games have reached an almost iconic status. Cleopatra is definitely the first and most renowned online slot that has been around for more than a decade, but Eye of Hours does pretty well too.
We can only assume that there'll be plenty of other Egyptian slots released in the following months and years.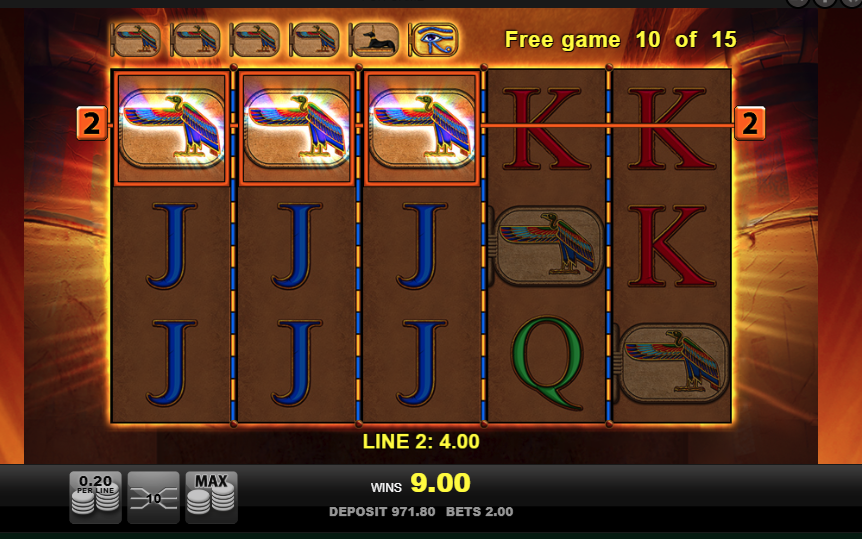 How To Play Eye Of Horus
Eye of Horus is a pretty straightforward game with easily understandable controls. Reel Time Gaming has released more than one version of this game and some of the controls are different in each of them. Which version will be displayed depends on the network where you're playing the game.
Versions
Then, there's a mobile optimised version of the control panel which makes it easier for players who are playing Eye of Horus slot on their smartphones and tablets. Throughout this section we'll be discussing the version that we played but bear in mind that if you're playing the game at a casino that's on a different platform, the controls might be altered. Don't get too worried about that though, regardless which version you're playing, the controls are quite simple and straightforward.
In the version that we played, the buttons which enable you to control the amount that you wager per line and the number of active paylines are placed in the bottom left corner, whereas the Play and Auto Start buttons are in the bottom right corner.
Setting Your Wager
The button that features a decimal number and the words 'per line' is the button you should use to set the amount you wager per payline in Eye of Horus slot. Click on the button and a menu will be prompted, featuring the following options – 1p, 2p, 5p, 10p, 20p, 50p, £1 and £2. The total wager amount is placed at the middle.
Next to this button, you'll notice the paylines button. It features a graphical representation of a set of paylines and a number, and that number shows how many paylines are active at that point. This button functions in a similar manner, you'll need to click it and you'll be able to select the number of paylines that you'd want to be activated.
If you're willing to play Eye of Horus slot with the maximum possible amount, you can click on the 'Max' button, placed to the right of the 'Paylines' button.
Auto Start
As for the buttons placed in the bottom right corner, the 'Play' button is green and it features the play sign, whereas the 'Auto Start' presents two arrows that form a circle. If you click on it, a menu will be prompted and you can select the number of spins, i.e. how many times you'd like the reels to spin. You can stop the autoplay at any point, you don't have to leave the game to play through the total number of spins that you've selected.
Payouts
The minimum number of instances of the same symbols needed for a payout is three, in this game there are no symbols that trigger a payout with just two symbols. The minimum amount that you can win in the Eye of Horus slot is an amount half of what you have wagered in total if you play with all active paylines, or to be more precise – five times the amount that you have wagered per payline. This amount is awarded for combination of three Jacks, Queens, Kings or Aces, and all other combinations pay at least the total amount that you have wagered. The maximum amount that can be won in the Eye of Horus is 500 times your wager per line, or 50 times your total wager if you're playing with all active paylines.
Eye Of Horus Slot Symbols
Symbols in Eye of Horus slot match the game theme, i.e. are Egyptian-inspired. The symbols can be divided into two groups – low-value and high-value symbols, or to be more precise, there's also another type of symbols – special symbols. Lower-valued symbols are actually standard card symbols, but they are drawn in a way that reflects the game theme – they look all too Egyptian. The featured card symbols are Jack, Queen, King and Ace. Each of the card symbols is in a different colour.
Card Symbols In Eye Of Horus
Unlike other games where card symbols have different payouts, in Eye of Horus all card symbols pay the same. You get five times your wager per line for three symbols, 20 times your line wager for a combination of four symbols and 100 times your line bet for a combination of five instances of the same card symbol across a payline.
Theme Symbols
We have the Eye of Horus as the most valuable of the standard game symbols, so if you manage to get a combination consisted of five of this symbols while playing with the maximum wager of £2 per line, you will get a payout of £1,000.
Wild And Scatter
In addition to standard symbols, there are special symbols – wild and scatter. The wild depicts Anubis and it can assume all positions across a reel, and it can replace all symbols except for the scatter. The scatter looks like some sort of a tombstone and it triggers the Free Games bonus, but it also triggers a payout, equal to the highest payout in the game, so it serves a different purpose.
The design, the way symbols are drawn is simple, yet they are quite colourful. A lot of colours are used, but everything fits neatly. The background features earthy tones, which makes sense since the action is set in the Egyptian desert. 
How to Win Eye Of Horus
As we mentioned, the maximum amount that you can win in the base-game of Eye of Horus slot is £1,000. But this is only the maximum amount before activating the gamble feature. You have the option to activate the Gamble feature after every win and what's even more interesting about Eye of Horus slot is that there are two types of Gamble feature – a standard where you choose between red and black and there's also a Ladder Gamble feature. With this feature you get a risk ladder gamble where you touch the 1:1 button and then you either win an amount higher than your original win or lose a fraction of the sum.
Activating Paylines
All ten paylines of the game are active by default, but that can change, you could activate just one or few paylines. There's no particular value to this strategy, as decreasing the number of active paylines means that when a combination appears on a non-active payline, you wouldn't get anything, i.e. a win is only triggered if multiple instances of the same symbol appear across an active payline.
Gamble Feature
There is no specific strategy that we could suggest, although there are plenty of options to be tried out mostly around the Gamble feature. Don't get to carried away with this feature, because you could keep on playing until you lose, pretty much every time. The Ladder gamble feature is an interesting option, at first it may seem quite strange, as it is not an option that you can see in many online slots.
This is a medium variance game and there is no feature where the RTP varies in any way, so there isn't a particular strategy based on objective parameters that you can employ. However, you are free to play around with the wager, as long as you don't bet more than what you can afford to lose. Maybe you've read this elsewhere, but you are generally not advised to wager more than 1% or 2% of your bankroll.
Eye Of Horus RTP
RTP (return to player) is the theoretical percentage which each game returns to players as winnings. The RTP together with the RNG (random number generator) guarantees the games randomness and fairness. In fact, in a way it can be said that the RNG is programmed in a way that sets the game RTP at the given percentage.
The RTP is set by the slot provider when they develop and release a game. We mentioned that it is a theoretical percentage, so it doesn't mean that it will have a direct impact on your gameplay, in a sense that you can predict how the game will play and when/if you can expect a payout.
The RTP is simulated by the provider before the game is released. They let the algorithm to run a large number of games, hundreds of thousands, if not millions and then they can confirm that the RTP percentage is such and such. After the game is released, casinos that feature it usually hire independent organisations that confirm whether the RTP percentage is the one that has been announced by the provider.
Decent Percentage
The Eye of Horus slot RTP is 96.31% which is a decent figure. Most slot games are below or around 96% and that is considered to be the average RTP for online slots. We can say that Eye of Horus is above-average game when it comes to return rates. It should be noted, once again, that an RTP of 96.31% doesn't imply that you will get £96.31 when you wager £100, because the RTP is calculated over a course of millions of spins and isn't necessarily reflected in a shorter gaming session. In fact, the fewer spins you play, the less likely it is for the RTP of the particular session to match the RTP of the game.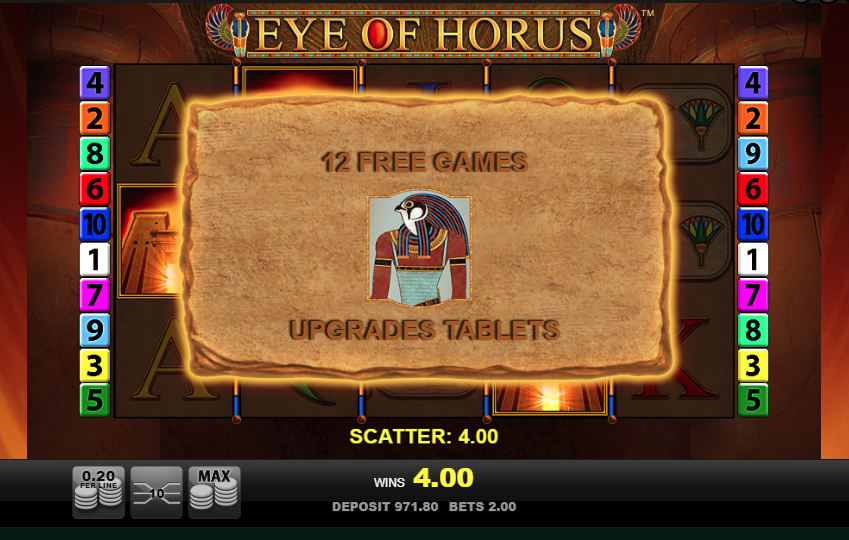 Eye Of Horus Base Game Bonus Features
As we mentioned above, Eye of Horus slot comes with a special Gamble Feature that's triggered in the base game, after every winning combination. So, after a win, you can choose whether you wish to withdraw your winnings right away and proceed either with the next spin or stop playing the game altogether or activate the Gamble feature and try to double the funds that you have won.
Two Gamble Features
And there isn't just one but two Gamble features. You are free to choose which one you'd like to active. First, is the standard Gamble feature where you get to choose whether the next card will be of a red or a black suit and if you correctly predict the outcome you will double your winnings. If not, you lose, and you go back to the main game.
If you get a correct outcome, you can choose whether you wish to play another round, collect your winnings, but there's also an option to collect half your winnings and proceed to play with the rest of it. That way you will have kept your original wager, so you'd be at same bankroll level even if you lose the next gamble game. This feature is available on many online slots, although not all of them give you the option to collect half of the winnings.
Ladder Gamble
With the Ladder Gamble option you get to either increase or decrease the amount you've won, but gradually. When I won £2 and activated the Ladder Gamble, I had a chance to win either £2.40 or go down to £1.20. But, there's another option within this option. Namely, if you press the 1:1 button that appears when you trigger the Ladder Gamble option you can go double or nothing, much like it's possible during the standard Gamble feature.
There are more than few games that feature a Gamble Feature, but the Ladder Gamble feature is quite unique and there are no more than few games with a feature like this, not to mention that this option in Eye of Horus comes with another option within the gamble feature, which makes it possible to go double or nothing.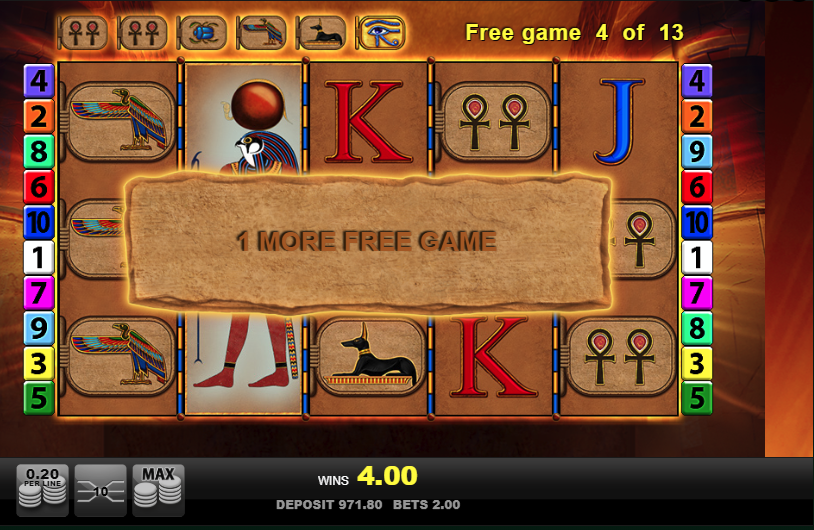 Eye Of Horus Free Spins
Eye of Horus slot comes with a single bonus feature, if we exclude the gamble option, and that's the Eye of Horus free spins. Free spins are activated when you get a minimum of three scatters on the reels.
When the bonus is triggered there is a special bonus animation and although it looks rather simple and basic, it is a refreshing sight in an otherwise graphically static game. The winnings that you can collect in the bonus game are the same as the ones that you can collect during a standard game, with the only difference being the fact that the winnings from each of the free spins are added to each other and paid out at the end of the bonus feature. You can re-trigger this bonus, i.e. get extra free spins.
When the bonus game is triggered you get a dozen of spins, but if a scatter appears during free spins, you will get one extra spin, whereas with two symbols you will get two extra spins. If you are lucky enough to hit five scatters during the bonus game, you will get five free spins on top of the 12 that were initially triggered, i.e. on top of the number of spins that is left to play.
Playing Eye Of Horus For Free
This is a relatively simple and straightforward game – with five reels and ten paylines and despite the complex and unique bonus options, such as the Ladder Gamble option, you won't have any trouble getting used to it and how it works.
Still, it is advisable, especially if you're inexperience and haven't played a great deal of slots in the past, to try it out for free, in demo mode, without making a real money wager. That can give you a sense of what the game is like, what feature it includes and what can you expect from the gameplay.
Bear in mind that the results that you achieve in free play will not be replicated when/if you decide to play with real money. So, if you win big in demo mode, don't get your hopes up once you make a real money wager, but also, if you lose a lot of demo funds, it doesn't mean that you will be losing when you're playing with real money as well.
A lot of players like to test slots in free play at least until they activate the bonus feature and see the prizes that can be won there. Sometimes it may take a while before you trigger the bonus feature, it doesn't mean that it'll take as long when you're playing with real money, and also sometimes you might trigger the bonus game right away, and it doesn't mean that the same thing will happen when you switch to real money mode.
Slot Sites With Eye Of Hours
Eye of Horus is available at a wide range of online casino sites. Ever since its release in 2016, casino operators were quick to embrace it and offer it to their players, and it turned out that players were equally eager to try it out.
Here are some exciting casino sites where you can play Eye of Horus slot.
This game is available at WinStar, and you can notice this online operator featured on this page. So, if you're looking for a site that offers Eye of Horus, you should look no further. Just select WinStar, register and claim the exclusive bonus offer. After that, you can start playing Eye of Horus right away.
Play OJO is another casino site that features Eye of Horus, they even rate the game as one of the classics in the genre.
In fact, we can safely say that most of the casinos that are featured here on SlotsWise, both the ones that you can see listed on this page, as well as the ones that we have reviewed do offer Eye of Horus. So, if you're looking to play this game, you really can't go wrong, it isn't a slot that's exclusive to only some casinos, it can be played pretty much everywhere.
Similar Games
Yes, there are quite a few online slots featuring an Ancient Egyptian theme, and while Cleopatra is the single most popular theme that has to do with the Egyptians, but there are quite a few other game that Eye of Horus slot is similar too. Let's have a look at the most popular games that resemble Eye of Horus slot.
Cleopatra
We can safely say, without any exaggerations that IGT's Cleopatra is now only the most renowned Egyptian-themed game, it is one of the most popular and most played slots of all times. It was released back in 2006, but it is still available and played at a variety of online casinos. Several years later a sequel was release, but the original Cleopatra remained popular and didn't lose its appeal.
Cleopatra slot comes with a standard layout with five reels and 20 paylines and it can be played with a minimum of one penny per line. The Sphinx scatter symbol triggers the free spins bonus in this game.
Queen Of Egypt
This is another slot based on the legend of Cleopatra, only this one is named Queen of Egypt. This is a Gamesys slot, and even though Gamesys aren't usually listed together with the most renowned providers like NetEnt and Microgaming, they have released a fair share of a games over the years, such as Double Bubble and Secrets of the Phoenix. Queen of Egypt is a rather impressive game, visually and it features an RTP of 95.30%, which is pretty much within the average range of 95%-96%.
The game also comes with a standard five by three layout and a total of nine paylines. Cleopatra, a.k.a. the Queen of Egypt is the wild symbol here and if you get five Cleopatra symbols you will get one of highest in-game payouts.
The Secrets Of Horus
Listing a game that has the word 'Horus' in its title is a pretty obvious decision when discussing slot games that are based on the Eye of Horus. This is a NetEnt game, so the level of quality is pretty much expected. NetEnt delivered the expected level of quality and even though this slot was released back in 2009, it still looks quite decent. There are 20 paylines, and the minimum that you can stake per payline is 2p, which sets the minimum stake per game at 40p, whereas the maximum amount that you can place per game is £40.
The game comes with five reels and three rows and the paylines are displayed on both sides of the reels. The control panel is a lot similar to other NetEnt games, so if you have ever played a game by this provider, The Secrets of the Horus slot will actually look familiar, at least in terms of controls and settings.
Leprechaun Goes Egypt
Egyptian and Irish are the most common online slots themes. There have been plenty of popular slots based on each of these themes. There is little crossover between Ancient Egypt and Ireland, or so you might think, because Leprechaun Goes Egypt slot is a game that proves otherwise. This game is a one of a kind mashup that combines Irish themed slots and Egyptian games. It comes with five reels and three rows with 20 active paylines. The maximum prize that you can win in the main game is 3,000 coins and this prize can be won if you get a maximum of five leprechauns across a line.
Leprechaun Goes Egypt was released in 2014 and it features two bonus games called Pyramid bonus and the most common type of bonus game – Free Spins. If you manage to activate the free spins feature you will get to pick one of the following three – Cleopatra Slots, Leprechaun Slots or Mummy Slots. Each of the option includes a number of free spins and a multiplier and a higher multiplier means fewer free spins and vice versa. With the Mummy Spins option you will get 15 spins, but the multiplier is x2, whereas with the Cleopatra slots you get five spins where the winnings are multiplied by six. Finally, there's the Leprechaun Spins which is the middle ground with ten free spins with a 3x multiplier.
Book Of Dead
The full title of this slot is Rich Wilde and the Book of Dead, and in this game you get to follow Rich Wilde, a famous archaeologist who is on a quest to find the hidden treasures of Ancient Egypt. The game RTP is 96.21%, and you can play Book of Dead with a minimum stake of a single penny per payline. The maximum prize that you can win in this game is 1,000 coins.
When you land at least three scatters on the reels the free spins round will be triggered. This feature can be retriggered if you get bonus symbols on the reels during free spins games. Book of Dead features a Gamble feature which you can trigger after every win if you wish to go double or nothing on your winnings, but unlike Eye of Horus, it doesn't feature a Ladder Gamble option. A new release named Rich Wilde and the Tome of Madness slot went live in the summer of 2019.
Pharaoh's Fortune
In addition to the original Cleopatra that we discussed above – one of the most iconic Egyptian themed games ever to be released, IGT has also developed at least few more games based on the same or a similar theme. Pharaoh's Fortune slot is another IGT Egyptian themed game. This game which features 15 paylines and can be played with a minimum of 15p per game, or a single penny per line.
This game also comes with a standard layout featuring five reels and three rows, but a winning combination can be activated when there are at least either two or three instances of the same symbol on the reels, depending on the particular symbol in question. The maximum prize in the main game is 1,000 coins and it can be triggered when you hit five scatters on the reels. This slot was released in 2014 and its RTP percentage is somewhat lower, set at 94.78%.
Legacy Of Egypt
This one is a game by Play'n GO, and the symbols that appear on the reels of Legacy of Egypt are similar to those that appear on the reels of other games when it comes to the theme and the overall appearance, but they look quite exciting and visually advanced. Legacy of Egypt was released in 2018 and that is something that you can notice right away.
This game can be played with a minimum of 30p per payline, as there are 30 paylines in total. The maximum amount that you can stake on a spin on Eye of Horus slot is £90. The game features an autoplay option, and, not surprisingly, Cleopatra is the most valuable symbol in this game.
Cleoptra II
Since we already have Cleopatra in our selection of Egypt-themed games, it would be a shame not to mentioned the sequel – Cleopatra II. This game also comes with five reels and 20 paylines and it quite resembles the original release, although graphically Cleopatra II is a lot more advanced compared to its prequel.
The second release is still an older game, it was released back in 2008. This game can also be played with a minimum wager of a single penny across a payline. The maximum prize that you can win in the main game is 10,000 coins.
Reel Time Gaming Slots – Fishin' Frenzy Megaways  
Reel Time Gaming haven't released other notable Egyptian-themed games, but judging by the success of Eye Of Horus, we think it might be reasonable to expect that to happen some time soon. We already mentioned some of the most popular online slots that have been produced by Reel Time Gaming. Fishin' Frenzy is one of these games, and due to its popularity, Reel Time Gaming decide to release a sequel - Fishin' Frenzy Megaways slot and who's to say that this won't happen with Eye of Horus as well. One thing is clear – Reel Time Gaming haven't said their last word and we can expect new exciting releases from them in the upcoming period.  
Eye Of Horus Mobile Version
This is a mobile-friendly slot, it can be played on a wide range of mobile devices, on different platforms, so it doesn't matter if you're playing on a desktop computer, a laptop, or a mobile device, you will be able to try your luck on Eye of Horus anytime and anywhere, as long you have a stable internet connection on your device. But, even if your connection drops, you have no reason to be worried, the game will continue right where you left off once connection is restored. You won't lose the funds you've won on your previous spins.
That's right, a good internet connection on your device is all you need to play Eye of Horus, and the game can be played both on smartphones and on tablets.
When it comes to particular mobile operating systems, Eye of Horus supports iOS, as well as Android devices, so you'd be able to play Eye of Horus on your iPhone, iPad, as well as most Android devices both smartphones and tablets.
Of course, if the small screen of a smartphone, or even a tablet doesn't work for you, you can always try this game out on your desktop computer or your laptop, especially if you prefer full-size symbols and would like to get a better view of the reels.
Closing Thoughts On Eye Of Horus
Overall, despite the very basic graphic features, almost retro-like, Eye of Horus is a pretty exciting game and it is rather enticing. I played it for a first time for the purpose of writing this review, but I will definitely give it another go.
If you're a fan of the Gamble feature and you are sometimes in the mood to risk your winnings in an attempt to win, then you will be one of those who find Eye of Horus amusing. The Ladder Gamble feature gives you a chance to go for a gamble feature but decrease the risk level, i.e. play without risking the total amount that you've won, while you're also giving up on playing for a double prize and play for a lower win instead.
There's a standard bonus feature – Free Spins and if you trigger it you can expect to get some extra spins, at least I got three additional spins for a total of 15 in the bonus round as a whole. The game is pretty colourful even if the graphic features and the whole visual appeal aren't too advanced.
There are many Egyptian slots, which means that developing a one that could measure against the earlier releases is no easy task, but it seems that Reel Time Gaming did a pretty good job with this one.
All in all, Eye of Horus is a pretty good option, regardless whether you've played Egyptian themed games before or not. If the bonus features look too complex, and we're talking primarily of the Gamble feature here, especially the Ladder gamble, have a look at the game info, or reread our section on it, it'll start making sense.
If you're ready to try out Eye of Horus for real money, all that you need to do is register with one of our partner sites if you haven't already and once you claim your bonus you can start playing Eye of Horus right away.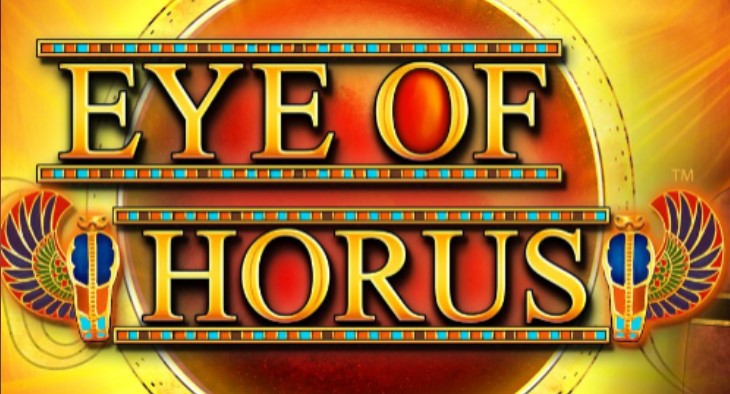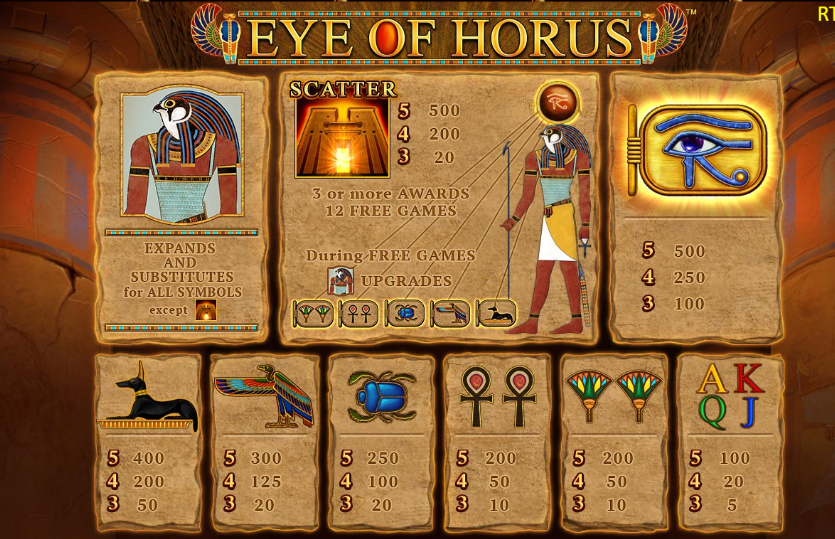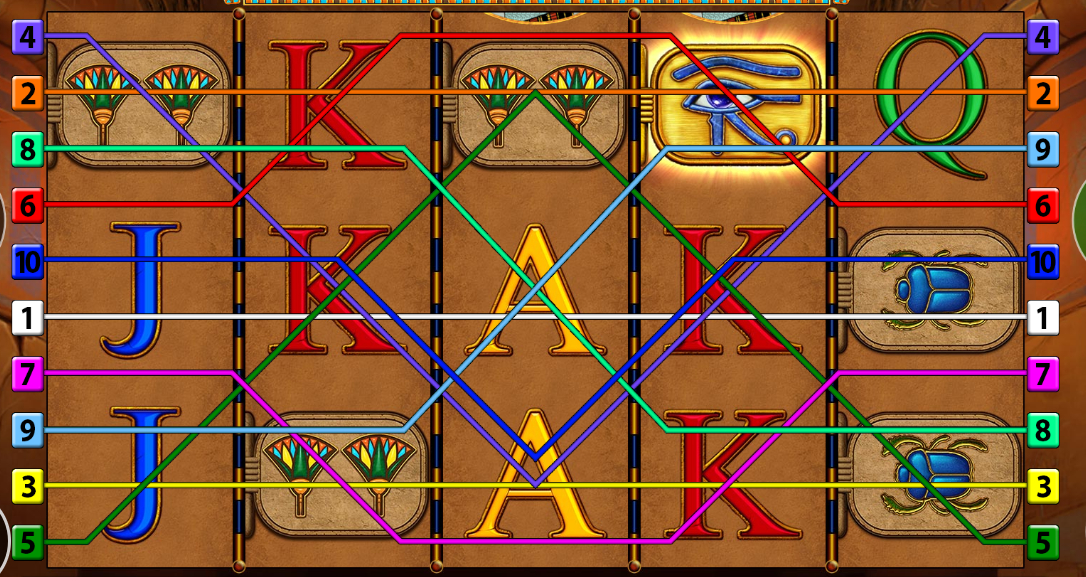 Want great offers sent straight to your inbox?
Enter your email below and we'll do all the hard work for you
Welcome to our Mailing List
Keep a look out for our emails containing great offers!