Mega Moolah is one of the most renowned online progressive jackpot slots. It was developed and released by Microgaming. it can be played with as little as 25p, and up to £6.25 This slot features four progressive jackpot prizes and the highest one seeds at £1,000,000. This game entered the Guinness Book of Records for awarding the highest ever online progressive jackpot.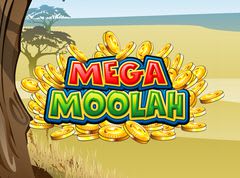 Mega Moolah Slot Online
Mega Moolah slot is a five-reel, three rows and 25-payline slot machine developed by the software provider Microgaming. which is one of the most popular casino games and software developer.  
Online slots featuring a progressive jackpot are particularly popular, because, let's be honest, players are fond of the idea that they could win a jackpot, especially if the jackpot prize is £1M or more. In the case of Mega Moolah slot, the jackpot amount is a lot higher than a million, in fact, the average progressive jackpot payout for this game exceeds £7 million. Let's just say that the Mega Moolah progressive jackpot seeds at £1 million.
Mega Moolah Overview
As stated in the section above, Mega Moolah slots from Microgaming has a typical five-reel, three-row format with 25 paylines. In terms of theme, the action of Mega Moolah slot is set in the African savanna with the reel set being placed against a background of typical savanna. This is one interesting thing about Mega Moolah, as most other games featuring progressive jackpots usually come with more traditional symbols, this is the only progressive title that features savannah animals on the reels.
Mega Moolah Origin
We already mentioned that the game features the savannah, i.e. you can see savannah animals on the reels, so it is clear what was idea behind the development of this slot. The theme isn't the most unique and most original, but it's pretty cool and the game looks quite exciting.
There have been few games featuring wild animals on the reels but bear in mind that Mega Moolah has been around for about a decade and many of the other games were released afterwards. In fact, we can even say that following the success of Mega Moolah, slot providers decided to follow Microgaming's footsteps.
Thanks to its immense popularity and the massive jackpots that this game has paid out, Mega Moolah was featured in media all over the world, including the BBC, The Evening Standard, The Irish Independent and many more.
Top Progressive Jackpot Slots
We already mentioned that Mega Moolah is a popular progressive jackpot game, in fact, it is probably safe to say that it is the most popular and most played progressive jackpot game. But there are plenty of other progressive games, these are some of the most popular ones.
Loot'en Khamun slot – This is one of the very few slots that features more progressive jackpots than Mega Moolah, it comes with exactly five progressive jackpot prizes. The provider of this game isn't as renowned as Microgaming, but the jackpot prize itself can get pretty hefty. Just bear in mind that the maximum wager on this slot is £500.
Major Millions slot – This is another Microgaming slot, and although it is not as popular as Mega Moolah, it is a top-notch progressive jackpot game with plenty to offer. The maximum stake is only £3 and to hit the jackpot you need to get five wild symbols on the 15th payline.
Arabian Nights slot – NetEnt are Microgaming biggest rivals and this Swedish slot developer has provided some of the most renowned online slots including games featuring progressive jackpots. One of these games is Arabian Nights and quite a few players have won million-pound prizes in the past few years.
Mega Moolah Symbols
When the reel-set and its symbols are in question, you should know that the symbols in Mega Moolah slots can be divided into two groups of low-value and high-value symbols. The low-value symbols in this progressive slot game are the five standard playing card symbols, 10, J, Q, K, and A, listed in ascending order.
The high-value symbols in Mega Moolah slots are five game-specific drawings of animals which are typical for the African savanna. These animals include a kudu set against a yellowish savanna background, a zebra set against a purple savanna background, a giraffe set against a blue savanna sky, a water buffalo, and an elephant, listed in ascending order based on their respective value. The first three high-value symbols of Mega Moolah slot award certain payouts for landed combinations of three, four, and five matching symbols, while the last two award payouts for combinations of two, three, four, and five identical symbols.
Mega Moolah slot includes two additional game-specific symbols for the Wild and the Scatter.
The king of the animals, the lion, is the game's Wild symbol and the highest-paying symbol. The lion generates payout for combinations of two, three, four, and five matching symbols. The game's Scatter symbol is a strange-looking smiling monkey.
Let's have a look at the individual payouts and their payouts per combination.
Low-Value Symbols
The 10 awards two times your wager per line for three symbols, ten times the wager per line for a combination of four symbols and 40 times your line stake for a combination of five.
The Jack is more valuable than the 10 and the prizes here are three, 15 and 60, respectively for three, four and five symbols.
We have the Queen that is slightly more valuable than the Jack and the 10 and it pays four, 20 and 75 times your line bet for the respective combinations.
Then follows the King with payouts of six, 30 and 100 times your line stake for combinations of three, four and five symbols.
Finally, we have the Ace which is the most valuable symbol of all low-value symbols which pays eight, 40 and 150 times your wager per payline for combinations of three, four and five instances of the same symbol across a payline.
High-Value Symbols
Next we have the symbols of higher value and we divide these symbols in two groups, ones that trigger a payout for just two symbols across and those which require at least three instances, much like the low-value symbols.
Now let's have a look at the particular high-value symbols.
The kudu awards ten, 50 and 250 times your stake per line for combinations consisted of three, four and five instances of the symbol, respectively.
The zebra, on the other hand plays twice what the kudu pays for combinations of three and four symbols and almost twice as much if you get a combination of five symbols.
Then we have the giraffe which will pay you 30 times your stake per line for three symbols, 125 times for four symbols and the maximum amount of 500 your stake per line for five symbols across an active payline.
The buffalo is the first symbol that pays for a combination of two symbols as well. You'll get four times your line stake for two buffalos whereas the payouts for three, four and five symbols are 40, 150 and 600, respectively.
The elephant is the most valuable of all regular symbols and it pays six, 50, 250 and 750 times your line wager for a combination of two, three, four and five symbols respectively.
Special Symbols
The lion is one of the special symbols in Mega Moolah, it plays the role of a wild and it can replace all other symbols in the game and complete winning combinations, but it can also trigger a payout itself when it appears on at least two positions across an active payline from the leftmost towards the rightmost reel. If you get two lions on a payline you will get 15 times your stake per line, but if you manage to get three you will be awarded an amount 125 times your line pay wager. The amounts awarded for four and five wilds are even more remarkable – 1,500 times your stake per line and 15,000 times your stake per line.
In addition to the wild, the game also features a scatter symbol that activates one of the bonus features. We talk more about it below, in the Bonus Features section.
How To Play Mega Moolah
Playing Mega Moolah slot is pretty straightforward, as the game itself is pretty user-friendly. All buttons are placed at the bottom of the screen and labelled clearly, so you'll immediately know the function of every button.
Mega Moolah is placed on a set of five reels with three rows and 25 paylines. The paylines can be adjusted, i.e. you don't have to play with all 25 being active but bear in mind that if you wish to play for the jackpot you will need to have all paylines activated. If you want to try out the game, but you don't want to play the Mega Moolah demo, you can do a couple of spins with a lower amount of paylines, of course that's up to you.
The game is played with a maximum amount of five coins per line, whereas the minimum is one. So, you can play the game with as little as 25 coins, or as many as 125. The coin value varies from 1p up to 5p. In terms of the total stake per spin, it can vary from 25p per spin and up to as much as £6.25 if you're playing with five coins per line, each worth 5p. It has to be said that this is not a particularly high maximum wager, considering that most slots feature much higher stakes.
Once you select the amount that you'd like to wager on Mega Moola, you will need to press the 'Spin' button which is located in the bottom right corner. In addition to the standard action button, there's also an 'Autoplay' button which you can use if you want to set the reels to spin automatically, without you having to press the button each time, before every game. Of course, after each of the autoplay spins you can stop the feature and proceed regularly.
How To Win Mega Moolah
Most players hope that they will be the one who hit the massive jackpot, but that doesn't mean that Mega Moolah slot doesn't include other prizes as well. As with most other online slots, you can trigger a payment when you hit at least three combination of the same symbol across an active payline. The symbols need to be arranged from the leftmost towards the rightmost reel, if they are arranged the other way around, a payment will not be triggered.
Both the low and the high value symbols in this game trigger payouts, but the amounts that are paid and the number of symbols across a combination that are needed to trigger a payment vary. For the symbols of lower value, you will need at least three instances of the same symbol, arranged across an active payline. Whereas for the symbols of higher value, the minimum needed number of instances for a winning combination to be triggered is two.
Mega Moolah Jackpot Winners
Mega Moolah slot entered the Guinness Book of Records for paying out the highest online progressive jackpot. But since then, this slot beat its own record and became the online slot with the highest jackpot for a second time.
The list of Mega Moolah jackpot winners is too long to be listed here, it is quite impressive and we'll have a look at some of the winners, at least those who managed to win the highest prizes.
So far, a total of 56 people managed to hit the jackpot on Mega Moolah, but considering that a progressive prize is hit, on average, in less than seven weeks, that number would increase pretty soon.
This Microgaming slot seeds at £1,000,000 which means that if you get lucky enough to hit a jackpot prize you will become a millionaire, that's a given. Furthermore, the average jackpot prize is a lot higher than £1m, in fact it amounts to over £4.5 million.
Jon Heywood And The Guinness Book Of Records
In October 2015, a British soldier Jon Heywood was playing Mega Moolah at Betway and that surely is a day and an event that he is going to remember forever. Why you may ask, and the answer is quite simple – he managed to hit the highest ever jackpot prize - £13.2 million, or to be more precise - £13,212,882.
This was the highest jackpot for quite a while, in fact, up until recently, when a prize higher than £13.2 million was hit. It was in September 2018 when a player who is still anonymous hit a jackpot worth almost €19 million (€18.9m). From that moment on this became the highest progressive prize that has been hit.
Mega Moolah Jackpots – Mega, Major, Minor And Mini
We have mentioned the Mega Moolah progressive jackpot on more than one occasion, all for a good reason. Now, everybody is interested about the Mega Jackpot which is the most rewarding prize in Mega Moolah, but this game actually features four progressive jackpots. That's right, four jackpots – a mega jackpot – that's the multi-million one, then a major jackpot, a minor jackpot and a mini jackpot. The major jackpot is also a significant amount of money and then the minor and the mini jackpots are hit on a regular basis, sometimes even few times a day and while the amounts aren't as high as the amounts of the mega and major jackpots.
Mega Moolah Bonus Features
In addition to the progressive jackpot prizes that get the attention of most, if not all players who register with one of our partner sites to play Mega Moolah slots, the game also features quite a few exciting bonus features.
Wild Lion
This is not a separate feature but one of the positive effects of the wild symbol. Namely, if you land a combination featuring the wild symbol, i.e. the lion, your winnings from the combination will be doubled. So, let's assume that you've hit a winning combination consisted of three giraffe symbols and one wild, across an active payline, from the leftmost towards the rightmost reel. The standard payout for this combination is 125 times your bet per line. Let's now assume that you were wagering £1 per spin which means that the payout should be £125. In the case where the fourth symbol in the combination is a wild, the payout will be doubled and it'll amount to £250.
This is not an unusual feature, there are many games where the payout gets doubled if completed by a wild symbol.
Mega Moolah Free Spins
This is the standard bonus feature and when they think bonus feature, a lot of players actually refer to the free spins bonus. Microgaming decided to add this feature to Mega Moolah slot, despite the fact that the game offers not one or two, but four progressive jackpots, which itself is impressive.
This bonus feature is triggered when you get a minimum of three monkey scatter symbols. The symbols can be anywhere on the reels, they don't have to be across a single payline. You can get up to 15 free spins and all winnings in the free spins round are tripled, so hitting a combination that regularly pays let's say £100, in the free spins round will result in a £300 payment. It's not a progressive jackpot, but it can be a pretty neat feature.
Mega Moolah Mobile Version
If there's one thing that we can say about the Mega Moolah mobile version is that it is exactly the same as the desktop version. You just need to open the site where you're registered in your mobile browser, log in, or register if you haven't previously and then just start the game.
All options that are available on a desktop computer or a laptop will also be available if you're playing the game on your smartphone or tablet, there will are no differences. The Mega Moolah jackpot can be won if you're playing on a mobile device, in fact, some of the previous winners were fortunate enough to hit it on a mobile device.
The screen, the buttons and everything will be arranged to match the size and format of your screen.
Our Mega Moolah Overview
There is more than one reason why a slots fan be interested in the most rewarding game in terms of the maximum jackpot prize. After all, Mega Moolah entered the Guinness Book of Records for awarding the highest ever progressive jackpot and then broke its own record few years later.
Let us remind you that the jackpot seeds at £1,000,000, and for many this is the key motive to try their luck on Mega Moolah. It is not very likely that you're going to win the jackpot, statistically speaking, but those that hit it get a minimum of £1 million, and in most cases a lot more.
If you're ready to try your luck on the most popular progressive jackpot game, choose one of our partner sites, claim your bonus and who knows!
Key Features
Provider

Microgaming Group

Reels

5

Min Bet

0.01

Max Payout

TBC

RTP

88.12

Paylines

20

Max Bet

6.25

Bonus Rounds

0

Variance

TBC
About The Author
Sanja Tasevska
Fact
Sanja is our game expert and uses her knowledge to review all kinds of slot games, both old and new. The detailed reviews include the most important info about a particular slot game. She's been a part of this industry for many years and so far she's played and given her opinion on thousands of different slot titles. Contact Sanja sanja@slotswise.com
Similar Games
Welcome to our Mailing List
Keep a look out for our emails containing great offers!