Follow Gonzo on his quest for El Dorado, the mythical city of gold learn of his journey through the game's opening sequence. Gonzo's Quest slots may be one of the older titles to be widely featured on gaming sites, but it remains one of the most playable and entertaining experiences anywhere in the slots scene. The 3D graphics are very impressive for their time and the all-singing, all-dancing Gonzo is a superlative host, gesturing and nodding as you make progress.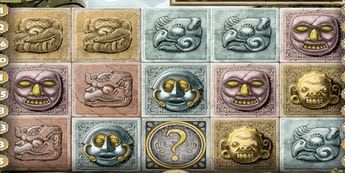 Gonzo's Quest Slot Online
Join Gonzo on his virtual quest for El Dorado, the mythical city of gold in Gonzo's Quest slot. Few games have made such an impact on the gaming industry like Gonzo's Quest. This game was launched back in 2011, and we have to say that only a few games are still popular after so many years. 
The game tells the tale of the most famous, or rather infamous conquistador Gonzalo Pizarro, brother of Francisco Pizarro. We have to admit that for a game that was released several years ago, Gonzo's Quest slot features great graphics, impeccable sound effects and amusing symbols. The bonus feature is also quite exciting.
Gonzo's Quest Introduction
Gonzo's Quest slot is clearly a slot that has had a lot of work put into it and to good effect. The opening sequence hints at what's to come, although when the game actually launches, all is confirmed.
The graphics are outstanding and NetEnt's Gonzo's Quest slot seems to draw on Aztec imagery for the reel symbols. Spin to win and land symbols of Aztec masks carved into stone, alongside some other exciting additions.
Of the seven standard symbols, the three of lowest value appear to Aztec-inspired carvings of animals, while the remaining four are chiselled Aztec marks in blue, green, brown and purple. There's also a gold Free Fall special symbol and a wild symbol, represented by a carving with a question mark on it.
Aside from the reels and symbols, the background space is occupied by more on-theme imagery. Aztec pillars, walls and monuments are visible, as is a grand golden structure in the background as new symbols fall. We can only assume that this is the mythical El Dorado.
How To Play Gonzo's Quest Slot
Before you spin to win the Gonzo's Quest slot game, you'll need to decide on your stake. As a NetEnt slot, the different aspects that contribute to your total stake per spin can sometimes be a little confusing.
You can choose a coin value to play with and you can set this value to your preferred level, as it ranges from as little as 1p up to 50p. The next thing to take into consideration is the level that you'd like to play on. This is a feature that NetEnt uses for its slots and we'll explain how it works.
Level effectively refers to the number of coins you'd like to wager per line. Because all 20 paylines are fixed on Gonzo's Quest, your coin size will always be multiplied by this amount, when playing on Level 1. For example, if you're wagering with a 50p coin size on Level 1, your total stake per spin will be £10, because 50p multiplied by 20 equates to £10.
If you play on Level 2, this means you're wagering a comfortable two coins per line. This means your stake will be coin size, multiplied by 20 paylines, multiplied by two. There are five levels and they each work this way. Setting the coin size and level size to the maximum means you are betting the highest amount possible. A great way to start is to select all pay levels but start on a smaller coin size to ensure that you hit all winning combos from the start. 
Once you have chosen a coin size and level to play on, your stake will be established and you can start to spin on the Gonzo's Quest slot game. You can either use the central spin button to set the reels off, one go at a time, or you can use the 'Autoplay' feature, setting them to spin 10, 25 or 50 times consecutively.
Gonzo's Quest Free Play
Gonzo's Quest starts with an animation, you see Gonzo's ship as it sails towards the South American coast. As much as we'd like to give you an account of what is going on, it'd be better to check Gonzo's Quest free play and see for yourself.
Should You Play Gonzo's Quest Free Play?
Let's get into the basics and see how Gonzo's Quest Free Play works. You are awarded a virtual amount of money, but they are shown as real cash in an actual currency. So, if you're in the UK, the virtual funds will show as pounds. You can set the wager as you please, increase and decrease your stake and see how the game feels. You can set the autoplay button and do everything else that is otherwise an option in the real money version of the game.
So, in short, Gonzo's Quest free play is the same as the real money version of the game, you get to experience everything that the game has to offer. Once you're done playing the free play version of Gonzo's Quest you should be in a position to decide whether you wish to play the game with real money or not.
Don't base your decision solely on whether you've had a successful session, because the outcome of each spin and a gaming session as a whole is entirely random, so if your free play session has been successful it doesn't automatically mean that your real money version will also be successful, or vice versa, if you lose a lot of virtual funds, it doesn't mean that you will also lose actual funds.
The decision is entirely yours, so if you wish to play with real money, register at one of our sites, claim your bonus and play Gonzo's Quest slot.
How To Win Gonzo's Quest Slot
As mentioned, Gonzo's Quest slot has various reel symbols of differing values. You will need to land three or more symbols across an active payline in order to receive a winning payout. The most lucrative symbol is the blue carved face, not to be confused with the lower value bird carving in blue. Landing five of these across an active payline will reward players with a payout of 2500x the coin size!
Better yet, Gonzo's Quest slots also has Avalanche reels and a free fall feature. This means that the symbols involved in a winning combination will immediately crumble and disappear, allowing an entirely new set of symbols to fall into their place and potentially contribute to a new winning combination.
The first combination after a free fall/Avalanche will result in a 1x multiplier, the second will award a 2x multiplier and so on until the maximum 5x multiplier is reached. This multiplier is one of the main reasons why Gonzos Quest slots is so popular with online casino players. 
Gonzo's Quest Slot Bonus Feature
If the avalanching symbols aren't regarded as a bonus feature, then Gonzo's Quest only has one and that is the Free Fall Feature.  
Free Fall Feature
The Free Fall feature is triggered when three of the golden Free Fall symbols land on a single payline. During this feature, you'll be awarded 10 free spins and the multiplier is increased from the main game to 3x, 6x, 9x and 15x. Plus, you can even win more free spins during this feature.
What is an Avalanche Feature?
With tons of new slot games coming out from hundreds of developers who are battling to leave the plethora and stand out, there are tons of new features, some of which are interesting to play.
There is a bit of misunderstanding about what this feature is in the online gambling world. A lot of people are confused, but that's understandable as this feature is not as popular as for example the auto play or bet max features. 
What the feature does is it makes the symbols that are participating in a winning combination to promptly disappear. If the feature is presented in the game, it will automatically be activated on every winning combination that lands on the screen of the game. 
Remember that the combination needs to be done on an active payline, just like the payout with every other slot game that you've played.
There is nothing to worry about, as we hear many players' first impression was that they think they will lose their bet because the symbols disappear. It gets even better, as you basically get an opportunity to win more each time you win something. As soon as all your winning symbols exit the arena, a combination of new ones come from above or simply appear (depends on the slot game) and takes the place of the ones that are gone. This means that there will be a new combination of symbols on the screen, which may lead to a new potential win. 
If there is a new win on the screen, the avalanche feature will occur again, and those symbols will disappear again. A lot of people are comparing this to the free spins round, as you basically get at least one extra spin on the original spin you did, with the number to potentially grow with the new symbols coming in play. The beauty of the feature is that you can get a lot of free spins than the free spins feature, but if luck is not on your side, it can be pretty disappointing. 
Avalanche Feature History
The feature was first seen in Gonzo's Quest slot, a product of the one and only, NetEnt. We never had any doubt, as these guys are machines when it comes to inventing new slot games, features that will be used by every single provider once they create it, a ton of slots platforms and you name what else. 
Different Avalanche Features
With more and more companies producing games which have the Avalanche feature, many different styles of this feature appeared.
First of all, you can find the feature in many different names, like the Volcano Reels, Cascading Reels, Tumbling Reels and many other names that actually present the same feature – the symbols that are creating the winning combination disappears from the screen, making room for more to come. 
Another thing that's quite different from one game with this feature to the other, and from one provider to the other is the way that the symbols disappear and the way the others come in to take their place. 
Some games may have it like a bomb where the screen explodes and the symbols in the win together with some of the symbols that are nearby. Other games will just delete them from the screen and new ones will come from the top, bottom or from the sides, but whichever way they come from, the outcome is the same – you have a completely new set of symbols on the reels with a potential winning combination waiting to be grabbed. 
This feature is one of the most interesting ones and since many providers started implementing it in their games it means that NetEnt really did a great job. 
I hope this answered what many people asked – what is an avalanche feature and if you liked this feature, you can find many of the games with it on our site.
Our Gonzo's Quest Review
Gonzo's Quest slots may be one of the older titles to be widely featured on gaming sites, but it remains one of the most playable and entertaining experiences anywhere in the slots scene. The 3D graphics are very impressive for their time and the all-singing, all-dancing Gonzo is a superlative host, gesturing and nodding as you make progress.
It's not just the charm of the graphics or the excitement of the adventure theme setting you on a quest to seek out treasure in the Americas. The Avalanche feature sees symbols tumbling out, only to have a new set crashing down in their place. The constant mystery and suspense of the Avalanche feature, tied to the lovely little bonus game, makes this one of the most enjoyable slots on the market, in spite of its age.
We'd definitely recommend Gonzo's Quest slot, despite its being not as recent compared to other slots machines. As is usually the case with slot games from NetEnt, this one is truly incredible in terms of its gameplay, design and additional features within, whether that's bonus rounds or Avalanching symbols in this case
Key Features
Provider

NetEnt

Reels

5

Min Bet

0.20

Max Payout

TBC

RTP

96.00

Paylines

20

Max Bet

200.00

Bonus Rounds

1

Variance

TBC
About The Author
Sanja Tasevska
Fact
Sanja is our game expert and uses her knowledge to review all kinds of slot games, both old and new. The detailed reviews include the most important info about a particular slot game. She's been a part of this industry for many years and so far she's played and given her opinion on thousands of different slot titles. Contact Sanja sanja@slotswise.com
Similar Games
Welcome to our Mailing List
Keep a look out for our emails containing great offers!