Cog Maina, isn't your average slot game. The exciting Robot theme, and novel ways to win make this game like no other on the market. The maximum jackpot is £10,000.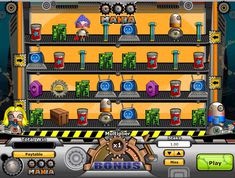 Cog Mania Slot Online
There aren't quite a lot games like Cog Mania slot, so if you're looking for a game with a unique theme, a game with symbols that you can see on the reels of other games, then your search is pretty much over. Many slot games are created similar, so Cog Mania slots will truly be a breath of fresh air.  
The symbols are unique, that has to be said, but the reels and the outline are also quite original. This game was produced by Random Logic Software, and it can be played with a minimum of 50p. There are no reels in the strict sense, so that might be a surprise, but otherwise the game works just like any other slot game, you spin the reels and hope for the best.
Cog Mania Overview
Cog Mania slot is a game that takes place in a robotic, futuristic world that can be seen in sci-fi films, the symbols appear on a conveyor belt, so there are no standard reels, and you will feel like you are in a massive factory, or a similar object.
You will see all different sorts of objects on the reels, there are tomato soup cans, nuts and bolts, computers, crates and, of course robots. The game features a dozen of paylines, but they are not standard paylines, as you can see in other games. There are eight vertical ways to win and four horizontal ones.
You can play with a minimum of 50p, whereas the maximum stake is £50, and even though there are games where you can spin the reels with less than 50p, and with more than £50, Cog Mania slots still offer a relatively reasonably degree of flexibility, so you will be in a position to adjust your wager based on your budget and bankroll.
How To Play Cog Mania
Although the game is futuristic and sci-fi, the control panel is quite straightforward and user-friendly, if you have ever played any slot game you won't have a problem betting used to the controls in Cog Mania slot, and even if it is your first online slot, you still won't find it difficult.
You will see the play and the auto play button on the bottom right corner of the screen, just below the grid. The play button is large and green, whereas the auto play is somewhat smaller and purple. On the left and towards the centre of the screen you'll see the buttons that will allow you to adjust the stake. Like we already mentioned, it starts at 50p and can go up to £50, depending on your preferences.
You can use the max bet button if you wish to wager with £50, but make sure that you have a bankroll deep enough to sustain that level of betting in the long run, or alternatively don't play more than few spins at that stake level.
Towards the middle of the screen and to the left you see multiplier and total win fields, but these are not buttons, they just indicate how much you've won, or what is the active win multiplier.
How To Win Cog Mania
You will need at least three instances of the same symbol across an active payline, but unlike other slots, in Cog Mania slot you can get as many as eight symbols across a payline, as the paylines are non-standard. The payout for three symbols isn't too significant, even if you get the most valuable symbol, and even four symbols don't pay too much. There is a very large difference between the payouts for the less valuable symbols, compared to the symbols of greater value.
In Cog Mania slots the payouts are shown in the paytable depending on your stake, so if you increase the stake, the payouts that appear in the paytable will match that. So, if we assume that you play the game with a maximum wager of £50, you can expect only 2p for a combination of three bolts, and five pence for a combination of three nuts, but for three robots you will be awarded £2.
A combination of four robots will pay half your total stake, or in the case when you play with a maximum wager - £25. The tomato soup can is more valuable than the nuts and the bolts, so with five such symbols you will get £8, but if you get as many as six soup cans you will win a total of £100 with a £50 wager.
Any combination of eight of the same symbols pays more than your original stake, at least twice as much. For eight bolts you will get £100 and £250 for eight nuts. Eight computers will pay £2,000, eight crates will see you win a prize worth £5,000 and for eight robots you can get as much as £10,000. This is the largest jackpot. Bear in mind that if you play with a lower stake, the amount will be smaller, so for example, if you play with £5, the highest jackpot would be £1,000, whereas with 50p, it would be £100.
Cog Mania Bonus Features
You will not see any bonus features in Cog Mania slots, at least not in the conventional sense of the words. However, there's a freefall feature, which can be seen in a number of games, and makes the game a lot more interesting.
Whenever you hit play all symbols will begin rearranging all over the reels and hopefully, a winning combination will be formed. Every time you get a winning combination the symbols that took part in it will disappear from the grid and the remaining symbols will fill in the gaps, with new ones taking their positions in turn. This can result in the formation of a new winning combination. A second win triggers the multiplier feature and the more consecutive winning combinations you get, the higher the multiplier rate will be.
Our Cog Mania Review
Cog Mania slot is unique and original in so many ways. It doesn't feature a standard grid, the paylines are not regular either, and you can hit some major jackpots if you manage to hit eight high-value symbols across a horizontal or a vertical paylines. Check the casinos featured on SlotsWise, choose one that offers Cog Mania and claim your bonus!
Key Features
Provider

Random Logic

Reels

8

Min Bet

0.50

Max Payout

TBC

RTP

TBC

Paylines

12

Max Bet

50.00

Bonus Rounds

0

Variance

TBC
About The Author
Sanja Tasevska
Fact
Sanja is our game expert and uses her knowledge to review all kinds of slot games, both old and new. The detailed reviews include the most important info about a particular slot game. She's been a part of this industry for many years and so far she's played and given her opinion on thousands of different slot titles. Contact Sanja sanja@slotswise.com
Similar Games
Welcome to our Mailing List
Keep a look out for our emails containing great offers!