Overview
Rainbow Riches Slingo is a very special slingo game, based on the concept of the original Rainbow Riches. It is actually Rainbow Riches with a twist. If you want to know more about the original Rainbow Riches slot, check our full and detailed Rainbow Riches review.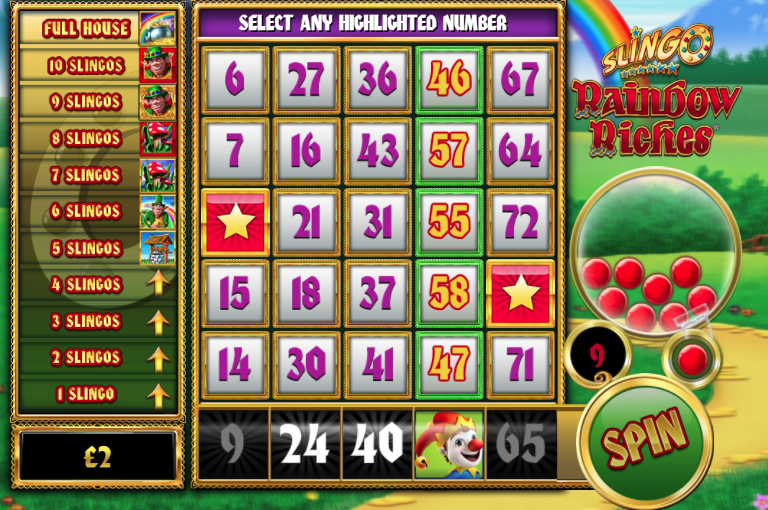 Key Features
| | |
| --- | --- |
| Reels: | 5 |
| Min Bet: | 0.50 |
| Max Payout: | 200000.00 |
| RTP: | 95.60% |
| Paylines: | 12 |
| Max Bet: | 200.00 |
| Bonus Rounds: | 0 |
Rainbow Riches Slingo Slot Online
Slingo is one of the most unique and original concepts in the online casino gaming world, it is a combination of slots and bingo. Slingo actually isn't all that new. It was developed back in the 1990s, in 1994 to be more precise by Sal Falciglia. He created a company which he then sold in 2013. The company was resold again in 2015.
Rainbow Riches Slingo is a very special slingo game, based on the concept of the original Rainbow Riches. It is actually Rainbow Riches with a twist. If you want to know more about the original Rainbow Riches slot, check our full and detailed Rainbow Riches review.
Rainbow Riches Slingo Overview
There have been plenty of renderings of slingo games and we have to admit that it's not quite easy to develop a good slingo game. First, there's a lot of competition. Second, it is quite a unique concept and you have to be very original if you want to develop a game that will introduce something new and exciting.
Rainbow Riches has a pretty distinct Irish theme and Rainbow Riches Slingo also takes place in the Irish countryside. The design resembles the original slot game in terms of appearance, but the control panel is slightly different which is not surprising considering that the game is also different.
The music is very cheerful, and it contains traditional Irish elements. All in all, the aesthetic appearance of the game is very refreshing.
How To Play Rainbow Riches Slingo
Rainbow Riches Slingo is similar to standard slot games in that you have to press 'Spin' for a game to start, but that's about the only similarity. Actually, there's another thing that Slingo has in common with standard slots. You will need to select your wager before you start playing. In order to do that, you should use the plus and minus buttons placed below the winning combinations, left of the grid.
Wagering starts at 50p, but you could place as much as £200 per game. Be cautious with the stake, because unlike most other online slots where the stake is set and the game is played, here you have the chance of wagering additional cash sums in attempt to chase a larger win, so you might want to start wagering less on a single game and then step up your game later.
As in standard slot games you will notice that there is a standard grid, with five reels and five rows, with the difference being that here the reels and rows play the same purpose. For a winning combination you will need to connect the two ends of the grind, either horizontally, vertically or diagonally.
There aren't too many other buttons on the control panel. But, unlike standard slots, here one game has ten spins, so you once you place your wager and the game begins, you will need to press spin a minimum of ten times and that's if you don't get any Free Spins symbols during the game.
The numbers of your card that are drawn will be marked with a star, so you'll know how far you're from getting a winning combination. You must get at least one Slingo during the regular ten spins if you are to continue your game. Otherwise it's game over and you'd have to make a new wager.
You will notice the balls in a transparent drum, and the drum itself is activated when the spin button is pressed. The added free spins balls are yellow, while regular Slingo balls are red. When the drum stops rolling a ball is drawn and then it shows the numbers, marking all that are matched.
At the top of the screen you will notice few additional smaller bars, one shows the hour, the other is the sound button, and the third prompts the information screen. If you like to play the game in silence, or you'd prefer choosing your own music, just click the sound button and the music will be toggled off.
How To Win Rainbow Riches Slingo
To win Rainbow Riches Slingo you should get as many slingos as possible. A slingo is any combination of five symbols from one to the opposite side of the grid, regardless whether the symbols are aligned vertically, horizontally or diagonally.
You must get a minimum of one Slingo during the main game, otherwise you will not be able to continue playing. Every slingo combination is counted as one, and you need to get at least five Slingos to be able to get a payout.
The game random number generator calculates how much each subsequent extra spin would cost, based on the likelihood of new additional Slingo combinations. The stake really stacks up as you get closer to a full house, but the potential winnings also grow significantly. The maximum winning combination is 1,000 times your stake, that's the full stake, not the amount wagered per spin.
Bear in mind that reaching a position where you can win 1,000 times your stake probably won't be cheap, as it is not likely to trigger a full house with your ten regular spins.
Rainbow Riches Slingo Bonus Features
There aren't any standard bonus features in Rainbow Riches Slingo, for the simple reason that this isn't a standard slot game. However, there are non-number symbols that appear on the reels.
Regular joker – this symbol enables you to pick any number that hasn't been drawn from the respective reel where they appear.
Super joker – this symbol enables you to pick any number from anywhere on the grind.
Devil – this is a negative symbol, it blocks numbers, so if it appears you won't get a chance to eliminate a number from that row.
Free spins – this symbol activates an additional spin.
Our Rainbow Riches Slingo Review
Rainbow Riches Slingo is a pretty exciting game, based on one of the most original concepts that have appeared recently. The game offers great opportunities and you could win some pretty hefty prizes.
When you're ready to play Rainbow Riches Slingo and try to win real cash prizes, register at one of the casinos featured on SlotsWise, claim your bonus and start playing.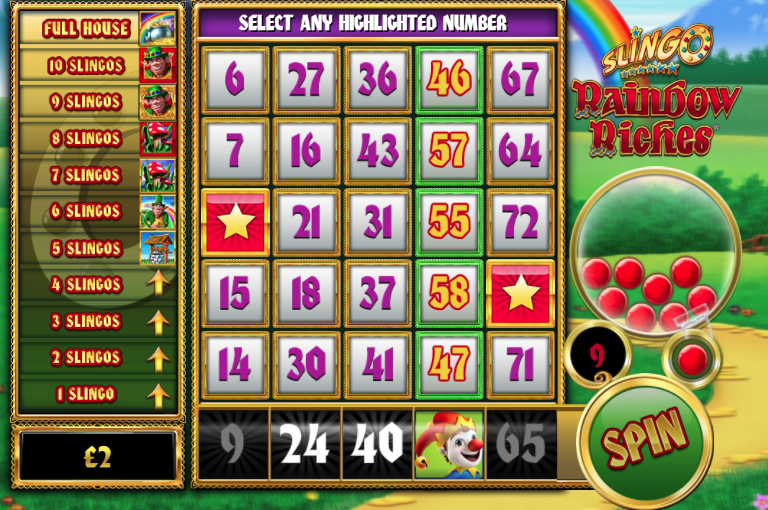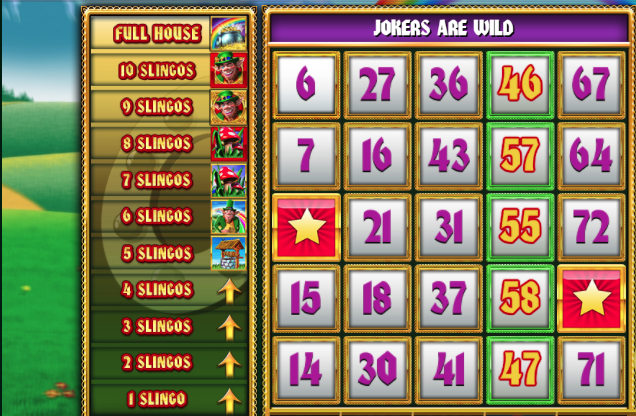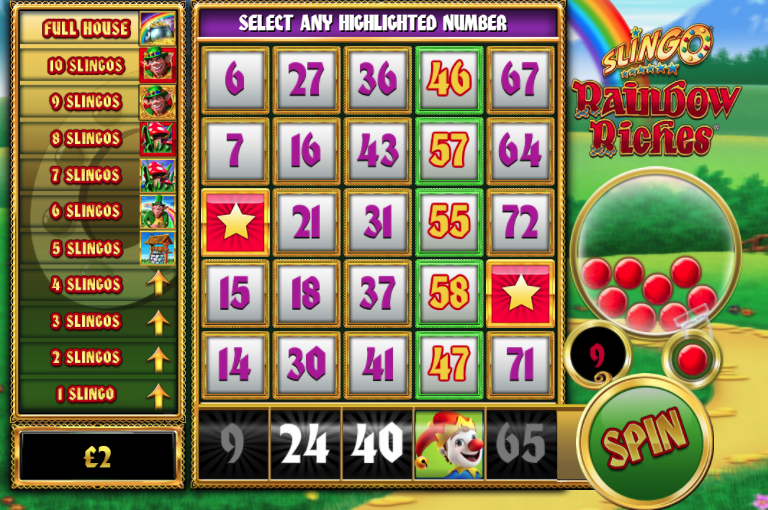 Want great offers sent straight to your inbox?
Enter your email below and we'll do all the hard work for you
Welcome to our Mailing List
Keep a look out for our emails containing great offers!