Double Bubble Triple Jackpot slot is a Gamesys slot based on the original Double Bubble from 2014. It was released in the spring of 2019 and it features five reels, three rows and 20 paylines, much like the original Double Bubble. In addition to standard paylines, there's also a Bubble line, as well as three progressive jackpots, hence the name Double Bubble Triple Jackpot.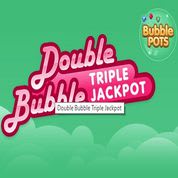 Double Bubble Triple Jackpot Slot Online
Double Bubble is one of the most successful and most popular online slots in the past five years. Ever since its release in 2014 the game has attracted a lot of players, many of which keep coming back to play it. It made a lot of sense to release Double Bubble Triple Jackpot slot since many players who liked the original game also liked the Jackpot version. So now, Gamesys decided to up their game and release the Double Bubble Triple Jackpot slot, a game that features not one, but three progressive jackpots.
In many ways, Double Bubble Triple Jackpot slot resembles the original Double Bubble and the first sequel – Double Bubble Jackpot. These are the game's key details:
Reels - 5
Paylines - 20
Bonus Games - 2
Release Date - 2019
RTP - 95.53%
Double Bubble Triple Jackpot Slot Overview
If you are familiar with the original Double Bubble slot, the best way to present the Double Bubble Triple Jackpot slot is to say that it looks just like Double Bubble. If you liked Double Bubble, and especially if you liked the Double Bubble Jackpot slot, you will like this variant as well.
The layout is just the same, there are five reels and three rows, with 20 paylines. You get to choose how many paylines are active and the total progressive jackpot prize depends on your total bet, i.e. the chance of winning is proportional to the total bet.
Double Bubble Triple Jackpot Slot Origin
It is clear what Double Bubble Triple Jackpot slot is based on Double Bubble. The game resembles its prequel in many aspects. Since we can safely say that Double Bubble Triple Jackpot slot is a version of Double Bubble, we can't discuss Double Bubble Triple Jackpot origin without going into the origin of Double Bubble.
The situation is pretty clear here. Double Bubble slot is based on the old fruit slots from two decades ago. But the game features a rather modern design. Although the symbols will be recognized by anyone who is into older retro slots, you'll notice that the way they're drawn is quite contemporary.
We are yet to see whether the Double Bubble Triple Jackpot slot would reach the popularity of the first version.
How To Play Double Bubble Triple Jackpot Slot
The control panel will look familiar if you have ever played the original Double Bubble slot or the previous jackpot version. You can play this game with as little as a single penny per payline and you can choose how many paylines you'd like to activate. The Bubble Line Multiplier feature pays depending on the number of active paylines.
You can play this game with all active paylines with as little as 20p. The maximum you can wager in Double Bubble Triple Jackpot slot amounts to £200, or £10 per payline for each of the 20 paylines.
How To Win Double Bubble Triple Jackpot Slot
We already mentioned that playing with all active paylines increases your chance of winning in Double Bubble Triple Jackpot slot. The winnings depend on the amount you wager per spin, if you hit a winning combination then the value of the combination is multiplied by the wager per line.
You will need to get at least two or three symbols across a payline for a winning combination to be activated. The symbols need to be arranged across an active payline from the leftmost towards the rightmost reel, a win will not be triggered if the symbols are aligned in the opposite direction.
There are particular combinations that trigger bonuses and special feature, but a bit more on that below.
Double Bubble Triple Jackpot Slot Bonus Features
Double Bubble Triple Jackpot slot comes with few bonus features. It has the recognisable Bubble Line that's also available in the original Double Bubble, but there's also a Bubble Popper feature. As the title clearly indicates, the game also comes with three jackpot prizes.  
Bubble Line
The Bubble Line is a feature that was available in the original Double Bubble as well. When the special bonus symbol appears anywhere on the reels it gets placed on the designated Bubble Line.
The payouts on the Bubble Line match regular payouts, but the payout is multiplied by the special Bubble Line multiplier. This multiplier matches the number of active paylines, except in the case where you're playing with all active paylines (20), then the multiplier is x22 instead of x20.
Bubble Popper
This bonus feature is triggered when the bonus symbol that activates it appears on the first, third and fifth reel. In this feature you get to pop a bubble and when you do that your prize will be revealed. This prize is also multiplied by the coin value.
Jackpot Prizes
The progressive jackpot can also be won in the Bubble Popper round. Your likelihood of winning the jackpot prize depends on the amount that you have wagered, but the potential jackpot prize is the same for all players who play the game at that time. As it is a progressive jackpot, i.e. jackpots, prizes grow based on the wagered funds. The jackpot seeds at £25,000. There's a mini, a major and a grand jackpot. You can win either of those and they are awarded randomly.
Other Popular Slot Games That Had Sequels
There are hundreds of online slots, but only the best and most popular ones have sequels. That's one good criterion to determine whether a game is popular and played by many. If there's a sequel then it is popular.
Now let's have a look at some of the most popular series of slots.
Thunderstruck
The original Thunderstruck by Microgaming was released back in 2004 and it was hard to predict that it will become as popular. Even though it's been 15 years since its release, the game is still enjoyed and available at a range of online casinos. The theme is Norse mythology and Thunderkick was only the first of many games featuring this theme.
The Thunderstruck II was released six years after the original, and very few people suspected that it would achieve the popularity of the original Thunderstruck. Not only it did, but Thunderstruck II also managed to become even more popular than its prequel.
Break Da Bank
This is another Microgaming title, but this game features classic slot symbols and the layout is pretty retro too with three reels and a total of five paylines. Bars and dollar signs appear on the reels of Break Da Bank slot. The second version, Break Da Bank Again is pretty different. It features a standard layout with five reels and three rows and the whole outlook is a lot more modern. The maximum amount that you can wager on Break Da Bank Again is £90.
Jack Hammer
Since we listed two series of slots by Microgaming, it only makes sense to include a game that was made by their biggest rivals – NetEnt. Jack Hammer is an exciting online slot, based on the comic book of the same name. The game tells the story of the superhero Jack Hammer who is on a mission to defeat Dr Wuten.
You will see boats, machine guns and action scenes on the reel. The sequel was named Jack Hammer 2 Fishy Business and this variant features 99 paylines, with a maximum wager of £250.
Double Bubble Triple Jackpot Slot Mobile
If you are looking to try this game out, but you're not at your PC or don't have your laptop with you right now, don't worry because this game is completely mobile-friendly, it was developed using HTML5 technology, so you can launch this game simply by accessing a casino website in your mobile browser. There's no need to download any apps, you can access the mobile version in the same way you access the desktop variant.
Our Double Bubble Triple Jackpot Review
We cannot rate Double Bubble Triple Jackpot slot any lower than the original Double Bubble. And we have the highest praises for Double Bubble. Gamesys released a statement when Double Bubble Triple Jackpot slot was about to be released. The company Games Marketing Executive, Vinay Kanani stated that everybody at the company is delighted to release this game and add more value to their Double Bubble portfolio.
Double Bubble Triple Jackpot RTP is 95.53%, which is significantly lower than the Double Bubble RTP that stands at 96.20%. Regardless of that, we think that the prospect of winning a massive jackpot prize will be sufficient to draw many players, including fans of the original Double Bubble, as well as people who haven't played the first release before.
If you're looking to play for one of the three jackpot prizes, register with one of our partner sites, claim your SlotsWise bonus and you can start playing Double Bubble Triple Jackpot slot right away!
Key Features
Provider

Gamesys

Reels

5

Min Bet

0.01

Max Payout

TBC

RTP

95.53

Paylines

20

Max Bet

200.00

Bonus Rounds

3

Variance

N/A
About The Author
Sanja Tasevska
Fact
Sanja is our game expert and uses her knowledge to review all kinds of slot games, both old and new. The detailed reviews include the most important info about a particular slot game. She's been a part of this industry for many years and so far she's played and given her opinion on thousands of different slot titles. Contact Sanja sanja@slotswise.com
Similar Games
Welcome to our Mailing List
Keep a look out for our emails containing great offers!