As one of the original five-reel online slots, it's hard not to view and play Cleopatra slot with some fondness. Although the graphics may not be as life-like as some more modern slots, we'd say that they're well-drawn, adding to the overall feel of the game. They're incredibly on-theme, giving players an insight into some aspects of ancient Egypt. The RTP for Cleopatra slot is 95.02%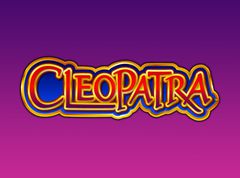 Cleopatra Slot Online
There is no greater inspiration than the ancient civilizations to the online slot producers, and we can see that by the plethora of games that are present on the market, revolving around this theme.
One of the greatest slot games that are explaining the Egyptian culture and their artists is named after the most profound and outstanding female ruler of all times, Cleopatra. Start spinning on the five-reel, 20 payline game Cleopatra slot, with the Egyptian ruler never too far away on this slots adventure.
Cleopatra Slot Overview
Ancient mythology is a prominent theme throughout the slots scene, with Roman, Greek and even Norse figures making regular appearances. Egyptian history is no different, often being the focus of many slots. Cleopatra, one of the most famous Egyptian rulers ever, of course, has an important role to play in the majority of the Egyptian-themed slot games!
Released in 2006, this Cleopatra slot game paved the way for five-reel slots and is a bit of a classic. Whilst the design and symbols are on-theme, colourful and well-drawn, they're perhaps not as crisp as some of those featured on more recently released slots.
That being said, this slotstill looks great and the symbols, aside from the playing card numbers and letters, include typically Egyptian Eye of Horus, a scarab beetle and other Egyptian artefacts. Even the playing card symbols are drawn with this Egyptian slot's theme in mind. 
This slot game's wild symbol is Cleopatra herself, whilst the Sphinx is the scatter symbol, capable of triggering the bonus feature and offering an impressive 100x your stake. 
Aside from the symbols, the area surrounding the reels have also been designed with the Egyptian theme in mind. The regal golden columns are covered in hieroglyphics and jewel-like decorations.
How To Play Cleopatra Slot
Starting your Egyptian slots gaming experience couldn't be easier on Cleopatra slot. Below the reels are buttons for you to select how many of the 20 paylines you'd like to play across, as well as the amount you'd like to bet on each line. You can of course wager across as many of the 20 paylines you'd like to, and coin sizes range between 1p and £12.50. 
It's worth bearing in mind that on all multiline slots, your coin size or amount will be multiplied by a number of lines you choose to wager across. So, even if the coin size you choose is just 1p, but you play on all 20 paylines, your total stake for one spin will be 20p. It's as simple as that.
Although you can select your payline amount and coin size manually, there is also the option to click 'Max Bet', meaning you'll spin on this slot with the highest stake amount possible - a whopping £250! 
Cleopatra is an online video slot game that has the ability to attract players of all budgets, with the option to spin from as little as 1p and as much as £250!
Payouts Paylines
If we have a look at how much Cleopatra slot pays per win, we will notice that the smallest prizes start at 10 coins. You will need a combination of at least three symbols across a payline, but if you get a combination of just two of the more valuable symbols Cleopatra slot pays as well.
You will notice that this slot features standard card symbols from 9 up to the Ace and even these symbols are visually matched to the game theme. The game may seem simple in terms of graphics but bear in mind that has been a while since its release.
You can play with a minimum of just 20p, but you'll find that it pays a lot less when you wager the minimum stake. You must go with a higher wager if you wish to aim for the highest prizes. If you like you can decrease the number of active paylines. In default mode 20 paylines are active, but you can play the game with just one active payline. That way you will be able to wager a lot less, but if you're unlucky enough to see a combination of symbols across an inactive combination, then you won't receive a payment.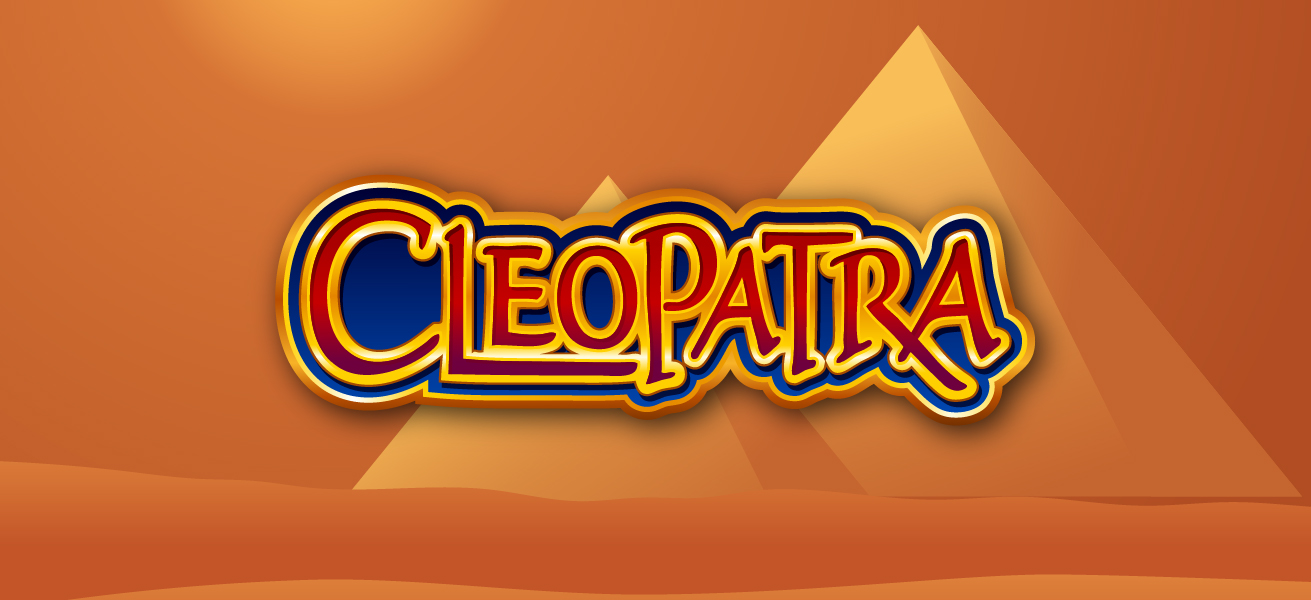 Cleopatra Slot Pays Maximum 10,000 Coins
This online slot game pays 10,000 coins for the most valuable combination of five Cleopatra symbols, and unless you're playing the Mega Jackpots Cleopatra slot that was released at a later stage, this is the most you can win. The progressive jackpot can grow to a much higher amount. Even if you hit fewer than five Cleopatra logo symbols you would still be winning a significant amount of money.
For example, for a combination of four Cleopatra symbols, you will claim 2,000-coin prize, for three symbols you will get a total of 200 coins and even two Cleopatra symbols pay ten coins. The Cleopatra symbol also serves as a wild and it can substitute any other symbol except for the special bonus scatter symbol. If Cleopatra replaces any symbol in a winning combination, Cleopatra slot pays twice as much for that winning combination, compared to the standard payout as per the paytable.
Cleopatra Free Play
Playing Cleopatra free play is much like playing the real Cleopatra slot game. When you start the free play, the game looks exactly the same as in the real money version, and you can place your total bet and spin the reel set without any problems. The main difference between the two versions is that you can play the free play without risking your bankroll, while in the real money version, you need to bet your own money.
Pros and Cons Of Free Play
Playing the free play version has both its pros and cons. During the free play, you can check out the gameplay before deciding to move on to the real money version, and you try out how the game is played, how the bets are placed, how the reel set is spun, and how frequently the game's bonus features are triggered. If you want to read additional information on how to play the slot, the buttons of the game, symbol payouts, and paylines, you can check out the game's paytable at any given time.
The cons of playing Cleopatra free play are not that many and include the fact that you can't bank your wins landed during the free play, while if these wins were landed during the real money version, you would've had a different outcome.
As already stated in the sections above, playing the free play of any online video slot, or in this case playing Cleopatra free play, has its own advantages. One of the most important advantages of the free play version is that you can experience the gameplay of the real money version without risking your bankroll when spinning the wheels.

Playing the free play of any online video slot is always a good thing, you can get yourself familiarized with the game, to see how the buttons work, to see the symbol payouts, and to check out how often the game pays out. Once you feel confident playing the free play game, you can move on to the real version and try your luck.
Where Can I Play Cleopatra Free Play?
Once you are familiar with the game, you should continue with the real money online slot. If you are wondering where you can play this popular, you should know that it can't be found on many online casino sites, but if you visit our Cleopatra slots review page you can find a nice selection of slots sites where you can also receive free spins or other great bonuses.
How To Win
When you land combinations of three or more symbols, going from left to right on the reels, you'll be rewarded with the relevant amount. However, some of the symbols, including the Cleopatra wild, a payout for combinations of just two!
The Cleopatra wild also pays out 10,000x the stake amount if five are landed across all of the reels. This is the slot's most valuable symbol, as expected when bearing in mind the game's name!
Aside from the Sphinx scatter symbol triggering the bonus feature, it also gives players the chance to win 100x the total stake, if five are landed on the reels.
Cleopatra Slots Bonus Features
Like we always say, slots with free spins are good slots for us! Cleopatra slot is no different, offering players the chance to win free spins by landing three or more of the Sphinx scatter symbols. The free spins feature will then be triggered. 
Every prize that you win during this feature will be tripled and landing three or more scatter symbols whilst playing this feature will mean getting your hands on another 15 free spins! Sadly, you can only get your hands on a maximum of 180 in total, but that seems like a pretty good number to us!
There's also a progressive jackpot variation of this Cleopatra slot game, and landing five Mega Jackpot symbols will win you some serious cash, so that's something to look out for!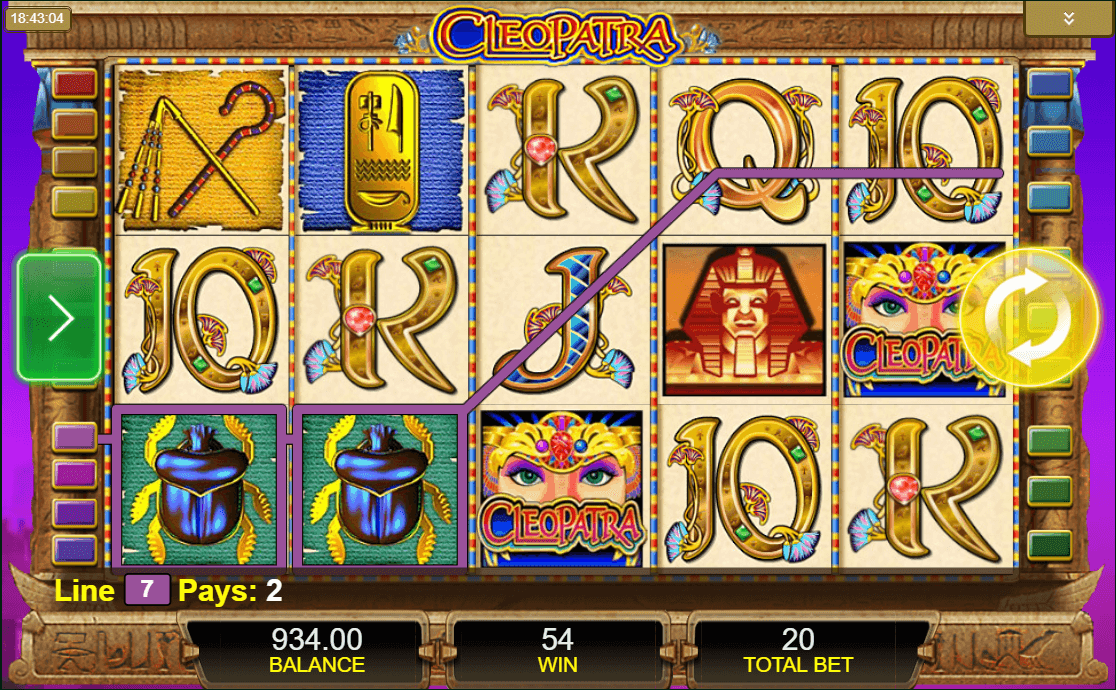 What is a Progressive Jackpot?
A progressive jackpot refers to an ever-growing prize fund that can be won when playing particular slot games. Unlike a regular, static jackpot that stays fixed at a set amount, a progressive jackpot grows and increases as the game is played and wagered on. Some progressive jackpot slots do have a limit, whereas the prize fund for others with grow and grow until it's finally won, after which it will reset.
This Cleopatra slot is known for its progressive jackpot so be sure to play for your chance to land it.
Cleopatra Slot Variations 
Ancient civilisations are cultures make a quite common slots theme. We can say that a wide range of all online slots that have been created so far feature such a theme. Ancient Egypt is one of the most popular slots themes, and if we are to get into specifics, Cleopatra is the most popular Egyptian theme. Cleopatra slots are so popular, that they aren't just a sub-theme to Ancient Egyptian slots, but a separate theme.
There are more than few slots based on Cleopatra, including few games with the exact same name. The first and original Cleopatra slot was released back in 2006, and to the surprise of many, it is still popular and played today. Perhaps due to its popularity, other providers were also inclined to develop Cleopatra-themed slots.
Why this particular genre proved to that popular isn't exactly clear, but it seems that Cleopatra works very well with online slots players. Maybe it's all thanks to the first and original Cleopatra, but other games with a similar theme have also became very popular. We have plenty of Cleopatra themed slots here at SlotsWise.
Cleopatra II was released few years after the original Cleopatra. It wasn't surprising at all that IGT decided to issue a sequel and even though the Cleopatra sequel was also quite popular it never reached the same level of popularity as the original release.
Another IGT game and another sequel to Cleopatra, Megajackpots Cleopatra is a game that features a progressive jackpot. Even though this game comes with a lower RTP compared to the original Cleopatra, the possibility of hitting a progressive jackpot is what makes it a players' favourite. This game was released in 2009.
Other Egyptian Themes
We already said that out of all Egypt themes, Cleopatra is the most popular one, we have to say that there are quite a few other Egypt-inspired genres. Temple of Iris is one of the top games inspired games.
If you're looking to play Cleopatra slots, as well as other games with an Egyptian theme, register with one of our featured casinos and claim your bonus!
Our Verdict 
As one of the original five-reel online slots, it's hard not to view and play Cleopatra slot with some fondness. Although the graphics may not be as life-like as some more modern slots, we'd say that they're well-drawn, adding to the overall feel of the game. They're incredibly on-theme, giving players an insight into some aspects of ancient Egypt. The RTP for Cleopatra slot is 95.02%
Aside from the game's appearance, it also plays well. The reels spin smoothly and 20 paylines isn't an insignificant amount, so there are plenty of ways to land winning combinations! We'd also like to think that Cleopatra attracts players of all kinds and pocket sizes, with the slot offering players the ability to vary their stake drastically.
Cleopatra slot is definitely worth checking out, more so when considering that it was released over 10 years ago and still manages to witness such popularity in quite a saturated slots scene! The free spins feature can be triggered quite frequently and with the addition of a progressive jackpot version, this slot game has the potential to fill some pockets! 
Key Features
Provider

IGT Group

Reels

5

Min Bet

0.01

RTP

95.02

Max Bet

20.00

Bonus Rounds

0
About The Author
Sanja Tasevska
Fact
Sanja is our game expert and uses her knowledge to review all kinds of slot games, both old and new. The detailed reviews include the most important info about a particular slot game. She's been a part of this industry for many years and so far she's played and given her opinion on thousands of different slot titles. Contact Sanja sanja@slotswise.com
Similar Games
Welcome to our Mailing List
Keep a look out for our emails containing great offers!