Overview
The ultimate battle takes place on a neutral battlefield, where the angel and the devil for the coins that are available in this awesome video slot game presented by Playtech – Heaven or Hell slot.  
Key Features
| | |
| --- | --- |
| Reels: | 3 |
| Paylines: | 5 |
| Bonus Rounds: | 0 |
Heaven Or Hell Slots Online
Some online slots are based on new and exciting films, series and TV shows, but it doesn't mean that you have to look into modern entertainment to create a fun and exciting game. Sometimes as an idea as old as humanity itself can motivate online slots developers to make an exciting game. And that's exactly the case withHeaven or Hell slot, a Playtech game based on the most famous duality.
In this Heaven or Hell review, we will tell you whatHeaven or Hell slotis all about, how to play it, what exciting features it includes and everything else. Read our review and if you want to try out this exciting game, register at one of the sites featured on SlotsWise, claim your bonus and start playing. It doesn't matter which casino you pick, you will surely find other exciting games, but more importantly, your funds will be well protected and secure.
Heaven Or Hell Overview
The ultimate battle between good and evil is ongoing. It is reflected in this amusing Playtech slot.The music and the general atmosphere that you can expect in this game, pretty much reflect the theme and in that sense, you will get everything that you could expect from a game where heaven and hell are the main theme.
You will notice the angel at the top of the screen above the reels and devil down below, and there's a sort of a stairway that leads to heaven. Pretty clever, right?! Only in this game, you could go from hell straight to heaven if your luck suddenly changes. So, you are not convicted to the fires of hell forever, even if you lose a couple of spins, but your presence in heaven isn't forever either. Lose a few games and you will find yourself in hell again.
How To Play Heaven Or Hell Slot
This Playtech game features three reels and has five active paylines, so you will need a winning combination on at least one of the paylines in order to win. Although Heaven or Hell slot comes with fewer paylines compared to other online slots, that also means that the game can be played with lower stake, but also that the winning payouts will be proportionally higher, considering that the payout is calculated per payline wagers, not the overall stake.
The control panel at the bottom of the screen gives you all the options that a typical slot machine game offers: Max Bet for the ones that are brave enough to go all the way, Auto Play which can be activated for as many as 25 automatic turns, and as usual the Spin button that starts the game. So, if you feel like taking a rest, just press auto play, set the number of spins you'd like to activate and enjoy.
You will notice numbers from 1 to 5, not arranged in an orderly fashion, to the right of the reels and these numbers represent the paylines. As there are five paylines, the combinations are pretty basic. There are three horizontal paylines and two where the symbols are aligned laterally.
How To Win Heaven Or Hell Slot
You'll need at least three symbols across an active payline for a win, but they must be arranged from the leftmost towards the rightmost reel if you want to win, otherwise a winning combination won't be activated. As for the symbols, you will see just a few in this game. So, even though there are only five paylines, your chances of winning aren't decreased, as there aren't too many symbols, so it is more likely for a winning combination to occur.
There's a heavenly harp, a snake, a sun with clouds and the game logo, among other symbols. For three harps across a payline you will get three coins, for three snakes you will get eight coins and a combination consisted of five suns with clouds you will get 2,000 coins. Whereas for five game logos you will get the top win in Heaven or Hell which is 10,000 coins, or a total of £5,000 if you play with 50p per payline.
Heaven Or Hell Bonus Features
There are no standard bonus features in Heaven or Hell. The game is pretty exciting without one. However, we know that some players appreciate bonus features and prefer games that include at least one bonus feature. If you are one of these players, you might want to check other games. There are plenty of titles featured on SlotsWise, including some of the most popular slot games, so just have a look, and then register with one of our online casinos and start playing.
Playtech Slots
Playtech takes pride in creating some of the most exciting and popular online slots games in the industry. This software provider was founded back in 1999 and over the years they have gathered a lot of knowledge and experience in the online gaming industry. Their games are available in more than 140 casinos, online and land-based and at the moment they have offices in 17 different countries. Some of the most popular Playtech slots are: 
Our Heaven Or Hell Review
Heaven or Hell slot, developed by Playtech, is a pretty unique slot and even though the theme is actually quite straightforward, we have to admit that the game design is extraordinary, and this slot is a true testament that with a bit of imagination you can turn any idea into a high-quality game.
If you're thinking of trying out Heaven or Hell, register at one of our featured casinos and claim your bonus before you start wagering.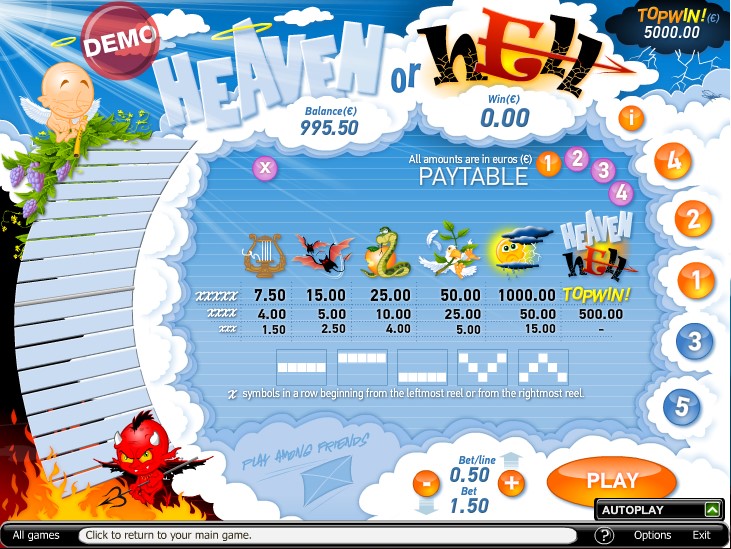 Want great offers sent straight to your inbox?
Enter your email below and we'll do all the hard work for you
Welcome to our Mailing List
Keep a look out for our emails containing great offers!