Overview
Spider-Man must defeat his arch nemesis, the Green Goblin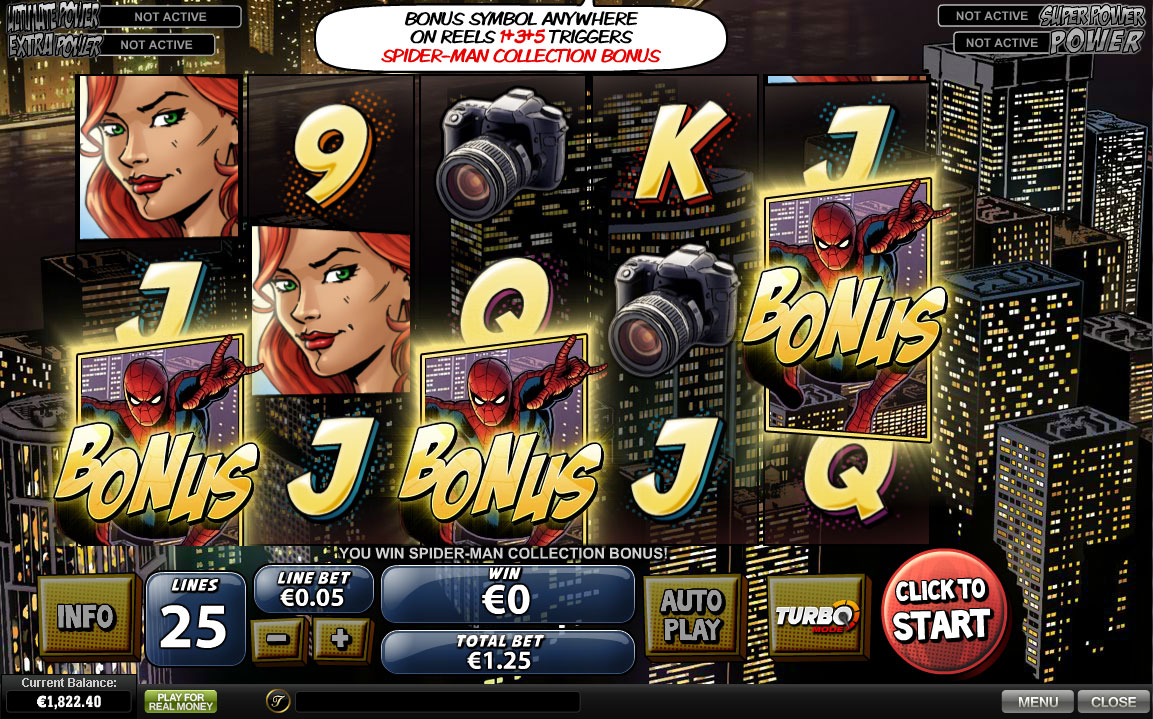 Key Features
| | |
| --- | --- |
| Reels: | 5 |
| Min Bet: | 0.25 |
| Paylines: | 25 |
| Max Bet: | 125.00 |
| Bonus Rounds: | 0 |
Spider Man Attack Of The Green Goblin Slots Online
What We Say -This feature could sound almost like a rewrite of War and Peace, rather than a review of a slot game, such is the number of bonus games offered. Suffice it to say, Spider-Man is full of twists and variations. Most of these are accessible from the Collection Bonus, activated by landing Bonus Scatters on the first, third and fifth reels. This screen is set out like a collection of magazines, and you wait to see which one will be picked out for you. Typically, the lucrative ones are the Free Spin games. The Hot Zone comes with the largest number of free spins - 20 - although it also adds Wilds that stick when appearing in 'Hot Zones' on the screen. The Radioactive segment gives you the fewest Free Spins - 10 - but it also hands you a Multiplier. This goes up (to a maximum of 5x) when the Spider-Man appears, and falls down again when the Green Goblin arrives, making for an interesting variation on typical Free Spin games. There's also a Radioactive game, where you have 15 free spins and more Wilds.
Besides the three Free Spin sections, you may instead get Ultimate Fight or City Chase, where you earn cash or rewards for Spider-Man either punching the Green Goblin, or chasing him across town. As if those five features weren't enough, you also get randomly triggered features where Spider-Man appears, creating extra Wilds or dishing out Multipliers up to 10x.
The graphics aren' t as sophisticated as some might like, although the use of stills from the original comic-books will please fans. We did feel that the slot looked a little dated. However, it's hard to argue with the wealth of features. We'd actually prefer simpler but more compelling gameplay, but it's undeniably a varied and fun slot to play - if rather confusing.
How to Win - The Wild Logo substitutes for most other symbols. Spider-Man Bonus Scatters on first, third and fifth reels activate Collection Bonus, where you play one of five different games. Ultimate Fight Bonus sees you earning cash for every blow landed on the Green Goblin by Spider-Man. Likewise, City Chase Bonus has you picking up prizes as the Spider-Man swings across town in pursuit of the Green Goblin. Three Free Games Bonus features give you varying options. Hot Zone awards you 20 free spins and Stuck Wilds. Rivalling Free Games gives you 10 free spins, but a Multiplier that climbs up to 5x as the Spider-Man symbol appears. Radioactive Free Games gives you 15 free spins and extra Wilds. The main game also sees two randomly triggered games where Spider-Man appears on the screen and turns symbols into Wilds, or hands you a prize Multiplier between 3x and 10x.
*All Marvel slots have been removed from online casinos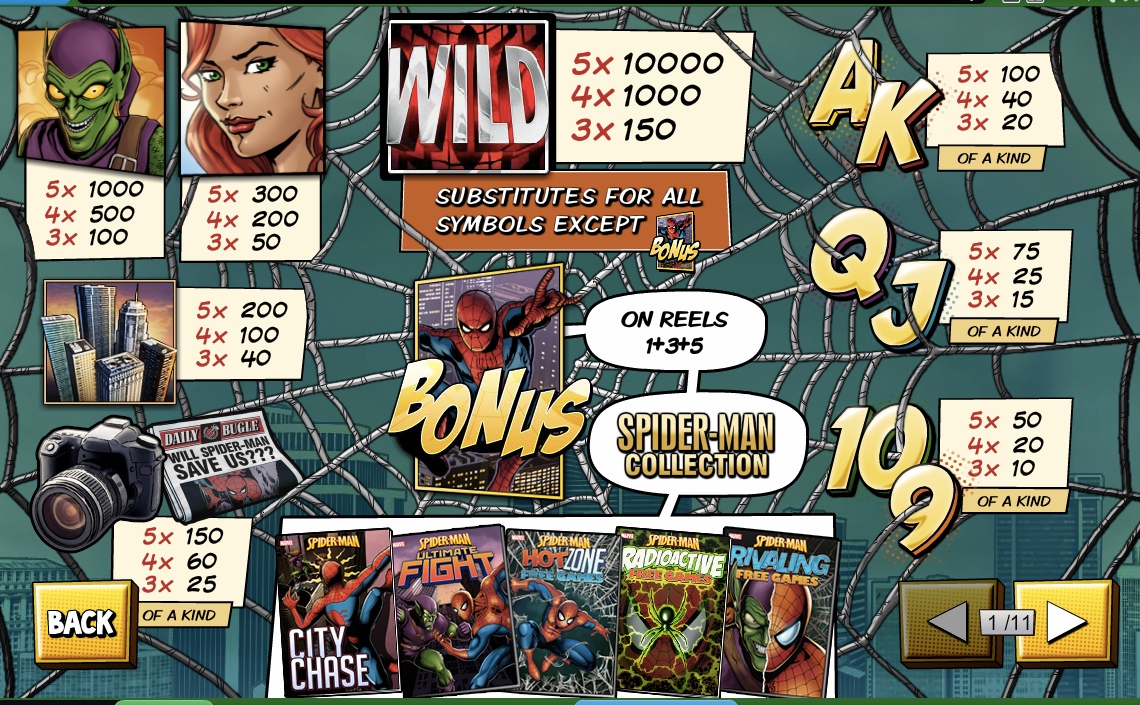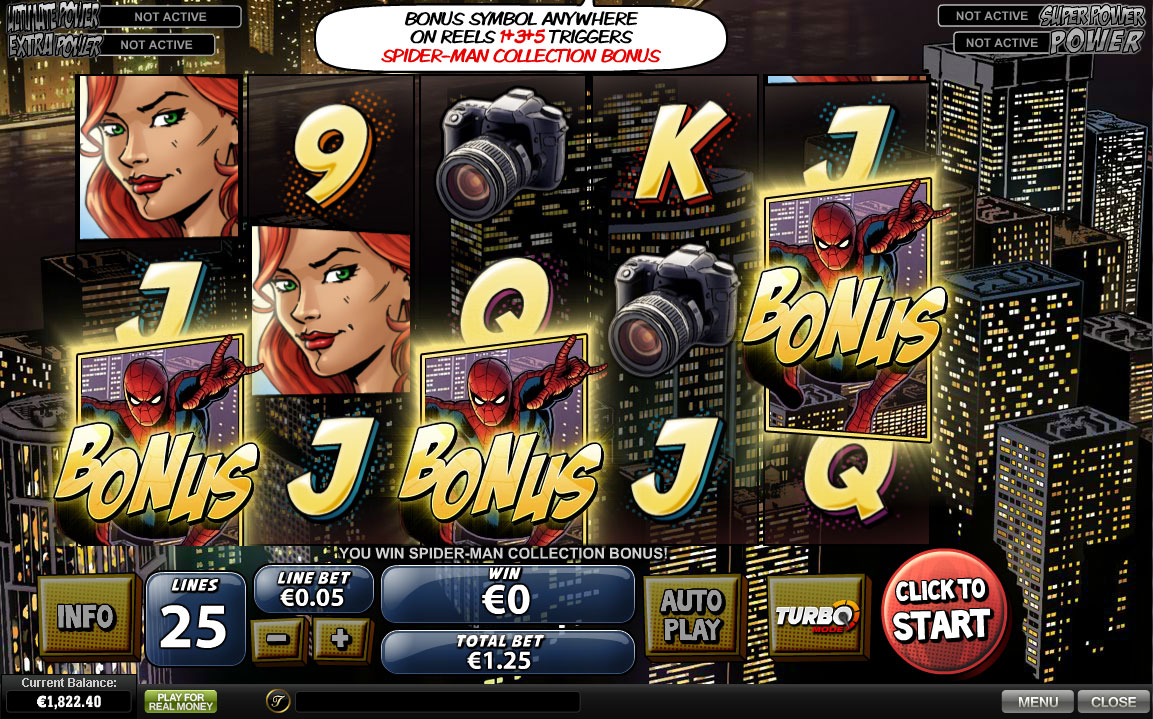 Want great offers sent straight to your inbox?
Enter your email below and we'll do all the hard work for you
Welcome to our Mailing List
Keep a look out for our emails containing great offers!