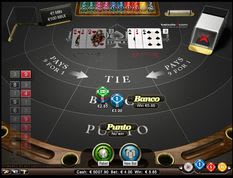 Punto Banco Slot Online
If you are familiar with the game of baccarat, then you surely know thatPunto Banco is a variant of this card game. Sometimes people refer to it as North American Baccarat. The gameplay is much the same, it has some of the lowest house edges among casino table games. In terms of the payouts it has to offer, this variant is practically the same as the standard baccarat. The gameplay has some nice and stylish background music, while the wonderful integration of the graphics is placed as well. So, in this review we will focus more on the features of this game, its gameplay and so on. Stay tuned!
Punto Banco Overview
Punto Banco is an online baccarat game developed by Net Entertainment (or NetEnt). The game includes the classic rules and six standard decks of baccarat. Every card is shuffeled before each deal
The range of bets depends on the selected table that you want to play on. There are three options: Low Roller – up to £10, Standard – from £1 up to £100, and of course High Roller option which ranges from £10 up to £1000.
The aim and purpose of thegame
is to foretell who wins in the current deal – the dealer or the player. It is also available to bet on the draw game.
The bet on the player is paid 1:1, on the dealer it's the same, but commission of 5% is deducted, draw game – 8:1. If you play this game by the optimal strategy you can reach a payback index of 98,94% which is amazing.
The customer places bets on Punto (the player), Banco (the dealer) and Tie (draw game). Then the player is dealt two cards.
The winner in this game is the one who will manage to take nine points or gets closer to that particular number. Cards from deuce to nine are calculated by its value, ace gives one point, while the high playing cards (tens, jacks, queens and kings) are considered as zero. If points exceed ten in one hand, ten is deducted.
If no-one has eight or nine points, the rules of the third card works. If the player has guessed who wins – he receives a payoff according to the provided indexes.
How To Win at Punto Banco
The thing is, as mentioned above in this review, you need to decide on a specific wager amount and which way you think that the cards will be dealt, thereby place your bets accordingly. As you probably know, the chips you use will have to be placed in the "Tie", "Banco" or "Punto" section, as you can place chips on any or all of these section, if you decide to do so. Once you are done with that, you will have to press the "Deal" button. This will place out two cards to the "Punto" side of the screen and two more to the "Banco" side. The cards are then totaled up and compared with one another.
As mentioned above, the strongest hand is the one that is the nearest to 9 without exceeding that number; Each hand contains two of three cards. You may have the conception that 9 is a very low number as a total value but at Punto Banco, things are different and the total amount is calculated differently:
Cards from 2 to 9 are worth their actual value
Aces are worth 1
Tens, Jacks, Queens and Kings are worth 0
If the hand is worth 10 or more, then 10 is subtracted from the total,forexample 12 will become 2.
Punto Banco Features
This NetEnt version of the card game offers you all the equivalent options that apply to the tables and features several ways to make the most out of every session that you play. Thanks to their advanced graphic effects and fully animated outcomes, Punto Banco is an outstanding introduction to online gaming especially regarding baccarat and, offers a regular amusement for the returning players.
Incorporating multiple components from the previous table games that have been developed by Net Entertainment in the past, it might just prove to be the best choice for most enthusiasts of this card game genre. There are still many other well-known casino games, that are worth trying at least especially Roulette, Blackjack, Caribbean Stud or Texas Hold'em Poker.
Our Punto Banco Review
As you can see, this game is quite simple and straightforward, just select the chip size and place it on one of the three available options that are given (Tie, Banco or Punto) or even all three if you like. You can press "Deal" and watch the action unfold. You should keep in mind that betting the banker and winning will cost you extra 5% of your winnings. The version of Punto Banco is a simple way to approach this game and you can easily keep track of what's going on. The RTP of this game is an amazing 98.92%.
Interested in a unique card game experience? Try Punto Banco at some of our featured casinos and claim astonishing welcome bonuses along the way! Good Luck!
Key Features
Provider

NetEnt Group

Reels

0

Min Bet

TBC

Max Payout

TBC

RTP

98.92

Paylines

TBC

Max Bet

TBC

Bonus Rounds

0

Variance

TBC
About The Author
Sanja Tasevska
Fact
Sanja is our game expert and uses her knowledge to review all kinds of slot games, both old and new. The detailed reviews include the most important info about a particular slot game. She's been a part of this industry for many years and so far she's played and given her opinion on thousands of different slot titles. Contact Sanja sanja@slotswise.com
Similar Games
Welcome to our Mailing List
Keep a look out for our emails containing great offers!