Overview
This travel back in time may not make for the most ground-breaking of slots, but it sure is fun to be part of.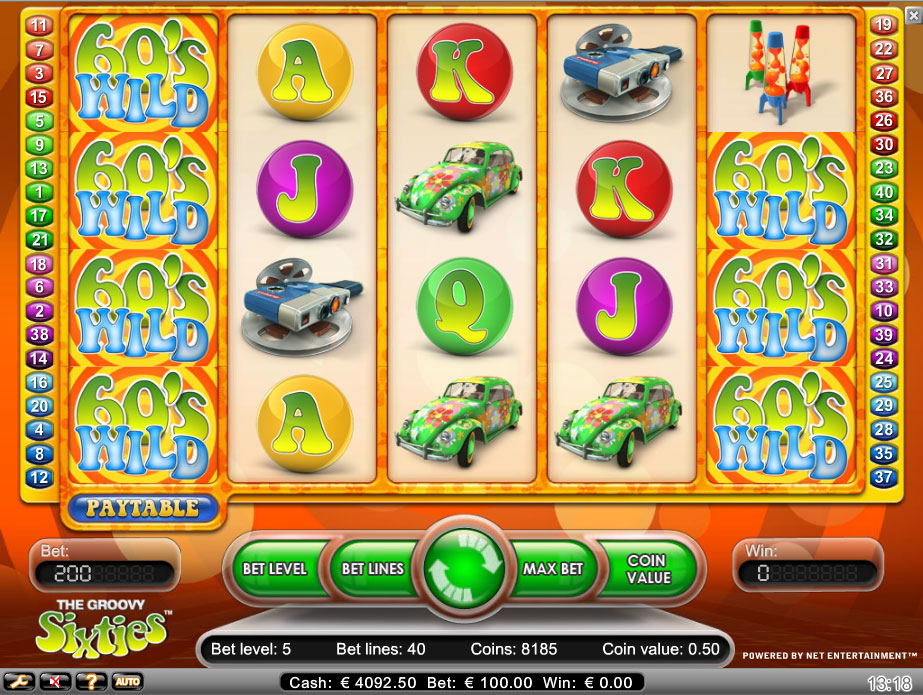 Key Features
| | |
| --- | --- |
| Reels: | 5 |
| Min Bet: | 0.01 |
| RTP: | 96.50% |
| Paylines: | 40 |
| Max Bet: | 100.00 |
| Bonus Rounds: | 0 |
The Groovy Sixties Slots Online
Groovy Sixties slotis a game best described as, well, obviously, groovy. The sixties of the twentieth century are one of the most important and most thrilling decades in the history of humanity, and Groovy Sixties slots will definitely take you back, that is if you're old enough to remember the good old sixties.
But, don't worry even if you were born long after the sixties, becauseGroovy Sixties slotswould then give you a feel of what you've missed. The symbols are all too colourful and the music is really something, since, as we all know, some of the most iconic songs were created during the groovy sixties.
Introduction
Groovy Sixties slot gives you a great range of options when it comes to customisability, as you can set the bet level, the bet lines and the coin value. The symbols are completely in tune with the them and although everything is quite simply, you game is quite fun to play, both visually and when it comes to gameplay. You will notice numbers on each side o the reels and each number matches one payline.
There are five reels and three rows and if you are from the sixties you will definitely recognise the symbols in Groovy Sixties slots, and even if you're younger you'll recognise some of the items. The main prize in the main game is limited to 1,000 coins, but you could win a maximum of 20,000 coins in one of the bonus games.
The game's RTP is 96.50%, a percentage which is in line with what NetEnt usually offers, and it can be considered rather high, especially compared to most other slots which generally feature lower return to player ratios.
Playing Groovy Sixties Slots
In Groovy Sixties slots you can wager on all available paylines, all 40 of them, but you can also choose a different number of paylines. By clicking on any of the numbers placed next to the reels you can set the number of active paylines to that particular number.
So, if you click on 23, there will be 23 active paylines, if you click on eight there will be eight winning combination and so on. You can also set the number of active paylines by clicking on bet lines and with each click one additional payline will be activated, unless the number of active paylines is 40, in which case it will start from one again.
With the bet level button you can alter the number of coins that are staked per payline and the coin value allows you to set the value of every coin. The maximum wager in Groovy Sixties slots is £100, that is if you cover all paylines with five coins per payline and a maximum coin value of 50p.
How to Win Groovy Sixties Slot
No matter how many paylines are active, you will only get paid for the highest achieved win per combination. For instance, if you have a five-symbol winning combination in Groovy Sixties slots you will get paid per the paytable only for a five-symbol combination, there'll be no additional payment for four or three symbols.
If you choose to play the game with fewer than 40 active symbols you will be able to play with less money, but if a combination of same symbols is aligned across a non-active payline you will not receive a single coin. Also, symbols must be aligned from the leftmost reel to the right, and only then a winning combination will be activated.
The symbols include standard card symbols – J to A, placed in different coloured circles, and a range of six items from the sixties including a pair of boots, a small retro telly, and a VW Beetle with a hippy paintjob. If you get any three same card symbols across a payline you will receive five coins, but for three VW Beetles you will get as much as 25 coins. A combination of five cars is the most valuable winning combination which awards 400 coins.
The wild symbol serves as a substitute for all standard symbols except for the scatter. So, if a wild symbol replaces any of the other symbols the payout would be equal to the standard payout for the respective symbol. If you're lucky enough to get a winning combination consisted only of wild symbols, you will win a higher prize. Five wild symbols activate a 1,000-coin payout and that's the highest main game jackpot.
Bonus Features
It is fair to say that the scatter is the most valuable and most cherished symbol in Groovy Sixties slots. If at least three scatters appear on the reels in the main game you will receive an amount that's twice the amount of your overall stake. Moreover, three scatters also activate the Free Spins bonus game. The prize that you earn during each of the free spins is doubled. Moreover, if you hit three additional scatters during Free Spins, you will receive five extra free spins and your win will be doubled.
What We Think
With Groovy Sixties slot NetEnt managed to deliver a product that appeals to a quite large target audience, and it is small wonder that this game is really popular with players. The gameplay is fun and enticing and it will keep your eyes fixed to the reels. The colours are bright, promising and hopeful, much like the decade that they depict.
The maximum win in the main game is 1,000 coin and with 40 paylines your chances of winning are much larger compared to games that feature only 20, or ten paylines. The payout is 96.50%, which is pretty much the norm when it comes to NetEnt slots. Groovy Sixties slot may not enjoy the same level of popularity as some other games by the same provider, but you should give it a go if you are fond of the theme. Register at one of the casinos approved by Slotswise, claim your free spins and start playing Groovy Sixties right now.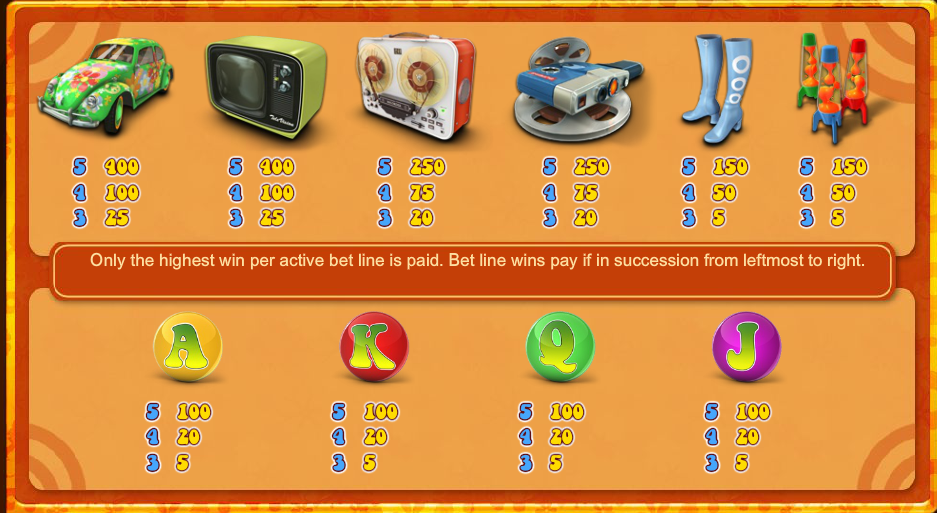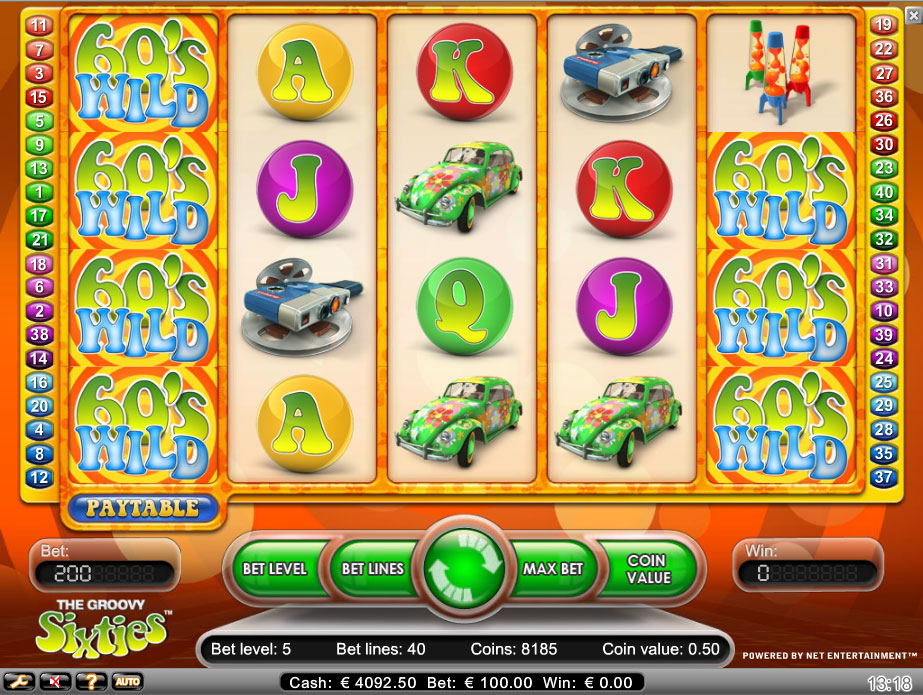 Want great offers sent straight to your inbox?
Enter your email below and we'll do all the hard work for you
Welcome to our Mailing List
Keep a look out for our emails containing great offers!