Overview
Take a trip back to the days of retro slots; think neon colours and bold symbols! Introducing High 5 slots, Microgaming's three-reel game that stands out in the modern slots scene!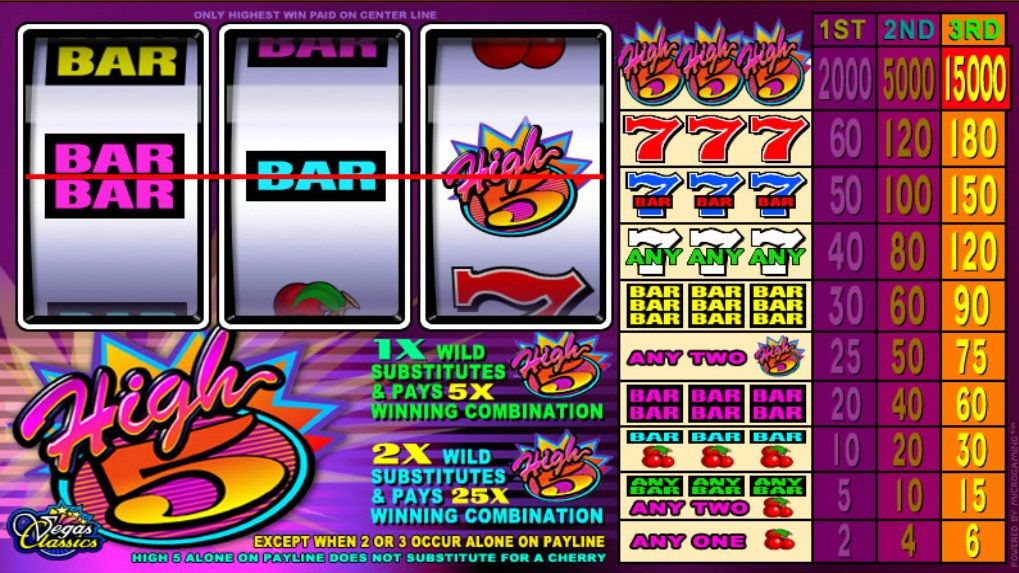 Key Features
| | |
| --- | --- |
| Reels: | 3 |
| RTP: | 97.43% |
| Paylines: | 1 |
| Bonus Rounds: | 0 |
High 5 Slot Online
Take a trip back to the days of retro slots; think neon colours and bold symbols! Introducing High 5 slot, Microgaming's three-reel game that stands out in the modern slots scene!
Despite the classic layout, High 5 is clearly designed with a modern colour scheme and contemporary spin in mind.
High 5 slot takes it back to the early days of slots, featuring just three reels and 8-bit sound effects. The symbols are fairly typical of an old-fashioned slot machine as well. Having said that, High 5 features a wild symbol, something that isn't commonplace on older, classic slots or fruit machines.
High 5 has various symbols, many of which seem to be combinations and variations of each other. Players can land symbols including a 7, cherries, bar, two bars, three bar, 7 bar, 7 and more.
Plus, the High 5 game logo represents the wild symbol and can act as a multiplier, when triggered.
Before spinning on High 5, players must select a stake to play with. The game allows players to play with coin sizes ranging between 25p and £5 and up to three coins can be used per spin.
Selecting your coin size is easily done by using the + and - buttons at the bottom of the screen. Once this is done, you can then choose the number of coins you'd like to play with by either clicking Bet One to flick between one coin, two or three, or you can click Bet Max to play with all three coins and to set the reels spinning.
If you do select Bet One, you'll then have to click 'Spin' to set the reels off, after choosing how many coins you'd like to wager with.
Generally speaking, if players wager with three coins, their winnings will be tripled, and doubled if wagering with two. The payouts for combinations of each symbol vary and whilst some require combinations of three, others only require two.
A combination of one cherry will pay out two coins for a one coin stake, four for a two coin stake and six coins for a three coin stake. In orderfromlowest payout, other winning combinations include:
Any two cherries

Any three bars

Three cherries

Three single bars

Three double bars

Any two High 5 icons

Any three triple bars

Any three 7s

Three blue 7s

Three red 7s
Although High 5 slots doesn't feature any scatter or bonus symbols, it does have a wild in the form of the High 5 game logo.
The wild symbols on this online slot will complete any payline and multiply your coin size by 5x, whilst two will multiply it by an absolutely massive 25x! Better yet, if you're playing with three coins and you land a line of three wild symbols, you'll be paid a mind-blowing 15,000x your coin size.
Overall, High 5 slots seems to be an enjoyable online slot that looks great and plays well! The overall design is extremely eye-catching and bright, giving the otherwise classic slot a rather modern feel.
If we're honest, High 5 doesn't actually have much to it, in terms of bonus rounds and features, or even additional prizes. We're big fans of free spins features, but unfortunately, High 5 doesn't offer this slots luxury to players.
Having said that, High 5 seems to show that you don't need tonnes of bonus rounds and fancy features in order to win some serious cash! This is an online slot that takes it back to basics and offers players the chance to win big from a single spin! We think that the retro design works well, whilst the bright colours and bold symbols are sure to catch the eye of any keen slots gamer or beginner!
We think that Microgaming manage to blur the line between classic and modern slots rather well with the High 5 slot. The use of wilds and multiple paytables is something that even modern style slots fail to do, and these features, combined with a non-progressive jackpot of over £70,000, make for a rather enjoyable and potentially lucrative slot game.
So for a classic slot with a modern twist and an RTP rate of 97.43%, we'd recommend giving High 5 a go!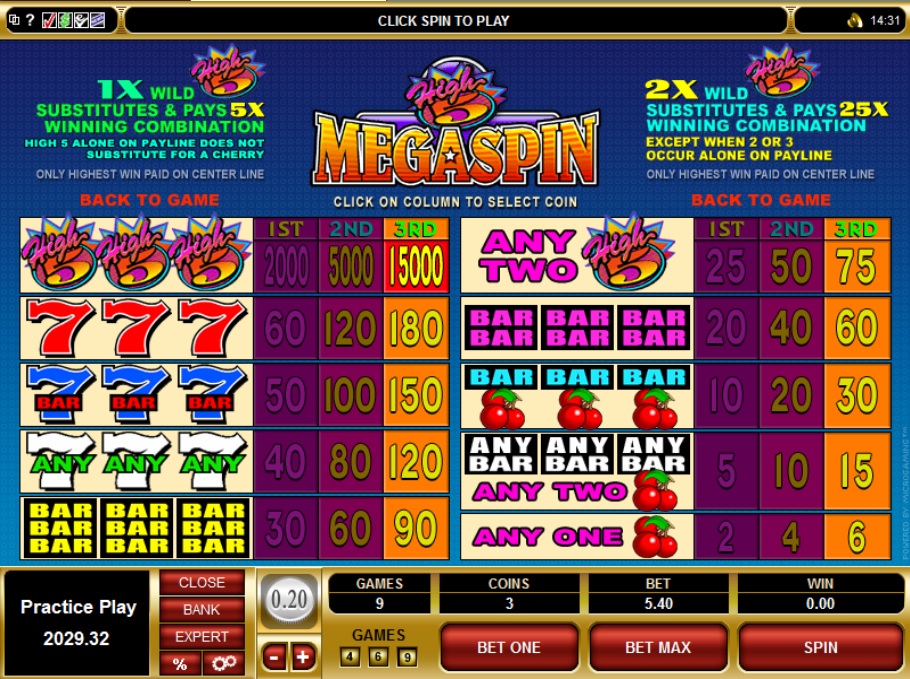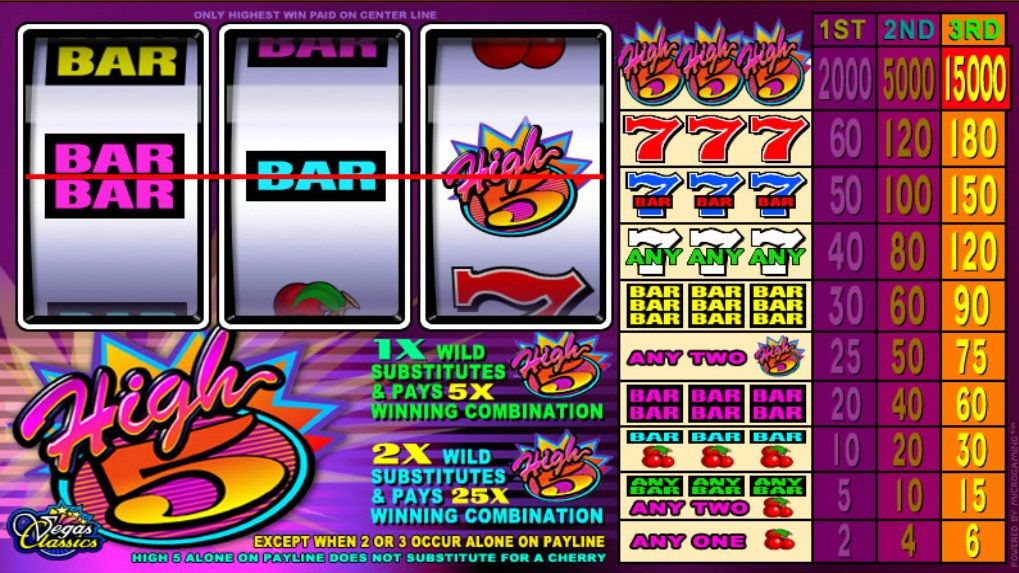 Want great offers sent straight to your inbox?
Enter your email below and we'll do all the hard work for you
Welcome to our Mailing List
Keep a look out for our emails containing great offers!