Overview
Have you ever played a slot within a slot?
Key Features
| | |
| --- | --- |
| Reels: | 5 |
| Paylines: | 9 |
| Bonus Rounds: | 0 |
Hot Shot Slots Online
Hot Shot is a great example of an online slot that's entirely on-theme. Microgaming has succeeded in creating a sports-themed game that brings the game of baseball to the reel set. It is a cheerful and colourful game with on-theme low-value and high-value symbols instead of the rather boring standard playing card symbols. When it comes to its bonus features, Hot Shot slots seems to lack them, which could be a turn-off for some punters.
Hot Shot Overview
When it comes to its layout, Hot Shot comes with a set of five reels in three rows and ninepaylines. It is themed on the game of baseball, which is noticeable right from the get-go. The background image represents a baseball field, while two bats on the sides of the reels represent thepaylines.
As we have mentioned in the text above, Hot Shot slots on-theme symbols come in two groups. The first group includes a cup of coffee, some sweets, a bag of popcorn, French fries with ketchup, a hot dog combined with a soda, and a baseball cap. All of them award payouts for combinations of three, four and five identical symbols on the reels, except the cap which also pays out for a two-symbol combination.
The group of high-value symbols in Hot Shot slots include four on-theme symbols representing a pitcher, a batter, glove with a ball and a homerun symbol. All of them award certain payouts for combinations of two, three, four and five matching symbols on an activepayline.
Hot Shot makes use of two additional symbols, one for the scatter and one for the wild. The first one is a trophy scatter, while the second one is a flaming ball wild symbol.
How To Play Hot Shot Slots
Before spinning on Hot Shot slots, you need to set your total bet for the spin. In this Microgaming title, this is done by selecting your line bet and activating the desired number of lines.
The "+" and "-" buttons below reel two is where you can set your line bet or coin size. By pressing these buttons you can set your coin size, which combined with the number of activepaylines, will get you playing with either the minimum or maximum total stake.
If you want to change the number of active lines for the spin, go for the SELECT LINES button. When you press this button, you can activate anywhere between one and nine activepaylines.
If you want to play with the maximum bet available in a click of a button, go for the BET MAX button. It will automatically set the coin size to the highest one.
Once you have set your total bet, you can spin the reelsetby pressing the SPIN button in the bottom right corner of the screen.
How To Win Hot Shot
As already stated in the text above, winning payouts in Hot Shot slots are awarded for landing combinations of identical symbols on activepaylines.
The low-value symbols start with the cup of coffee awarding 1, 5 and 50, followed by the sweets with 2, 10 and 100, the bag of popcorn with 3, 15 and 150, the fries with 4, 20 and 200. The hot dog will get you 5, 25 and 250 as the highest-paying low-value symbol.
The high-value symbols start with the baseball cap with 1, 10, 30 and 300, followed by the pitcher with 2, 20, 60 and 500, the batter with 3, 30, 100 and 700, and the strike symbol with 4, 40, 250 and 900. The highest paying symbol on the reels of Hot Shot slots is the home run symbol with 5, 50, 500 and 1000 for combinations of two, three, four and five matching symbols on an activepayline.
The scatter symbol awards scatter wins with 10, 50 and 100 for combinations of three, four and five identical symbols on an activepayline.
Hot Shot Bonus Features
As we have already stated in the opening section of this review, Hot Shot slots from Microgaming comes with no additional bonus features. This might come as a turn-off for those players who are into mini-games and free-spin rounds because there are no such things in this game.
It is quite unusual for a five-reel slot to come with no additional bonus features especially when there is a scatter symbol in the game. So, you land a combination of three scatters which will get you a small payout and nothing else happens.
Our Hot Shot Slot Review
When it comes to the theme of Hot Shot, there is no doubt that Microgaming has done a great job. Everything is theme-related and plays great. However, they could have done a better job in the bonus feature area.
Pick your welcome offer from those promoted at Slotswise and spin on Hot Shot for excellent real money prizes!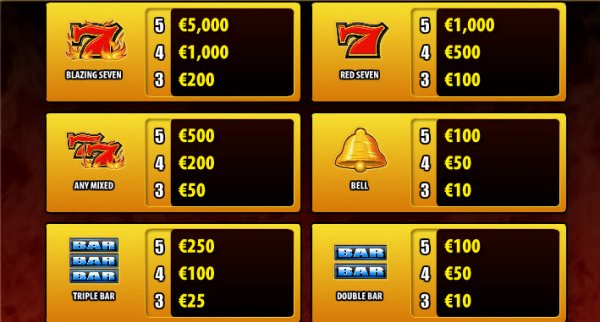 Want great offers sent straight to your inbox?
Enter your email below and we'll do all the hard work for you
Welcome to our Mailing List
Keep a look out for our emails containing great offers!