Overview
Explore the constellations as you spin to land symbol combinations of the four zodiac elements, and more!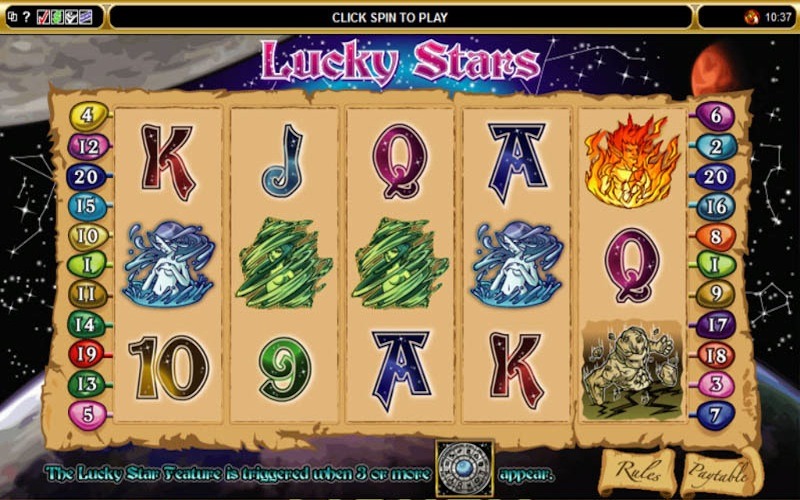 Key Features
| | |
| --- | --- |
| Reels: | 5 |
| Min Bet: | 0.20 |
| RTP: | 96.26% |
| Paylines: | 20 |
| Max Bet: | 200.00 |
| Bonus Rounds: | 0 |
Lucky Stars Slot Online
Introducing Lucky Stars slot, Microgaming's astrology and the zodiac-themed online video slot. With five reels and 20 paylines, Lucky Stars follows a similar format to many other slots but with a less common theme!
Explore the constellations as you spin to land symbol combinations of the four zodiac elements, and more! With Earth, Water, Air and Fire all making appearances, your nebular and astrological knowledge is sure to increase tenfold when you play on Microgaming's Lucky Stars !
As soon as you're shuttled to the Lucky Stars game, you'll be in awe of the amazing design and on-theme symbols. Think stars, constellations, zodiac wheels and more.
You'll have the chance to land winning combinations of standard playing card symbols, each drawn with the theme in mind, as well as symbols for Earth, Water, Air and Fire.
Lucky Stars also features a zodiac wheel which is the scatter symbol and a crystal ball that represents the wild.
Like we said, not only are these symbols themselves on-themeby nature, but they're also drawn and designed in such a way that consistency seems to be very much key with Microgaming's Lucky Stars.
Before you start spinning in hope of landing astrological symbols for winning payouts, you must first select your stake and a number of paylines that you'd like to play across.
Selecting your coin size is easily done by using the + and - buttons at the bottom of the screen. Once this is done, you can then select a number of paylines you'd like to play across too.
Lucky Stars features 20 paylines and they aren't fixed. This means you'll be able to play across any amount of them between one and 20.
Remember though, your coin size will be multiplied by a number of paylines that you activate. So, even if your coin size is just 5p but you activate 10 paylines, your total stake for each spin will amount to 50p.
Lucky Stars slots appears to cater to players of all pocket sizes, as the total bet per spins can range from as little as 20p all the way up to a staggering £200. Plus, it's also worth noting that you can wager with more than one coin on a line, increasing your stake yet again.
Once your coin size has been selected and your chosen amount of paylines have been activated, your total stake will be equated and you'll be ready to spin.
You can either spin manually by clicking the button in the bottom right of the screen, or you can use the AutoPlay feature, setting the reels to spin consecutively a certain amount of times so that you can give your finger a rest, sit back and watch the action unfold. You might just learn something about the solar system too!
As is the case when playing most online video slot games, you will need to land combinations of three or more symbols consecutively across any active payline in order to receive a winning payout.
However, some of the Lucky Stars Slotreel symbols will reward players with a payout when a combination of just two symbols are landed. The Earth and Air symbols will pay out for landing just two, as will the zodiac wheel scatter and the crystal ball wild. All others will require three or more.
The Lucky Stars crystal ball wild symbol can also help to create wins. This particular slot symbol will substitute for all others, except the zodiac wheel scatter, in order to fill spaces and help create a winning combination, resulting in a payout for players!
Aside from a number of symbols you'll need to land in order to receive a winning payout, it's worth knowing that these symbols will need to be landed in consecutive order from left to right on the reels. Although this is the case with most slots, it isn't with all of them.
Lucky Stars features one bonus round in the form of the aptly named Lucky Stars Feature. This can be triggered by landing three or more of the zodiac wheel scatters.
You will initially be asked to choose your Zodiac sign and this will help to decide your future win, should it occur.
You'll then get a chance to spin the Zodiac wheel with all 12-star signs on it. If it lands on yours that you had previously chosen, you'll be given the chance to choose either 15 additional free spins or another bonus round. The bonus round requires you to choose five of the 12 Zodiac constellations to reveal some incredible cash prizes.
Plus, during the free spins feature there is a 3x multiplier that will, of course, result in any wins being even bigger and much more lucrative.
We like the Lucky Stars slot game's Zodiac theme, not only because it isn't an entirely common one within the slots scene, but also because it offers the chance to create some stunning graphics and design throughout. Better yet, the option for players to select their own Zodiac sign at one point is a nice personal touch.
Aside from its design, Lucky Stars has the potential to be an incredibly lucrative game, offering players the chance to get their hands on free spins and multipliers, as well as cash.
Microgaming's Lucky Stars also has a jackpot of 10,000 coins, which can equate to around £50,000 if players are wagering with the correct amount to receive this. Whilst this may not be as much as some other slots and progressive jackpots offer, it is by no means an insignificant amount.
The free spins round alone comes with a multiplier of 3x on all winnings, so your returns will be tripled should you land any combinations during this free spins feature.
We'd recommend giving Lucky Stars a spin because of its uncommon theme within the slots scene, as well as its incredible design and of course lucrative nature. If you're into free spins, multipliers and big wins, as we're sure you probably are, try out Microgaming's five-reel, 20 payline online video game, Lucky Stars!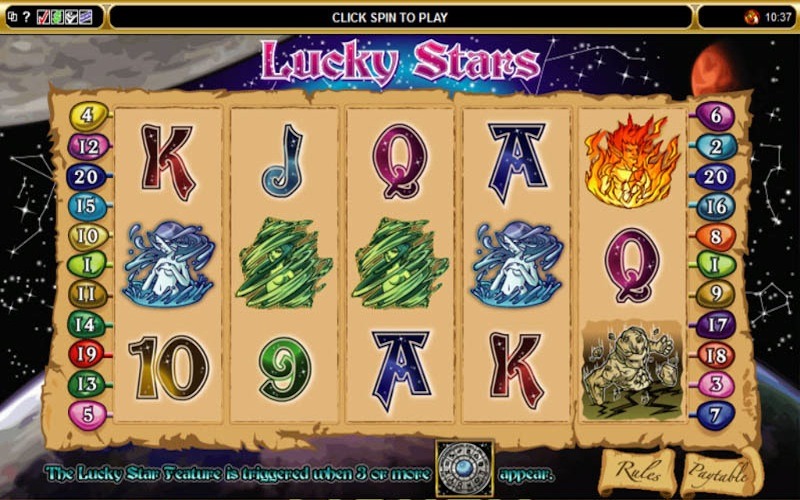 Want great offers sent straight to your inbox?
Enter your email below and we'll do all the hard work for you
Welcome to our Mailing List
Keep a look out for our emails containing great offers!