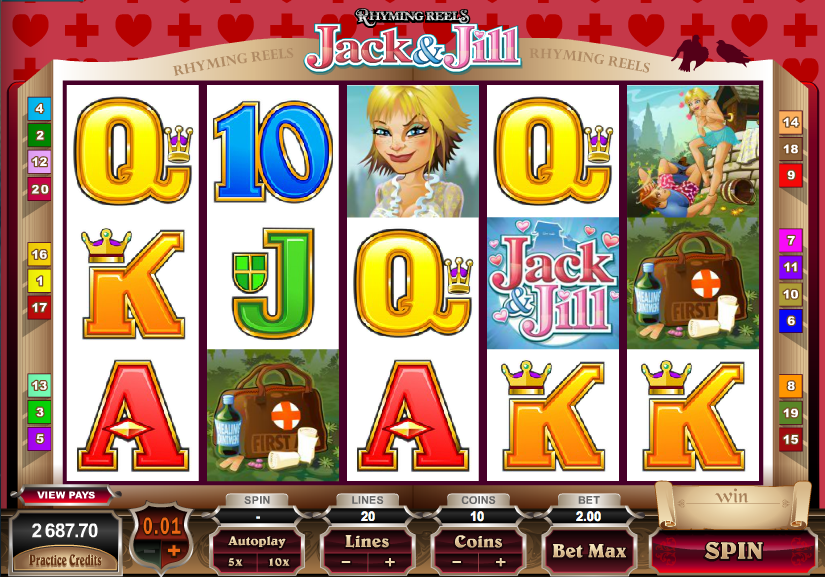 Key Features
| | |
| --- | --- |
| Reels: | 5 |
| Min Bet: | 0.01 |
| Paylines: | 20 |
| Max Bet: | 20.00 |
| Bonus Rounds: | 0 |
Rhyming Reels Jack And Jill Slots Online
Microgaming like to take traditional nursery rhymes and give them an adult twist. This Jack and Jill-themed slot is no nursery school tale, but more of a picnic that has turned into a kissy smoochy affair somewhere far away from the curious eyes of onlookers. 
This adventure seems to have been worth thetrip,because the top cash payout that Jill and Jack have discovered inside the water well is singing to the tune of 880,000 coins. 
As expected, the graphics here are fun, but not over the top, and the symbols tell the story behind the game. 
Rhyming Reels Jack and Jill Slot Overview
Rhyming Reels Jack and Jill slot isn't overstuffed withfeatures,but prefers to keep the gameplay straight and simple. Free spins and multipliers are much in evidence, as is a straightforward Wild. Much of the appeal to hardenedslotsterswill come from thejackpots,and notching up five Jacks, Jills or Pails will gain you a jackpot of between 10,000 and 15,000 coins. 
Add these big prizes to the bewitching graphics and animations, and this is a simple but bold title that will prove a most unfussy introduction to the world of slots. 
How To lay Jack and Jill Slot
Setting up for the gameplay has been made quite easy as all of the fields that designate the levels, the linesandthe coin size are aptly visible in the bottom portion of the screen. You can play the game with as little as one penny per spin. If you want to go high stakes there is an available top wager of £200.
This is where you will find theamountof funds in your account, at the bottom left of the screen, and next to it is a shield that contains a plus and a minus button, as well as a value that designates the coin size. 
The coin size can vary from just one penny to ten cents and this is the amount that will be played per eachpaylinethat you have selected as active. On that matter, the game has a total of 20paylines, but you can select to play on as little as one, or on as few as three or five or six or seven. 
This option gives you precise control over the size of the bet. But if you want to makethe ahigh-stakes affair, then all you have to do is simply raise the number of 'coins' which is basically, the levels. Playing on the first level multiplies your coin size and lines by one, and as you go up, the total bet per spin amount will be raised. You can play the game on any amount between £0.01 and £200.00. Per spin.
Rhyming Reels Jack and Jill Slot Design
As for the design, you won't find anything that is visually tantalizing, yet, it provides enough for a gaming experience if you can get beyond the absence of anautospinfunction and that the reels turn rather languidly and you have to push stop if you wish to speed up Jack and Jill's amorous picnic.
At any rate, the potential cash prize of 880,000 makes it worth the wait if you are ever to land the right combination of symbols that may invite this payout to your embrace. Even though the symbols are from the nursery rhyme, Jack and Jill are grown and not quite a brother and a sister. So in that respect, the storyline deviates from the song.
The symbols that will be encountered on the reels are the pail from the song, which pays a hefty 10,000. This is the bonus symbol which also triggers the free spins bonus feature. The Rhyming Reels Jack and Jill slotlogo
 addsa 2x multiplier for every win that occurs on the reels, however, this amount goes up by 2 each time another such symbol appears. What is more, this is Wild which substitutes for all other symbols, except the pail Scatter symbol.
How To Win Rhyming Reels Jack and Jill Slot
The game has a number of symbols that pay amounts that are truly hefty. Landing even three of Jack's and Jill's symbols will shake out 500 and 400 coins respectively. Having these symbols in five instances will result in prizes of 15,000 and 10,000 coins inside your balance. What is absolutely great is that these can be substituted by the Rhyming Reels Jack and Jill slot wild symbol.
There are three other picture symbols here and these are the well at which Jack and Jill need to draw water, then there is the symbol depicting Jack's having tumbled on the ground and counting stars and birdies, and the first aid kit which Jill is going to promptly and caringly implement on Jack's bum noggin. The rest of the symbols are the cards numbers and faces that start with ten and end with the ace. 
To embark on this nursery rhyme adventure and potentially end up whistling your favorite tune, start by claiming the welcome bonus right from this page.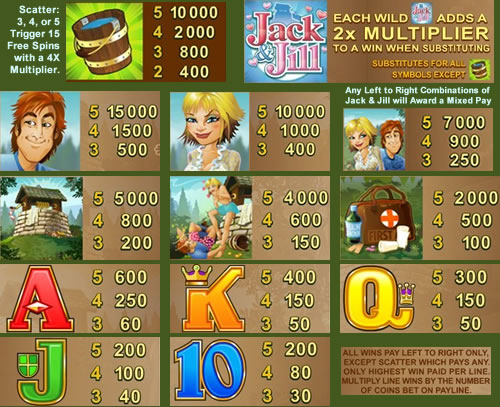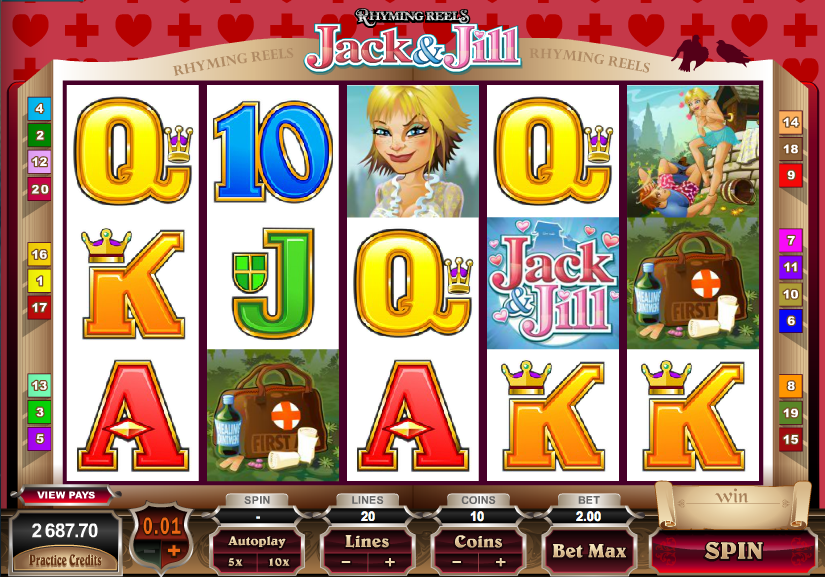 Want great offers sent straight to your inbox?
Enter your email below and we'll do all the hard work for you
Welcome to our Mailing List
Keep a look out for our emails containing great offers!