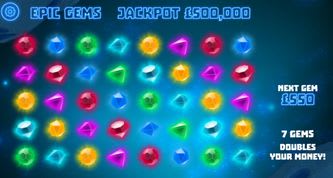 Epic Gems Slot Online
What if we told you that Epic Gems slots has no reels and absolutely no paylines? Also, there's no 'Play' button to start spinning! So, what have the developers behind Gamevy come up with? We know you're intrigued, so keep reading to find out!
Epic Gems Slots Overview
Upon loading Epic Gems slots, you'll see the symbols lining up as if there were reels to spin on. However, this is actually a guessing game where you try to avoid the explosions and only select the jewels – kind of like a mix between Starburst and Minesweeper! You have forty gems on the screen and you need to start selecting. Each one that you choose that isn't blowing up nets you a win. After each pick, you can stop and collect your winnings. There's also a jackpot that depends on your total bet.
The game is set somewhere in outer space, with lots of stars and some asteroids in the background. As for the symbols, you'll find nothing but gems here. You have green, purple, orange, red, as well as lighter and darker blue gems. The more gems go into the black hole on the right of the screen, the bigger your prize.
How To Play Epic Gems Slots
The rules are very simple and the only thing you need to do before you start picking is to set a betting figure.
The lowest sum you can play with is 1.00 which will give you a 2,500 jackpot, as shown at the top of the game screen; as we already mentioned, the more you increase your bet the higher the cash reward will be. The largest amount you can win totals 25,000 coins.
Once you load the game, you will be presented with a simple screen recapping the rules and two arrows with the monetary figure between them. You select your bet by clicking those arrows until you're happy with your choice. Then, simply click the bet amount and the main game will launch.
When a gem is clicked, the Random Number Generator will determine if the gem is a mine or not.
Cashing out is a great option to save you from losing all of your money. If you feel like your winning streak is about to end and you don't want to lose what you've accumulated so far, simply click the 'Cash Out' button and the game will stop with your coins remaining safe in your account.
How To Win Epic Gems Slots
There are 40 jewels in total, four of which are covering a mine and seven which double your money. When you click one of the 'safe' ones, it will go into a vortex and be added to your account total; you can click one at a time or swipe across any line you please.
Keep finding good ones and the money will pile up. Bear in mind though that you need to successfully click all the genuine rupees if you want to walk away with the jackpot, otherwise you'll get a reduced sum, depending on how many you've sent into the vortex.
The paytable in Epic Gems slots begins at 110% for one gem successfully sent into the vortex. As more good gems are found, the higher the percentage win, so five will pay 150%, ten are worth 275%, 20 total 1000%, 30 pay 10,000% and for all 36 good gems a huge 250,000% payout will be received. You can view the entire paytable by clicking the 'Options' button in the top left corner of the screen and then choose 'i'.
Epic Gems Slots Bonus Features
Since this is not a standard slot game, it doesn't offer any of the usual bonus features like Free Spins, Multipliers and stuff. After all, why would you get free spins if there are no reels to spin in the first place, right?
That being said, the Click or Swipe can be considered a useful feature. You can choose to select each gem individually, or you can make your own combinations by swiping along a row or up/down a column to remove multiple gems at once. However, keep in mind that you run the risk of hitting a mine gem a lot quicker with the swipe option. So, you'll need to ask yourself, how brave are you feeling?
Our Epic Gems Slots Review
As the title itself suggests, this game is pretty darn epic when compared with a lot of others. Traditional slot machines or other instant win games can be intense, but none of them will have you gripping your seat wondering if you're about to step on a mine or not. It's the unpredictability of it all that users will love in playing Epic Gems slots. Add to this a snazzy set of aesthetics and spacey music and you'll be swiping and clicking in no time.
Test your nerves and your luck in this Epic Gems slots!
Key Features
Provider

Gamevy

Reels

0

Min Bet

TBC

Max Payout

TBC

RTP

TBC

Paylines

TBC

Max Bet

TBC

Bonus Rounds

0

Variance

TBC
About The Author
Sanja Tasevska
Fact
Sanja is our game expert and uses her knowledge to review all kinds of slot games, both old and new. The detailed reviews include the most important info about a particular slot game. She's been a part of this industry for many years and so far she's played and given her opinion on thousands of different slot titles. Contact Sanja sanja@slotswise.com
Similar Games
Welcome to our Mailing List
Keep a look out for our emails containing great offers!