The dynamic nature of the iGaming industry, as well as the players' thirst for something new and exciting, has, in a way, inspired the providers to be as innovative as possible. Because of this, they have been able to invent some fantastic new ways of playing such as the Megaways engine, the Infinity Reels and more. However, it seems that Betsoft was thinking outside of the box when it integrated the RPG concept into casino games. The developers have come up with yet another addition to that series called Max Quest Rise of the Mummy slot, which offers action-packed gameplay, as well as a maximum win potential of up to 5,000x the stake.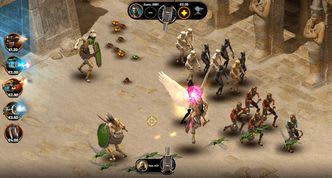 Max Quest Rise Of The Mummy Slot Review
This concept is not very prevalent in the iGaming industry, which is why it can only be found with certain providers. Betsoft is of course one of them and has a number of these types of games in the series, such as the famous Max Quest Dead Man's Cove slot. Other providers have also attempted this trend, for example, there is Evoplay's Dungeon: Immortal Evil slot. You can read all about the Max Quest Rise of the Mummy slot below.
Table of Contents
Those that are at least a little familiar with the iGaming industry have most likely heard of the name Betsoft. Founded in 2006, the company has proven itself as quite innovative and the quality of its games speaks for itself. You can find a great selection of some of Betsoft's best games right here on Slotswise, but now let's take a closer look at this latest release.
If you are expecting a classic reel game, then you are in for a surprise. The Max Quest Rise of the Mummy slot is played as a shooting game, where each shot is a wager, much like the spins in a regular slot game. Enemies of varying difficulty levels will appear on the screen and your job is to shoot as many as possible and each one that you manage to take down can bring you a payout. We will explain this in more detail in the gameplay section of this review.
Before starting the game there are 5 rooms to choose from and each one of them comes with a different betting range. However, generally speaking, the betting options range from £0.04, up to £6 per spin, which may not be very appealing for high rollers.
When it comes to the visuals, you can enjoy a stunning adventure game that, as the title indicates, takes place in ancient Egypt. The graphics are fantastic and the nature of the game and the way in which it is played requires a lot of lively and realistic animations, which are excellently done by the developers.
Each level is played on a clearing, which is surrounded by stone blocks, sarcophaguses, gold coins, and other objects related to ancient Egypt. There is also a traditional Egyptian soundtrack that is perfect for the theme and the style of playing.
As we mentioned, the Max Quest Rise of the Mummy slot doesn't have any symbols, but there are quite a lot of different enemies. These enemies can have a level between 1 and 3, which will also determine their health points and the payout that you can get by destroying them. Starting from the bottom, there are 5 different scarabs, 2 locusts, a giant scorpion, wrapped guards, warriors, commanders, brawlers, and the highest paying enemy target that appears on the battlefield in Horus. 
There are also special enemies as well. First is the Infernal Forgemaster, which always drops a special weapon when destroyed. Then there is the Unstable Avatar that can explode and deal up to 5,000 damage on nearby enemies. 
The volatility of the game is not disclosed yet, but the maximum win potential reaches up to 5,000x the stake. As for the Max Quest Rise of the Mummy RTP, it is capped at 97.50%, which is very impressive.
If you want to learn more about the RTP and the volatility of these games, you can read our detailed Variance, Volatility and RTP Guide.
Since this is not a typical slot game, there are different rules and quite a lot of them too We already explained the basics of the game, so now let's explain the special features.
Weapons 
The main weapon in the game is the Turret, which is available at all times. It can only target one enemy at a time and each bullet costs a wager. However, there are also special weapons that can deal more damage and potentially even deliver greater rewards.
During the game, enemies can also drop free special weapons that must be used immediately, but you may also be able to buy these weapons too. These can deliver bigger damage to enemies and they can also affect multiple of them at once, so you should use them wisely.
Mine Launcher - costs 15x the stake and launches a mine that can damage nearby enemies;
Plasma Rifle - costs 25x the stake and it can only target a single enemy;
Flamethrower - costs  35x the stake and can damage multiple targets;
Cryogun - costs 45x the stake and can freeze multiple targets for a limited time;
Artillery Strike - an airstrike is called down on a particular area that can deal massive damages.
Legendary Bosses
These legendary bosses can appear randomly throughout the game. They can bring you prizes if you manage to damage them, as well as a massive reward for managing to defeat them. There are three legendary bosses, presented by an Egyptian god and special weapons can be much more effective against them.
Critical Hits
Each weapon has a chance to deliver a critical hit. Managing to deliver a critical hit to an enemy will award you with a special multiplier of 2x, 3x, 5x, 7x, or 10x, which will boost the reward by that amount. 
Instant Wins 
These can be done by managing to destroy a target with a single shot, but are not possible against Infernal Forgemasters and Unstable Avatars, or Legendary Bosses. Instant wins can award random prizes.
Bonus Win
Bonus wins occur when the damage you deal to an enemy is higher than its remaining health points. These will award you a bonus prize, in addition to the payout.
Money Wheel
The Money Wheel can be triggered randomly when you shoot at enemies, although special weapons have a higher chance of triggering it. Once activated, it will spin and it can deliver cash prizes that range from 25x to 2,000x the stake.
At the end of the round, you will receive a summary that includes the total number of enemies destroyed, the total amount of damage, unused special weapons bonus, the number of bullets fired, and more.
Despite not being a standard reel game, the Max Quest Rise of the Mummy slot is made with HTML5 technology that allows you to play it even on the go. It means that you can access it directly in the browser of your smartphone or tablet without the need for any additional downloads.
Other Betsoft Slots
Here are some more games by Betsoft that you can check out.
Lava Gold - you can go back to prehistoric times when dinosaurs roamed the planet and spin the 5x5 layout where you can trigger some fun bonus features. The low-medium volatility of this game comes with potentially good prizes, while the RTP stands at 96.02%.
Jungle Stripes - you can join the tiger deep in the jungle and spin the 3x3 layout that offers 10 paylines and a maximum win potential of up to 500x the stake. There are some interesting bonus features, medium volatility and an RTP of 97.03%.
88 Frenzy Fortune - this is a very interesting video slot that is played in a rather unique way. There are 4 reels in total, of which one has only special symbols and the game offers only a single payline. The volatility is medium, the maximum win potential reaches up to 2,368x the stake and the RTP is capped at 96%.
Max Quest Rise of the Mummy slot is as far from a typical reel game as it can be. The unique way of playing, combined with the RPG elements can make the whole gaming experience incredibly more immersive and exciting. The action-packed atmosphere can be a perfect fit, especially if you are looking for such a game, plus the visuals and the animations are stunning.
In addition to the different way of playing, there are also quite a lot of bonus features included in the game. They can make the gameplay a lot more dynamic and entertaining, as they offer different things to try out, as well as a variety of outcomes that you can potentially achieve.
Discover the Max Quest Rise of the Mummy slot by claiming a welcome offer right from this page and play at top-rated online casinos.
Key Features
Provider

Betsoft

Reels

0

Min Bet

0.04

Max Payout

5000.00x

RTP

97.50

Paylines

TBC

Max Bet

6.00

Bonus Rounds

6

Variance

TBC
About The Author
Kosta Kostadinov
Fact
Kosta is an experienced writer who enjoys testing and reviewing online slot games. He understands how they work and how to include the most relevant aspects in his reviews. Contact Kosta @ kosta@slotswise.com
Similar Games
Welcome to our Mailing List
Keep a look out for our emails containing great offers!