Overview
Become a real big property developer by winning a potential multi-million progressive jackpot in this brilliant take on the original board game.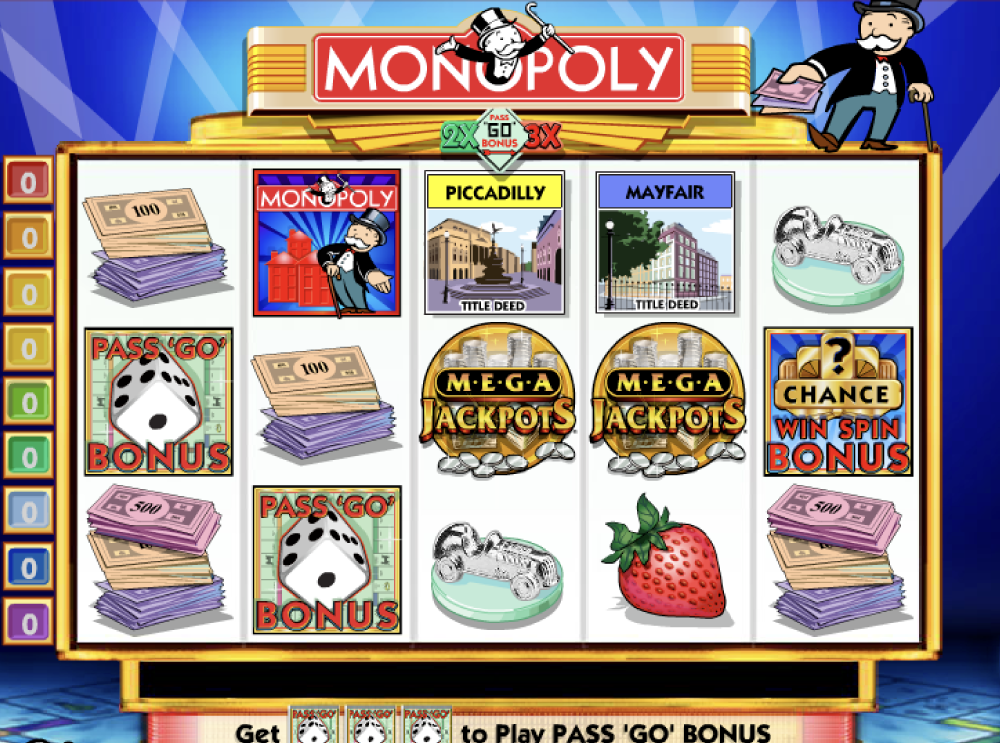 Key Features
| | |
| --- | --- |
| Reels: | 5 |
| Min Bet: | 0.05 |
| RTP: | 98.14% |
| Paylines: | 9 |
| Max Bet: | 9.00 |
| Bonus Rounds: | 0 |
Megajackpots Monopoly Slot Online
Monopoly is a timeless classic in the board game scene and it seems to be one that's transferred well into slots gaming too! Introducing IGT's MegaJackpots Monopoly slot, the five-reel, nine payline slot game that features many of London's most prestigious postcodes, some shiny board pieces, colourful stacks of cash and more.
Join Mr Monopoly for the chance to win some incredible cash sums, multipliers and even the elusive jackpot in this MegaJackpots Monopoly slot game!
With the theme, of course,beingbased on the Monopoly board game, there arguably isn't much room for manoeuvre, in terms of the game's design. Having said that, MegaJackpots Monopoly slot features some slightly less common reel symbols that are still related to the game.
Players have the chance to land reel symbols including various properties, piles of cash, fruit and board pieces.
The MegaJackpots Monopoly slot also features a wild symbol in the form of the game's logo, as well as two bonus symbols, the Chance Win Spin card and the Pass Go Bonus, which help to trigger some features during the game.
MegaJackpots Monopolyslot is generally well designed and the symbols are of a high quality. Even the background stays on-theme with the board itself occupying the bottom half of it.
Before you spin the MegaJackpots Monopoly slot reels for the chance to win cash sums, you'll need to choose your stake for each spin.
You can playMegaJackpots Monopoly slot with anywhere between one and five credits on each of the nine paylines, meaning the maximum you can wager for each spin is 45 credits. You can choose your line bet by clicking the arrows at the bottom of the screen.
Just to the left of 'Line Bet', you can select the number of paylines that you'd like to activate and wager across which, like we said, is any number between one and nine.
Once you have activated your paylines and chosen your bet per line, you can press 'Play' in the bottom right of the screen, setting the reels off and watching the Monopoly-themed symbols spin before your eyes.
The Monopoly andMegaJackpots Monopoly slot Logos are Wilds and substitute for most other symbols. Three Chance Bonus Scatters activate the Chance Win Spin Bonus Round. Choose a card to see how many Win Spins you'll get (with a maximum of four available). You'll earn a win for every spin, with a 10x bonus possible. Hitting five MegaJackpot symbols will earn the player the million+ jackpot. The Pass Go Bonus can be won by getting three Bonus Dice Scatters, and this allows you to roll dice for additional rewards, including Multipliers. Isn't MegaJackpots Monopoly slot wonderful?
IGT's MegaJackpots Monopoly slot game features plenty of additional bonus features and extras to keep excitement levels high for all players. Either three Pass Go Bonus symbols or three Chance Win Spin Bonus symbols landed will trigger their respective rounds.
Pass Go Bonus
This particular feature will trigger when three or more of the Pass Go symbols land on an active payline. You will then be required to click one of the symbols, revealing a number and that number will be the number of dice rolls you'll get to play the game that follows. With each roll of the dice, you'll move around the Monopoly board earning bonuses and collecting increased multipliers each time you land on Go. The more rolls that you initially reveal, the more chance you have of winning more money!
Chance Spin Win Bonus
All nine paylines will need to activate if you wish to trigger this bonus feature. When this is the case and three Chancescatter symbols land, the Chance Spin Win Bonus feature will launch and you'll need to click on one of the scatter symbols to reveal an amount of 'Win Spins'. A Win Spin refers to the number of times you're allowed to spin the reels until you win a prize. Plus, if you're wagering with the maximum bet, you'll have a chance to win the progressive jackpot whilst playing this feature. If you don't win after seven spins, you'll still receive 10x your bet as a consolation prize.
Although it's not necessarily a bonus round, the MegaJackpots Monopoly slotgame's progressive jackpot is a nice additional feature. By landing five MegaJackpots symbols on the centre line during a max bet play, you will win the jackpot amount, i.e. the top prize that you can win in this game!
Monopoly has been at the heart of some great slot transitions. This one isn't the very best, but it comes close and is immeasurably enhanced by its inclusion within theMegaJackpots Monopoly slot family. That means you could bag a multi-million progressive jackpot! The various playing pieces are all integrated into the game, while other features make clever introductions.
Passing Go gets you a nice reward in the board game, and here grabbing three of the Go symbols takes you a rather dinky sub-game where you could amass special rewards by journeying along the board, scooping up Multipliers by landing on properties. You can also risk all your winnings with the Double or Nothing feature. Like the other Monopoly games, this one cleverly smuggles in aspects of the real game. Above all, though, this slot is about that searing progressive jackpot.
Aside from the gameplay and chances to win cash, free spins and even the immense progressive jackpot, MegaJackpots Monopoly Slot looks the part too. Players can enjoy some incredible, on-theme design and constant reminders of one of the world's most popular board games ever, and for good reason!
Overall, we'd recommend giving MegaJackpots Monopoly a spin for the chance to win huge sums of money! The progressive jackpot may be elusive but you'll never win it if you don't try! Join Mr Monopoly on the quest for riches and take in the sights of London along the way!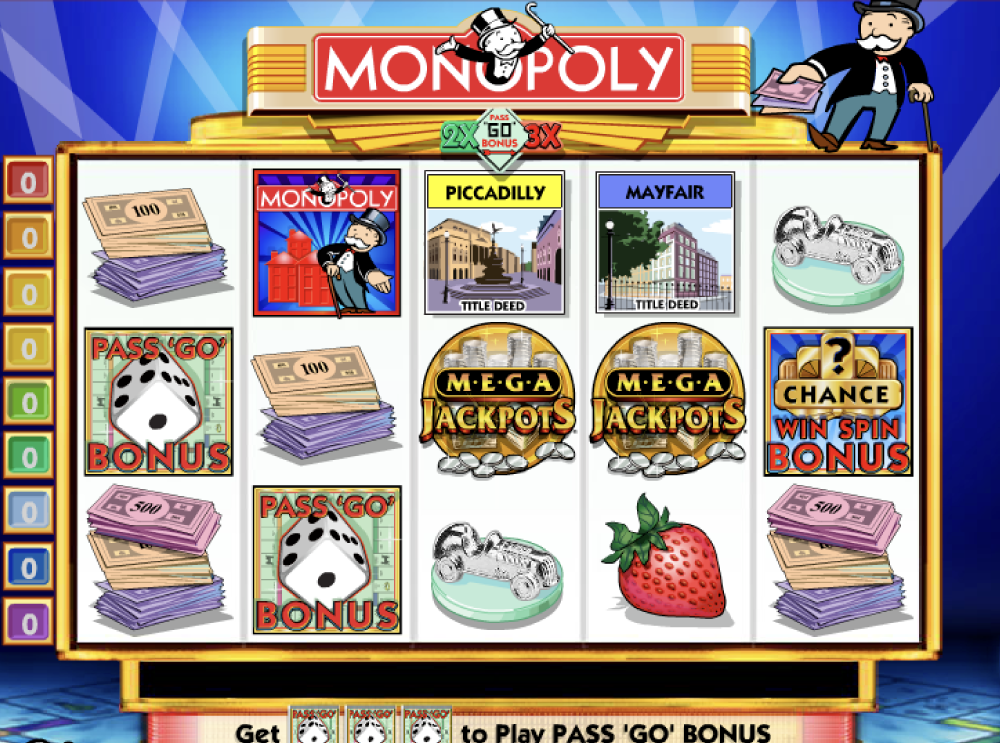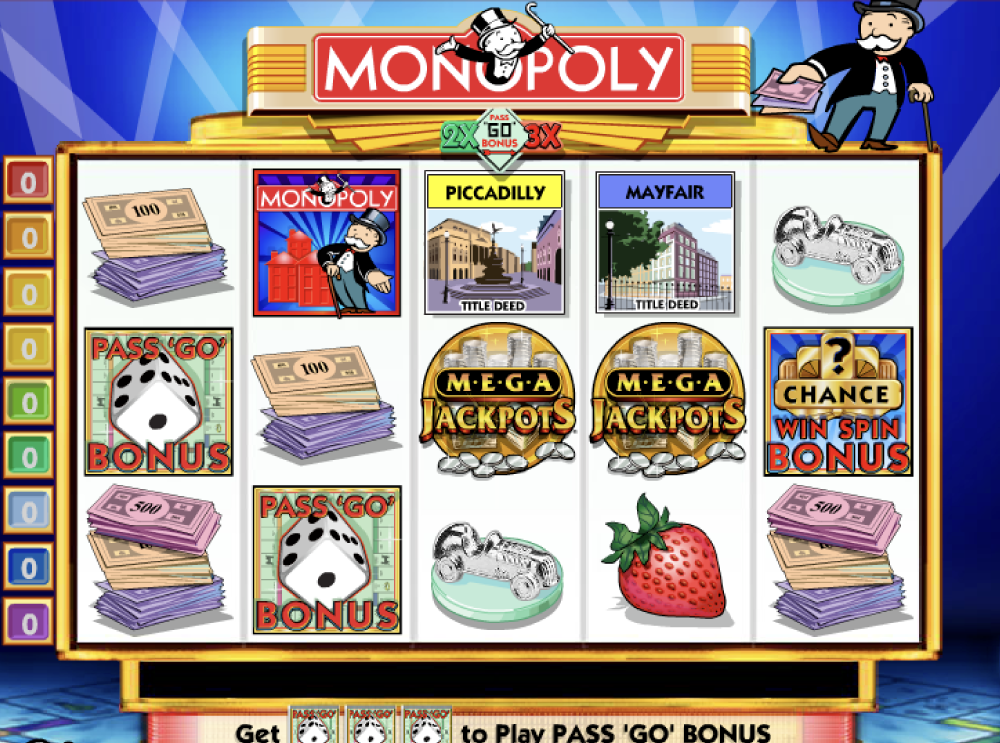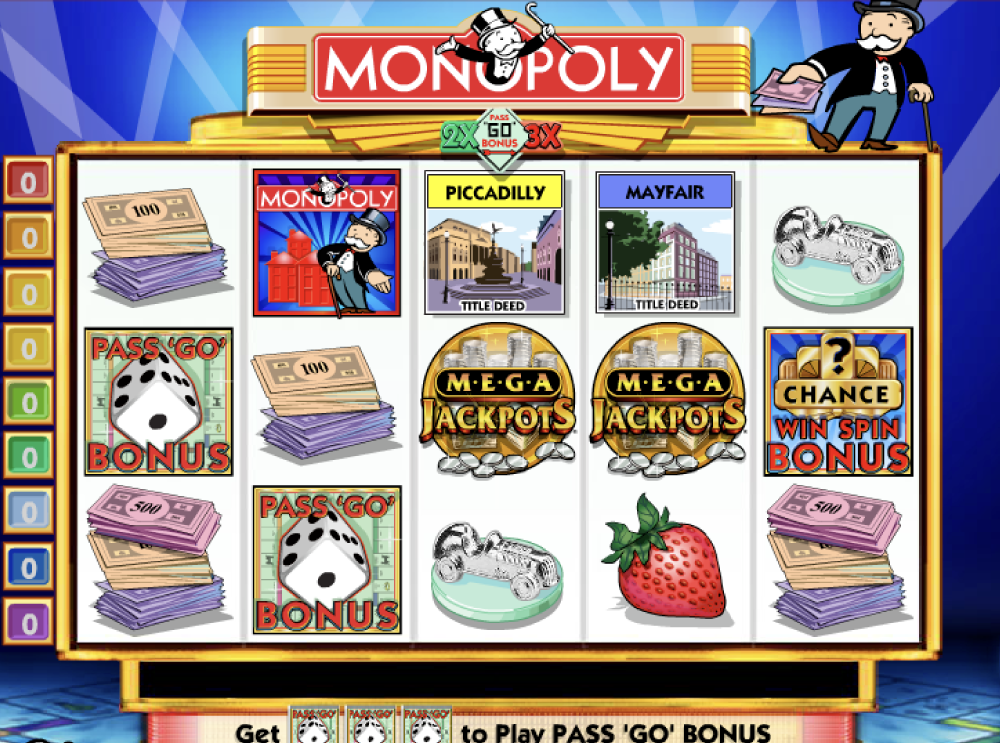 Want great offers sent straight to your inbox?
Enter your email below and we'll do all the hard work for you
Welcome to our Mailing List
Keep a look out for our emails containing great offers!