Baking Bonanza is a slingo game coming from the good old producers of Big Money Slingo, Slingo Monopoly and the lot. The game has five horizontal and five vertical rows, with a grid of 25 squares. The bottom reel turns to churn out the numbers that are to be located on the reel (automatically) and there are also free spins, jokers and blockers. With a jackpot prize of 100,000, Baking Bonanza invites a swell time in this kitchen.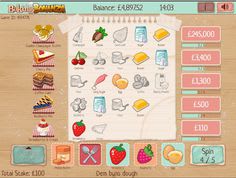 Baking Bonanza Slot Review
Play the Baking Bonanzaslingo for a chance to get all the ingredients right and make the recipes. The game's jackpot prize is £245,000, with many other prizes in-between. 
Baking Bonanza Slingo Overview
Slots players who have gotten a taste of the slingo action will be pleasantly surprised by the Baking Bonanzaslingo game. We aren't sure if we can call this game a slingo or a slot, because it reminds of both but in all likelihood it is neither. At any rate, the important thing is that Baking Bonanza is an innovation, and one that catches you by surprise with its innovative gameplay and the potential cash prizes. 
So if you are ready to mix some ingredients in the kitchen, we welcome you to try the Slingo Originals Baking Bonanza game. To some people baking is a pleasure, while for others it can be intimidating. What if I mess up and burn the stuff that I am making? With the Banking Bonanza slot you need not worry about any of that. You can play the game with small wagers, or you could go for some high stakes action and play for a potential jackpot of £245,000, but also many smaller prizes. 
So here is all that you need go know before you enter this Slingo kitchen to play this delicious baking game.
How To Play Baking Bonanza Slot
Here is what you need to do to set up for the gameplay: practically, very little. Once the game launches you will notice in the bottom corner that there is a window that says Stake. This is the button that lets you determine the bet per game. The smallest bet is £1.00 and the biggest bet is £100, however, do check your favorite online casino that has the Baking Bonanza slingo game to find out if there are any smaller bets, because it is likely that some casinos will start the bet at £0.25 or £0.50. 
That being said, next are some gameplay details just so you know what you are doing in the game. From the start, it may be useful to know that whatever you do, Baking Bonanza is an automated game, so whatever actions you make you will know what is going to unfold. 
To set up for the spin, you will first select the stake. Next, you can select the recipes that the Baking Bonanza game is going to try and bake for you, in return for the potential cash prizes. There are five lines with recipes and each one includes a range of recipes - mostly sweet breads, shortbreads, cookies, cakes and the like. 
You can select one recipe for each line, and each fo the categories will cost more or less within the same range. One major difference are the most expensive cakes on the topmost line, where depending on your selection, there could be some really lucrative cakes to be baked. 
Since the grid is dynamic, when you select the wager the prizes will change as well. But here are some of the potential prizes anyway. When you stake £1.00, the topmost line offers a recipe of £2450, which is the Golden Champagne Truffle or the Billionaire's Shortbread. costing £1300 or the less lucrative recipes, such as Rocky Road which may bring you 135 from the spin. 
Baking Bonanza Slingo Design
Someone knows how to make a recipe book. Even though this is a slot game, to us it looks like the recipes are credible. It only make sense. Mix those ingredients and you'll have yourself a delicious baked goodie. Thus the entire setting is in the sign of a kitchen. 
The game's 'symbols' are the ingredients. You are going to discover lots of baking powder, flour, peanut butter, sugar, butter, but also fruits and other good add-ons such as cocoa, cherries, lemons, marshmallows, blueberries, sugar icing, cocoa, walnuts, bananas, jelly, milk and a lot more ingredients. 
As for the recipes, these range from coffee cake, to cherry pie, strawberries and cream, blueberry pie, something that's called billionaire's shortbread, honey and mind cake, and so on. Just knowing of these deserts makes us hungry and ready to get to the kitchen and do some cooking. 
How To Win Baking Bonanza
Getting all of the ingredients equals winning a prize for having made one of the recipes. We mentioned that there are five lines in this slot game. The bottom one offers the most basic recipes, which pay the smallest cash prize. On the other hand, these are the easiest to acquire. 
The second line involves a more complex recipe, including three or four ingredients, and so on. The more lucrative the recipe is the more hard to find the ingredients. The first line from the top offers the most valuable baked goodies. Before the commencing of each game, you can scroll the list and select the recipe that you would like to try and make. This gives you options, in a way that you can select the most valuable recipe from any of the tiers, or you can select less valuable, and hence, with a better probability of making it. 
If you are ready to bake and play for cash prizes of up to £245,000 and many other prizes in-between, you can start right here by claiming a welcome bonus at one of the casinos on this page. 
Key Features
Provider

Slingo Originals

Reels

5

Min Bet

0.50

Max Payout

TBC

RTP

95.20

Paylines

5

Max Bet

100.00

Bonus Rounds

0

Variance

N/A
About The Author
Sanja Tasevska
Fact
Similar Games
Welcome to our Mailing List
Keep a look out for our emails containing great offers!