Overview
Step into the vast reaches of the desert and discover the oasis called Arabian Riches slot. This three-reel game has a single payline and some very nice prizes. For a retro slot like this, IGT have invested lots of time and attention, so the players may rest assured this is no fool's gold of a slot. The winnings are real, and all it takes is luck to land three of the same lamps to score 2500x or even more, with some of the game's major symbols.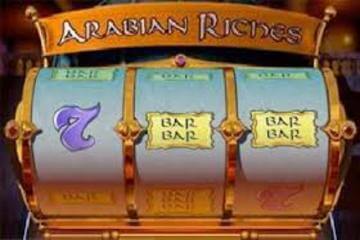 Key Features
| | |
| --- | --- |
| Reels: | 3 |
| Min Bet: | 0.01 |
| RTP: | 95.00% |
| Paylines: | 1 |
| Max Bet: | 15.00 |
| Bonus Rounds: | 0 |
Arabian Riches Slot Online
Arabian Riches slotis a game that you will either enjoy or not like at all. The reason is very simple, this is a game with just three reels that features a single payline. So, if you're a fan of old-fashioned retro games where there isn't a wide range of possible outcomes, you will surely enjoyArabian Riches slots.
Arabian Riches Overview
Developed by WagerWorks, for IGT, Arabian Riches slot has been in and out of the company's in-circulation catalogue numerous times in recent years. As slots go, it's extremely straightforward, with just three reels, and a single payline. That can make it seem extremely dull, although it's worth remembering that the casino edge over you isn't any bigger with these one payline slots - you'll generally lose around 4-6% over time, in a very similar vein to most five-reel multi-payline slots.
The graphics are reasonably simplistic, although there is a mysterious Arabian fortress to enliven the game. The symbols on the reel aren't amazingly detailed, but they are clear. In fact, the spartan paytable makes this a very good slot for newcomers. Try and line up three of any symbol, and you may be able to bag a prize. There are no Wilds or Scatters, though, and modern players may well feel they're missing out on a lot of entertainment with a now aged game like this one.
On the other hand, those who remember the good old days when playing slots didn't look like rocket science and everything evolved around the simple – spin then win motto, will definitely appreciate. Also, the fact that this game is still around is quite impressive, considering the fact that it was developed in 2006. Arabian Riches slots passed the test of time, the only question that we need to ask you is do you like retro slots with an Arabian theme. Because if you are fond of the Middle East and you like older games, then there is no better game to recommend to you than Arabian Riches slot.
How to Play Arabian Riches
There aren't a lot of options that you can make in Arabian Riches slot. Basically, the only decision that's up to you is whether you wish to wager one, two or three coins. There aren't many buttons, settings, or much you can do in general. Just straightforward slot action.
If you like to have less things to think about and simply let the reels do their thing, Arabian Riches is the right game for you. There's only one payline, so there are no issues regarding paylines either. The only possible winning combination is to have three equal symbols on the middle position in each of the three reels and that's it.
How to Win Arabian Riches
You will need three symbols across a payline for a win, but there are two symbols that can activate a payout with just one symbol. If you play the game with one coin and get any three bar symbols you will receive five symbols. If you play the game with two coins you will get four coins and if you play with three coins you will get a 15-coin payout.
If you get three one-bar symbols with one coin you will receive ten, with two 20 and with three ten times that much (30). With two-bar symbols the payouts are 25, 50 and 75 for one coin, two coin and three coin wagers respectively.
The three-bar symbol is more valuable then the two bars and the single bar, therefore if you get a combination of three triple bar symbols you will get 50 coins if you play the game with one, 100 coins if you played your game with two coins and a maximum prize of 150 coins if you play with three coins.
The seven symbol is more valuable than the triple bar, so if you hit three such symbols you will get 100, 200 or 500 coins depending on whether you play with one coin, two coins or three coins. Finally, the genie lamp is the most valuable symbol and you will get 250 for one, 500 for two or a staggering amount of 2,500 coins for a three-coin play if you get this winning combination.
The saber pays a single symbol, three, six or nine coins depending on the amount of wagered coins, and the magic carpet also activates a payout of either two, four or six coins.
Arabian Riches Bonus Features
Arabian Riches slot doesn't feature any bonus symbols, there are no Arabian Riches free spins, or other bonus games. There is nothing outside the main game, you spin the reels, they stop spinning, you see if you have won or loss and then you choose if you wish to spin the reels again or not. That's it.
Our Arabian Riches Review
With a maximum 2,500 coin jackpot and simple retro gameplay, this game has been around for more than a decade and it is still playable today. If you like the sound of a retro game with just one winning payline, register at one of the casinos featured on SlotsWise, claim your bonus and then play Arabian Riches slots and see for yourself why this game is such a classic.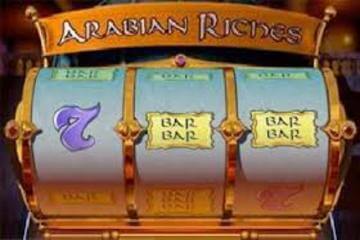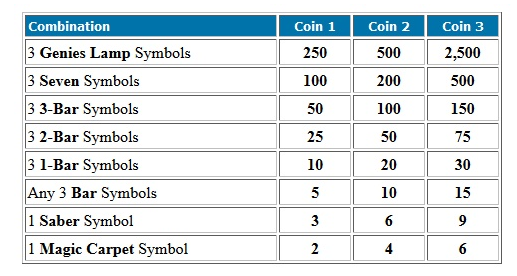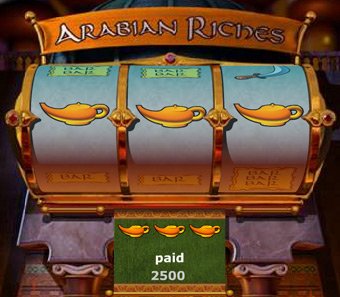 Want great offers sent straight to your inbox?
Enter your email below and we'll do all the hard work for you
Welcome to our Mailing List
Keep a look out for our emails containing great offers!