Slingo Riches Slot – a five reel, 20 paylines game – perfectly joins together the excitement of the slot machines and the fast-paced bingo fun. The 95.94% RTP will give you the chance to walk away with an astonishing £20,000 Full House win.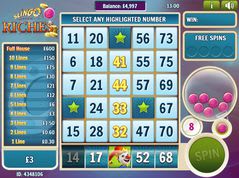 Slingo Riches Slot Online
The problem we all have when it comes to playing bingo is that it's a passive game. You select your numbers – or have the computer select them for you – and then you have to just sit back and wait to see what happens. Slingo Riches – a five reel, 20 paylines game – is here to change all that by making the game more immersive and interactive. It perfectly joins together the excitement of the slot machines and the fast-paced bingo fun and the 95.94% RTP will give you the chance to walk away with an astonishing £20,000 Full House win.
Slingo Riches Overview
When it first loads, Slingo Riches looks just like any other online casino bingo game. As expected in a 75-ball bingo game, there's a standard 5x5 grid and a hopper full of bingo balls to the right of the reels. Pretty standard so far. When you click on that green spinning button marked Spin, that's when things get interesting. Once you do that, the pink balls in the hopper start to spin and then the line below the board fills up with five numbers. There may be one or more jokers on the line which substitute some of the numbers and operate as wild.
How To Play Slingo Riches
After you've spun, you should pick one of the highlighted number on the board; these numbers are coloured yellow, while regular numbers remain dark blue. You're given 11 spins, during which  you're tasked with completing at least a single line in order to score slingo. You do this by clicking the highlighted numbers and turning them into green stars. If the numbers drawn from the hopper on each spin match any of those on the board, they'll be transformed into stars and so the process continues.
Before you get stuck in, the first task is to set your bet per game. Choose wisely, because that will remain your bet level for the next 11 spins. You can bet as little as 0.5 coins per game, with which the most you can win is capped at 100 for full house.
To the right of the board, the number of free spins available is clearly displayed in a box. Audio mute controls can be found to the top right meanwhile, and alongside it is an icon which will lead you to a simple playing guide. Here you'll learn that "Slingo Riches is the fast paced game where slots meets bingo with big cash prizes available".
How To Win Slingo Riches 
Like any other bingo, the aim of Slingo Riches is to fill your bingo board. Each game has 11 spins and each spin generates number that if you're lucky enough, will get checked off your board. When the spins finish, the lines that you have created will win you a prize. Of course, the more lines you make, the bigger the prize will be. Also, look out for wilds and free spins during the game to help you.
As mentioned above, a 0.5 bet gives you a chance to win 100. With that logic, the max bet of 100 per game and full house will earn you a nice 20,000. While the first 11 spins you play with the initial bet, after the spins finish you can raise your bet and earn much more. The max bet set makes even a single line worth ten, as well as providing additional scatter wins. This makes ten lines worth 5,000 when you're playing $100 games, or whatever your default currency happens to be.
Slingo Riches Bonus Features
While it doesn't have any particular bonus features, the dynamic of Slingo Riches slot is what makes it special in the first place. I mean, what could be more interesting than a bingo on which you can bet?
It's simple - the more you wager, the higher the potential jackpot.
At the end of the 11 spins you're invited to play on for the chance to possibly win more Slingos. In that case, you will have to raise your bet and get the opportunity to spin on for a few more turns to see if you can fill up your board. However, if you don't want to continue that way, it is sometimes better to just collect the winnings and play for another round. If you have free spins, then the number of extra paid rounds are reduced by the number of freebies you have earnt.
Our Slingo Riches Review
The game is definitely a fun mixture of online slots and bingo. And it's not just based on pure luck; there's even a bit of strategy thrown in when it comes to deciding where to place your wild joker numbers.
The beauty of a game like Slingo Riches is that it's so easy to get into and easy to profit from it as well. It's pretty simple to pick up once you've gotten familiar with how the star selection works. The playing guide is also well put together, making it very easy to follow what's being done.
Although the concept of slingo is to combine elements of slots and bingo, the main focus here is more bingo-like. There's not much that's drawn from slots, save for the ability to set a bet level and the introduction of jokers and scatters.
However, Slingo Riches is a nice way to relax and you do get a lot of game play for your money. Besides, it makes a big change from the usual bingo games and slots. It is a mobile-compatible game that's been encoded in HTML5, so it works well on iPhone and Android devices.
Players who want to feel like they're actually engaging with a game rather than watching it will enjoy Slingo Riches. It's not a revolutionary concept, but it's still evidence of the ways in which bingo can be brought to a new audience, ushering in new ways to win.
It doesn't matter whether you're a bingo or a slots fan - pick your numbers and get the balls rolling to win big prizes!
Key Features
Provider

Slingo Originals

Reels

5

Min Bet

0.50

Max Payout

TBC

RTP

95.94

Paylines

20

Max Bet

100.00

Bonus Rounds

0

Variance

TBC
About The Author
Sanja Tasevska
Fact
Sanja is our game expert and uses her knowledge to review all kinds of slot games, both old and new. The detailed reviews include the most important info about a particular slot game. She's been a part of this industry for many years and so far she's played and given her opinion on thousands of different slot titles. Contact Sanja sanja@slotswise.com
Similar Games
Welcome to our Mailing List
Keep a look out for our emails containing great offers!