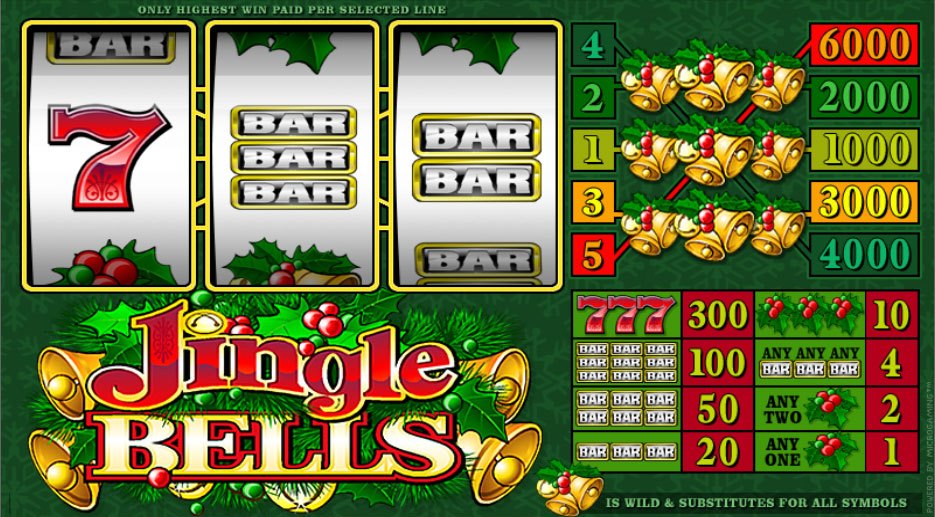 Key Features
| | |
| --- | --- |
| Reels: | 3 |
| Paylines: | 5 |
| Bonus Rounds: | 0 |
Jingle Bells Slot Online
Bells have traditionally been associated with Christmas as they've long been used by carol singers and usually signal the start of Christmas Eve services in churches. Also, they are widely used as decorations on the tree. There's something about the magical sound of jingling bells that gets you in the festive spirit every time you hear it. You'll be hoping to hear plenty of jingles while you spin the reels of Jingle Bells slots by Microgaming, as they signal that you've received some nice prizes!
Jingle Bells Slots Overview
Jingle Bells is a Christmas-themed slot with three reels and five adjustable paylines. It has a pleasant view with lot of greens on the screen and the name-giving jingle bell as the main symbol. Microgaming have opted to combine a couple of items traditionally associated with Christmas along with famous symbols that have featured in casino slot machines since they were first developed. So, you have mistletoes, bar symbols, lucky red 7s and cherries.
How To Play Jingle Bells Slots
You'll know you're in for some classic slots fun as soon as you load the Jingle Bells slots and see the paytable alongside the reels. That's pretty handy as it means you don't have to click a button and memorise payouts for each winning combination. All in all, the game's structure is very basic. A few clicks is all you need to place a bet and get the reels spinning.
Use the command bar to adjust your wager and activate as many paylines as you like. The spin button will set the reels into motion. To spice things up a little, there's a bet max button. By doing that, all paylines be activated and the game will let you go all-in for your next spin. This is a bold and somewhat risky move, but the chances of hitting the jackpot in Jingle Bells are bigger. The autospin mode is another classic slot game feature, which puts the game on autopilot and places your bet on multiple spins in a row without you having to do anything but watch and hope for big wins.
How To Win Jingle Bells Slots
On the reels of Jingle Bells slots you'll see the classic bells, lucky red 7s, bars, and cherries. You can land one or two cherries on a payline which pays x2 and x4 your line bet respectively. Overall, these symbols make up for just four different types on the reels, making landing combinations easier.
The bars symbols are 1 deep, 2 deep, and 3 deep. The 3-bar symbol pays the highest amount, which is a x100 multiplier of your line bet. The second highest is the 2 bar symbol which is worth 50 times your line bet, and then the singe bar symbols, which pays x20 your line bet. You can also mix any bars on a line to make a combination that pays x4 your line bet.
Next up are the red 7s, paying x300 your line bet for a three-of-a-kind combination. Plus, as with any other five-reel slot, you can land multiple symbol combinations on the reels across all paylines.
A tradition everyone loves is a kiss under the mistletoe. However, many don't know that this dates back to the ancient Druids as they believed it brought good luck to the household. You'll certainly like seeing a mistletoe on the reels as one of them sees you secure one coin, two are worth two coins and matching three of them see you get your hands on ten coins.
Finally, the main goal in the game is to land the elusive Jingle Bells jackpot symbol on all nine positions on the reels, for which you will get paid five sets of multipliers.
Jingle Bells Slots Bonus Features
Being as classic as it can be, Jingle Bells slots doesn't offer any bonus features. However, its simplicity and the fact that there are only four symbols makes it much easier to land combinations because there are less combinations getting in the way of each other, and the wild symbol is also included to help you.
About the Provider
Microgaming was one of the first software providers stepping into the Online Gaming market, and they developed their first Online Casino Software as early as the year 1994. They have a large palette of products, which include Casino software, Business Solutions and the Quickfire Platform. They are also expected to be pioneering in the Virtual Reality realm.
Our Jingle Bells Slots Review
Jingle Bells is a simple game, yet it manages to squeeze some original elements in its gameplay, as well as some nice wins for the lucky players who manage to land several golden bells.
Lastly, it doesn't matter if you are a low stakes or high stakes player - Jingle Bells slots will suit both styles of play. Spin for a budget £0.05 per spin or go big with £125.00.
Relax with this festive game and enjoy the simplistic play and nice casino vibe that Jingle Bells slots gives!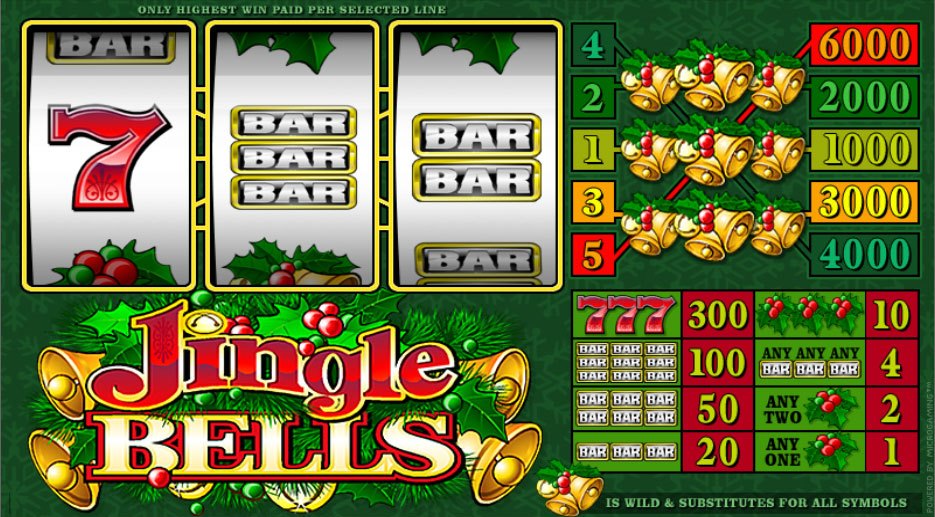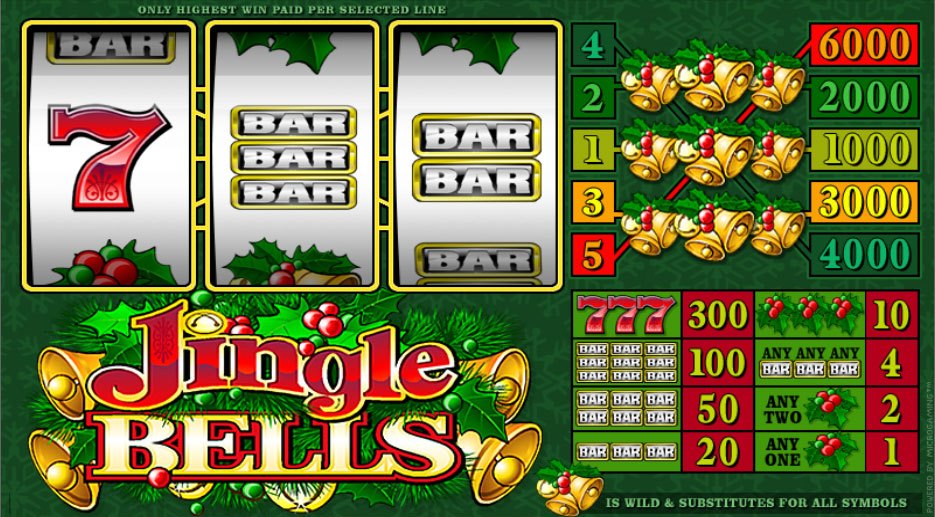 Want great offers sent straight to your inbox?
Enter your email below and we'll do all the hard work for you
Welcome to our Mailing List
Keep a look out for our emails containing great offers!