Fruit Warp is a favourite slot amongst many people, because it offers a simplistic yet attractive slot experience.  Many people online have used Fruit Warp in the same way that many also use Wonky Wabbits.  This is because it can quickly assist with wagering requirements when it comes to bonuses.  Fruit Warp can quickly make it's way through your balance though so make sure you stick to a sensible bet.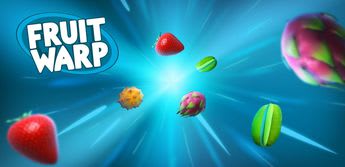 Fruit Warp Slot Online
Fruit Warp slot is an amazing digital slot machine with unconventional gameplay. Don't be surprised by the absence of reels because this game does create winning combinations on a Return to Player of rare to find 97%.
Fruit Warp Slot Overview 
This online game is one of the strangest digital slot machines ever to exist and we are very excited to tell you all about it. This game doesn't have the classic reels and rows. Nice move by its developer Thunderkick! Instead of reels spinning and setting the symbols into place, Fruit Warp slot creates the symbols out of thin air. And back into the thin air they disappear to give life to new combinations of some common and not so common fruit. The designing team has invested extra attention to details as every appearance and disappearance of the symbols is preceded or followed by subtle 3D animation. 
The setting seems to be an aquarium filled with a substance reminding of gel in which the fruits come to life and are withdrawn with every spin. The sounds are also super innovative in the world of online casinos. Fruit Warp slot pleasantly surprises with some unconventional chimes and a soundtrack that reminds of an elevator going up and down a jungle canopy of which the top floor is outer space. This game deserves to have its own album release and here is why. When you score a specific combination (more on that below) the music shifts into high gear and new sound effects start painting an otherworldly landscape. 
How to Play Fruit Warp 
Your fun with Fruits Warp slots starts with setting the amount of your wager. You can choose the overall amount of your bet per spin by selecting the casino chip symbol in the bottom right part of the window, next to the spin button. The bet ranges from 0.10 credits and all the way up to 100, meaning that this slot can be played by both people who play just for kicks as well as high rollers intent on hitting a jackpot. Once you have set your wager amount (can be changed at any time) you are ready to embark on this strange fruity adventure and reap a harvest as you are having fun. 
As far as the symbols go, there is not much to describe here unless anyone is interested in learning anew the shape and color of fruits. Well, there are some strange ones in there like dragonfruit, carambola, pitaya, kiwano alongside all the bananas, strawberries, plums, cherries, grapes and so on. The more exotic the fruit the more it pays. When dragonfruit fills the screen your stake is multiplied by 216. The kiwano pays 45x and the carambola multiplies by 42. Fruit Warp slot doesn't have a classic paytable but you will get the idea after the fifth or sixth or seventh spin. The fruits make pairs and the more appear the more coin you are going to pocket. There are also re spins and bonus features that are brought on when you score four or five of the same kind.
How to Win Fruit Warp
Like was said before, it takes few spins to figure out the logic of Fruit Warp slots, but there is logic to it and it pays well if you are patient. The sets of fruits that are brought on with every spin generate matches which stay on the board. The next set of fruits combines with those already there. If there are two matching pairs, if course, you take the winnings for both. Even though there aren't any scatter symbols or wild cards, the game gives seems to tend towards giving you an extra fruit that will combine for a bigger match. There is no way to confirm this, but you kind of get the idea as you are playing this slot. There is a total of nine spots filled by nine fruits so it can happen that you get three matching pairs, or get three on the first spin and two or three more on the following. 
This game has one amazing bonus feature that is created when you receive four or five of the same fruits. It is basically a feature that generates subsequent re-spins. More about that below.
Fruit Warp Bonus Features
The only bonus feature that can be made out of this amazing digital slot machine is the free spin feature. It occurs when you get five of the same symbols, and that happens frequently. Say you have three or four of the same - these stay in place while the rest become replaced, and if you make five of the same you enter the bonus round. But there is an extra bonus feature within the free spins. Once you're in the Fruit Mode, the Fruit Warp slot continues to spin and counts the matching fruits as winnings. Besides that, every fruit that appears of the same five that brought on the free spins, is added to a tally. A field of bars becomes charged as you get more of the same fruit. When the Fruit Mode is over, the game will summarize your winning and usually this is a good amount that goes into your account. 
Our Fruit Warp Slot Review
We will emphasize again that Fruit Warp is a nonconventional slots game. The sound, the graphics and the idea behind it all combine for an excellent, entertaining casino experience. The betting options allow you waging low or high, whatever betting style you prefer. And, the bonus feature is one of the most innovative we have ever seen. This is a high variance slot with an amazing return to player of 97.00% that is bound to be generous. Patience pays here, as you are will see from the Fruit Mode feature, once it is brought on. Test the game on a low wager and then up the ante by a notch to see how it behaves. Overall, a great game, a great experience - definitely worth playing. 
Key Features
Provider

Thunderkick

Reels

0

Min Bet

TBC

Max Payout

TBC

RTP

97.00

Paylines

TBC

Max Bet

TBC

Bonus Rounds

0

Variance

TBC
About The Author
Sanja Tasevska
Fact
Sanja is our game expert and uses her knowledge to review all kinds of slot games, both old and new. The detailed reviews include the most important info about a particular slot game. She's been a part of this industry for many years and so far she's played and given her opinion on thousands of different slot titles. Contact Sanja sanja@slotswise.com
Similar Games
Welcome to our Mailing List
Keep a look out for our emails containing great offers!